For the Right Startup Idea, a Free Ride to College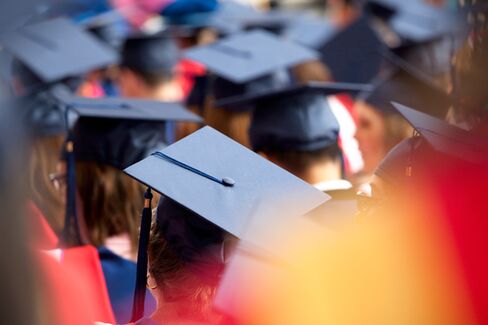 High school students typically get full scholarships to college because of their academic record, financial need, or outside accomplishments. One business school dean from Connecticut, the University of New Haven's Larry Flanagan, is trying to turn that model on its head with a competition that will award full-tuition scholarships worth about $126,000 each to four high school seniors who come up with the best business idea.
Flanagan came to the school last June after a 14-year stint at Mastercard, where he served for a decade as chief marketing officer and developed the company's well-known Priceless advertising campaign. He's one of a growing number of B-school deans coming to the job with years of corporate experience under their belts. With the Facebook competition—dubbed the Dean Scholarship Challenge—Flanagan's trying to draw attention to the school's growing entrepreneurship program and attract some of the country's most creative high school talent, he says. He also says he's taking a cue from the corporate world.
"I'm bringing tested disciplines from the business world into the higher education arena, which, when you strip it all down, is a marketing challenge," Flanagan says. "There is not a lot of differentiation with a lot of business schools, so I think I'm bringing in a little more about how do we differentiate our product and our brand."
The University of New Haven's Facebook challenge is joining a small but growing number of undergraduate and graduate business schools that are trying to attract students to their schools in unconventional ways. Last year, Clarkson University, a private school in Potsdam, N.Y., launched a program offering student entrepreneurs free tuition in exchange for a 10 percent stake in their businesses. The Tippie College of Business at the University of Iowa turned to Twitter last year to attract applicants, with a contest that awarded a $37,000 scholarship to an applicant who could describe in 140 characters or less why he or she would be a good fit for the school.
Flanagan says he decided to launch the contest on Facebook in order to reach the largest number of students. "We're using a new channel," he says, "that needs to be used more in higher education to recruit high school students."
Students who want to enter the competition must first visit the Facebook page set up for the contest and click on the "like" button. They can then submit to the school a Facebook page that describes a business they'd like to create. So far, the challenge has received nearly 1,100 "likes," and the school has received about 35 entries, Flanagan said. The deadline for the competition was originally in early March, but the school extended it to the end of the month because of the strong wave of student interest, Flanagan says. Only students admitted to the school are eligible for the top prize, which includes four full-tuition scholarships for the top entries, and iPads for the runners-up. The winners will be announced April 3. Says Flanagan: "This is really about building the next generation of entrepreneurial thinkers."
Before it's here, it's on the Bloomberg Terminal.
LEARN MORE