Dow Rises to Highest Since '07 on Economy as Banks Rally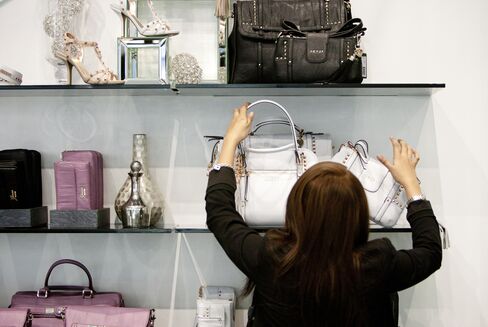 U.S. stocks advanced, sending the Dow Jones Industrial Average to the highest level since 2007, amid data showing that retail sales increased by the most in five months and as JPMorgan Chase & Co. boosted its dividend.
JPMorgan surged 7 percent after also unveiling a $15 billion buyback. Bank of America Corp. and Goldman Sachs Group Inc. rose at least 6.2 percent. Citigroup Inc., which rallied 6.3 percent, slumped 3.3 percent after the close of regular trading as it failed to meet the Federal Reserve's minimum requirements in a stress test. Apple Inc. climbed 2.9 percent as Jefferies Group Inc. raised its share-price estimate to $699.
The Standard & Poor's 500 Index added 1.8 percent to 1,395.95 at 4 p.m. New York time. The Dow advanced 217.97 points, or 1.7 percent, to 13,177.68, rising a fifth day. The Nasdaq Composite Index gained 1.9 percent to 3,039.88, the highest level since 2000. About 7.5 billion shares changed hands on U.S. exchanges, 13 percent above the three-month average.
"You have the sweet spot," said Michael Shaoul, chairman of Marketfield Asset Management in New York, which oversees more than $1.6 billion. "As we come to the end of the quarter, people sit down and say: do we own equities? The answer is no. To the extent that the Fed is not going to get in the way of stronger banks boosting dividends or doing share buybacks, that helps that sector. Yet the real leadership is in some of the more economically sensitive areas."
Stocks rose as retail sales increased 1.1 percent in February. The Federal Reserve raised its assessment of the economy as the labor market gathers strength. After the close of trading, the Fed said 15 of the 19 largest U.S. banks could maintain adequate capital levels even in a recession scenario in which they continue paying dividends and buy back stock.
Best Since 1991
Today's gain extended this year's advance in the S&P 500 to 11 percent, the best start since 1991. The benchmark gauge approached the median 2012 estimate of strategists surveyed by Bloomberg of 1,400. All 10 groups in the S&P 500 rose today as financial, industrial and technology shares had the biggest gains.
"We've seen an improving economic picture," said Ryan Larson, Chicago-based head of U.S. equity trading at RBC Global Asset Management (U.S.) Inc. His firm oversees $250 billion in assets. "That's been supported by accommodative monetary policy. Any kind of pullback in stocks should be kept in the context of a larger move higher for equities."
The KBW Bank Index climbed 4.6 percent. JPMorgan increased 7 percent to $43.39 after boosting its quarterly dividend by 5 cents to 30 cents a share. The lender also authorized a $15 billion stock repurchase program, with $12 billion approved for 2012. Bank of America jumped 6.3 percent to $8.49. Goldman Sachs Group rallied 6.5 percent to $124.54.
Stress Tests
Citigroup slumped 3.3 percent to $35.25 after the close of regular trading. The third-largest U.S. bank failed to meet the Fed's minimum requirements in a stress test when examiners considered the effects of the bank's plan for managing capital. The shares rallied 6.3 percent to $36.45 today.
Apple, the world's biggest technology company, jumped 2.9 percent to a record $568.10. Jefferies raised its share-price estimate by $100. Apple has surged 40 percent this year and its market capitalization last month topped $500 billion for the first time.
FactSet Research Systems Inc. advanced 8.6 percent to $98.66. The Norwalk, Connecticut-based financial-data supplier reported second-quarter profit and sales that exceeded analysts' estimates. Bloomberg LP, the parent of Bloomberg News, competes with FactSet.
Missing Estimates
Urban Outfitters Inc. fell 5.3 percent, the most in the S&P 500, to $27.95. The operator of its namesake, Anthropologie and Free People brands reported fourth-quarter earnings that missed the average analyst estimate.
U.S. companies and their executives are selling stocks at 2.2 times the pace of buying, the most since December 2009. About $15.3 billion of shares have been sold by companies and insiders this month, compared with $7.1 billion of purchases, according to TrimTabs Investment Research.
Stock offerings reached $2.7 billion a day last week, the highest level since May, the data show. Simon Property Group Inc., the largest U.S. mall owner, announced its first stock offering in almost three years while Internet company Yelp Inc. went public.
"Our supply indicators have turned markedly less favorable in March," Charles Biderman, chief executive officer at the Sausalito, California-based firm, wrote in a report dated yesterday. "We are not greatly concerned that corporate buying has been unspectacular," he said. "What worries us more is that new offerings and insiders' selling have soared."