China Puts Jump as Dominance Shrinks: Options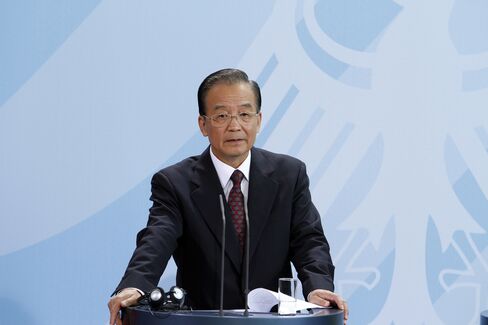 China's shrinking dominance over global economic growth is driving trading in the options market, where the cost to protect against losses in the nation's biggest companies is the highest compared with the U.S. since 2008.
Wen Jiabao, China's premier, cut the country's economic growth target for 2012 to 7.5 percent this week, compared with the median estimate of economists for a 2.2 percent expansion in the U.S., according to data compiled by Bloomberg. That would be the smallest gap since the Internet boom in 2000, the data show.
Options on the Hang Seng China Enterprises Index of 40 companies from PetroChina Co. to China Construction Bank Corp. cost the most since the collapse of Lehman Brothers Holdings Inc. when compared with contracts on U.S. stocks. The ratio shows investors are increasingly bearish on the index of Hong Kong-traded China shares after it surged as much as 46 percent since October.
"Investors have gone back to worrying about a hard landing in China because of the lower growth target and fear that policy makers won't ease as much, as opposed to the U.S., where investors have become less concerned because recent data has been quite good," said Shane Oliver, Sydney-based head of investment strategy at AMP Capital Investors Ltd., which has $105 billion under management. "Negative news out of China tends to be jumped on."
Hong Kong's China Enterprises index tumbled 33 percent from Sept. 15, 2008, when Lehman filed for bankruptcy, through to March 9, 2009, the trough of a global equities slump that followed the collapse. The Shanghai Composite Index, whose shares overseas investors need government approval to own, gained 1.9 percent in the period as China's government unveiled an economic stimulus package then worth about $850 billion.
S&P Versus China
Since the 2009 low, the Hang Seng gauge climbed 63 percent through yesterday, while the Shanghai Composite gained 13 percent. The Standard & Poor's 500 Index doubled in that time and is now 8 percent higher than it was at the final close before Lehman collapsed. That's just two percentage points behind the Hong Kong index's advance through the same period.
Gains by Chinese equities have been damped by the government's efforts to rein in a property bubble that formed amid the easy lending and fixed-asset investment encouraged as part of Beijing's stimulus programs in the wake of Lehman's collapse. A recent rally coincided with two reductions in the reserve ratio requirements for major banks, the first since 2008.
'Too Excited'
"China is quite happy to let the economy slow," Nicholas Field, an emerging-market money manager in London at Schroders Plc, which oversees $255 billion, said yesterday by phone. "Traders got too excited in January and are now disappointed."
Implied volatility for 30-day Hang Seng China Enterprises contracts closest to the gauge's price cost 1.81 times more than equivalent Standard & Poor's 500 Index options yesterday, data compiled by Bloomberg show. The measure for the Hong Kong-traded shares was 2.02 times higher on Feb. 27, the biggest gap since two months after the September 2008 bankruptcy of Lehman, during the worst financial disaster since the Great Depression.
China Enterprises index options 10 percent below the index level yesterday cost 1.39 times more than contracts 10 percent above, up 20 percent from the Jan. 26 low for the price relationship known as skew, data compiled by Bloomberg show.
The index advanced 14 percent in January, the best annual start since 2006, amid speculation the central bank would relax monetary policies and the government would support stocks.
The gauge rose 4.7 percent in February, peaking at the highest level since August on Feb. 29, before losing 7.2 percent through yesterday. That pared its gain since Oct. 4 to 35 percent. The S&P 500 has added 23 percent since its one-year low on Oct. 3.
Record Lending
China unleashed a record 17.6 trillion-yuan ($2.8 trillion) lending boom and implemented a 4 trillion yuan two-year stimulus package to sustain growth as the world economy slid into recession in 2008. The effort left China accounting for about one third of global growth in the three years through 2010, according to Bloomberg calculations based on International Monetary Fund data.
As Wen's government raised interest rates, imposed property-market curbs and told banks to stem new lending, China's share of global expansion dropped to 24 percent last year, according to the Washington-based fund's data. The proportion will remain about the same this year, IMF estimates indicate. China's GDP totaled $6.99 trillion last year, compared with $15.06 trillion for the U.S., IMF data show.
Sustainable Expansion
China must shift to a more sustainable and efficient economic model and achieve "higher-quality development over a longer period of time," Wen said March 5 in Beijing at the annual meeting of the National People's Congress. His government reduced its 2012 GDP growth target from 8 percent that day.
The volume of Hang Seng China Enterprises puts traded jumped to 17,486 on March 6, 1.4 times the average for the previous 20 trading sessions, and rose yesterday to 19,869, or 1.6 times average, data compiled by Bloomberg show.
Bearish trading for U.S.-listed exchange-traded funds tracking equities from China, Hong Kong and emerging markets also jumped after Wen's announcement. Put trades on the iShares FTSE China 25 Index Fund rose to 68,864 contracts on March 5, almost double the average for the previous 20 trading days, while it reached 586,597 for the iShares MSCI Emerging Markets Index Fund, or 3.4 times average.
Put volume for the iShares MSCI Hong Kong Index Fund on March 6 was 11,460, almost eight times average, data compiled by Bloomberg show.
'Crash Protection'
"Some funds and hedge funds bought downside puts as a form of crash protection," Stuart Beavis, Hong Kong-based managing director of institutional equity derivatives at Cantor Fitzgerald LP, said in an interview yesterday. "Some for comfort, looking to unwind long put positions into a falling market. Many market participants have been looking for a 5-10 percent correction" following the rally in the Hang Seng China Enterprises, he said.
Implied volatility for 30-day options on the index rose 19 percent since March 2 to 28.67 yesterday, compared with a 17 percent gain for the measure for the S&P 500.
The lower growth forecast is no reason to sell, said Uri Landesman, who helps oversee more than $1 billion as managing general partner of New York-based hedge fund Platinum Partners LLP. China overtook Japan in 2010 to become the world's second-largest economy, behind the U.S.
'Pretty Bullish'
"It's reasonable that as you get bigger and more mature, the numbers are going to come down a little," Landesman said in a telephone interview yesterday. "China is an increasingly important part of the world. It's still one of the real growth engines. We're pretty bullish about the prospects there."
The nation lowered banks' reserve requirements in February for the second time in three months to boost lending and sustain growth. That followed five interest-rate increases from October 2010 to July 2011 to slow inflation, which officials are aiming to keep at about 4 percent, according to Wen's March 5 speech.
The HSI Volatility Index, a measure of options prices on the Hong Kong equity gauge, rose 1.6 percent to 23.99 yesterday, a one-month high. It dropped 6 percent to 22.54 today. In the U.S., the Chicago Board Options Exchange Volatility Index, known as the VIX, fell 5.9 percent to 17.95 today in New York. Europe's VStoxx Index retreated 11 percent, the most since Dec. 9, to 25.10.
The number of outstanding puts to sell the Hang Seng China Enterprises versus calls to buy was 1.25-to-1 on March 7 and reached 1.27-to-1 on Feb. 24, its highest level since March 2011, according to data compiled by Bloomberg. Put ownership jumped 8.9 percent this month to 188,322 contracts yesterday, while call open interest rose 3.9 percent to 150,943.
"China's got its own issues in terms of making sure it makes the switch from export-driven growth with more emphasis back on domestic consumption, and at the same time trying to moderate fixed asset investment and moderate property speculation," Tim Schroeders, who helps manage $1 billion in equities at Pengana Capital Ltd. in Melbourne, said by telephone on March 6.
Before it's here, it's on the Bloomberg Terminal.
LEARN MORE