Albee's 'Dubuque' Shocks; 'Tribes' Goes Silent: Review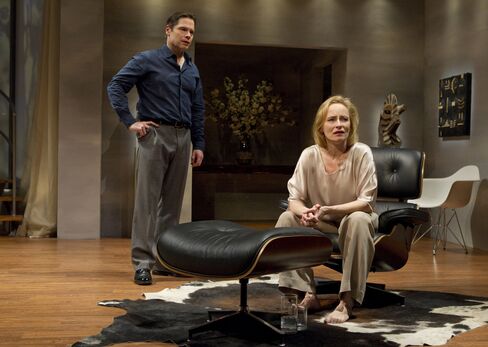 The humor in "The Lady From Dubuque," Edward Albee's mysterious-stranger play, is drenched in acid. So much so that it's easy to understand why critics dismissed it 32 years ago and audiences followed their advice.
Not even Irene Worth's luminous performance in the title role could neutralize the discomfort generated by a play populated with friends who take pleasure in lacerating put-downs, and punctuated frequently with howls of pain from a woman dying of cancer. The show closed after just 12 performances.
That situation is definitively rectified at the Signature Theatre, where Albee and two other playwrights (Katori Hall and Athol Fugard) are in residence for a year at the brand new Pershing Square Signature Center.
Set in an expensively appointed suburban home with cathedral ceilings, a spiral staircase and tasteful African art (John Arnone's set is on the money), "Lady" opens with a cocktail party. The hosts are Sam (Michael Hayden) and his dying wife Jo (Laila Robins, balancing scorching humor, harrowing pain and wrenching neediness like a master plate-spinner).
Get the Guests
In a scene that echoes "Get the Guests," the baiting game played in "Who's Afraid of Virginia Woolf?" Sam and especially Jo savage the two couples who have joined them.
They are: Fred (C.J. Wilson), a redneck who thinks of himself as salt-of-the-earth, and his latest girlfriend, Carol, (Tricia Paoluccio), whose breezy sexiness may or may not cover a deeper intelligence; and Edgar (Thomas Jay Ryan), a milquetoast married to Lucinda (Catherine Curtin), who would be pitiable if she weren't so genuinely stupid.
Not a crowd you'd probably want to hang out with (and it's something of a stretch to think these people ever spent more than 15 minutes together before storming off or hitting each other).
It isn't until the guests have gone home and Sam and Jo have gone to bed that Elizabeth (Jane Alexander) and Oscar (Peter Francis James) enter, chicly dressed and obviously on a mission relating to Jo's condition.
"I am the lady from Dubuque," she tells the increasingly furious Sam, adding "I do not summer in Dubuque."
Elizabeth is not an arbitrary choice of names for this mysterious intruder, who insists that she is Jo's mother. At the time the play was written, Elisabeth Kubler-Ross's five stages of grief were being widely discussed among the chattering classes.
Director David Esbjornson, who has wrestled with "The Lady From Dubuque" through several productions, has paced the play in such a way as to give every character his or her due, keeping them in perfect proportion one to the others.
They may not be likable, but they are eminently human.
Thirty-two years ago, I felt befuddled and assaulted. Perhaps because I've buried so many friends and loved ones since then, and death inevitably expands in our consciousness as we grow older, I found "The Lady From Dubuque" deeply moving, a play that finally the times have caught up with.
Through April 1 at 480 W. 42nd St. Information: +1-212-244-7529; http://www.signaturetheatre.org. Rating: ***
'Tribes'
Squabbles also figure noisily in Nina Raine's "Tribes," an import from London having its U.S. premiere at the Barrow Street Theatre.
Christopher (the brilliant Jeff Perry), a pompous academic, and pop novelist Beth (Mare Winningham, exuding kindness, an anomalous emotion in these surroundings), preside over three grown children, all living under one roof.
Reading Lips
Their youngest, Billy (Russell Harvard, a sensitive and expressive actor) was born deaf and has managed to become both an expert lip-reader and competent speaker.
His brother Daniel (Will Brill) and sister Ruth (Gayle Rankin) are protective of Daniel until he falls in love with Sylvia (Susan Pourfar, whose performance is breathtakingly detailed), a child of deaf parents who is now beginning to lose her hearing.
Learning to sign opens a world to Billy as much as does falling in love. This fractures the family cocoon. Raine firmly roots each character in this uneasy world and highlights their reality with incisive flights of music, from Mozart to Satie.
But director David Cromer, who had a major hit in this theater with "Our Town," seriously errs in staging "Tribes" in the round. This is a play that more than most demands our attention to body language and especially facial expressions -- which much of the audience never gets to see.
At 27 Barrow St., Greenwich Village. Information: +1-212-868-4444; http://www.barrowstreettheatre.com. Rating: ** 1/2
What the Stars Mean:
****        Do Not Miss
***         Excellent
**          Good
*           So-So
(No stars)  Avoid
(Jeremy Gerard is the chief U.S. drama critic for Muse, the arts and leisure section of Bloomberg News. Any opinions expressed are his own.)
Before it's here, it's on the Bloomberg Terminal.
LEARN MORE