Philadelphia Eagles Put Franchise Tag on Receiver DeSean Jackson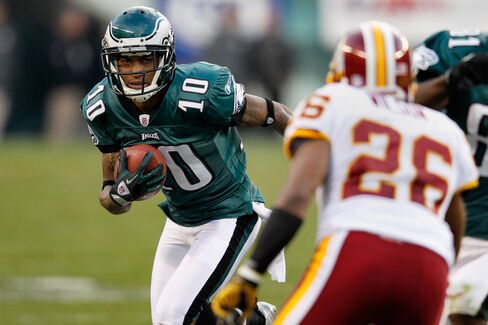 The Philadelphia Eagles placed the National Football League's franchise tag on receiver DeSean Jackson before he could become a free agent this month.
Jackson, a Pro Bowl selection after the 2009 and 2010 seasons, caught 229 passes for 4,085 yards and 21 touchdowns in his first four seasons. He also ran for three touchdowns and scored another four on punt returns.
The franchise label slots a salary for one year into a formula that takes into account the pay for other top players at that position. NFL.com said a receiver with the franchise tag this year will make about $9.4 million.
"We want DeSean to be an Eagle for the long haul and this is a step in the right direction to accomplish that," Eagles General Manager Howie Roseman said in a news release. "DeSean is a talented player and a proven playmaker in this league."
Before it's here, it's on the Bloomberg Terminal.
LEARN MORE