Euro-Area Inflation Accelerated in February on Energy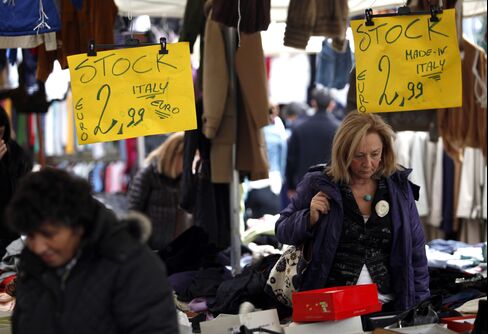 European inflation accelerated in February as political tensions in the Middle East boosted oil prices even as the economy heads into a recession.
The inflation rate in the 17-nation euro area rose to 2.7 percent from 2.6 percent in January, the European Union's statistics office in Luxembourg said in an initial estimate today. Unemployment rose to 10.7 percent in January, a 14-year high, it said in a separate report.
Europe's economy may struggle to gather strength after shrinking in the fourth quarter as governments step up budget cuts, undermining hiring and consumer demand. While the European Central Bank, which aims to keep inflation just below 2 percent, in December forecast consumer-price growth to slow this year, crude oil prices have increased 7.6 percent since the EU approved a ban on Iranian oil on Jan. 23.
"On the back of higher energy prices, the chance of seeing headline inflation fall durably below 2 percent in the course of the year has clearly diminished," said Peter Vanden Houte, an economist at ING Group in Brussels. "However we don't believe that the ECB will be strongly concerned with headline inflation remaining higher than expected as fiscal austerity will continue to weigh on growth."
The euro was little changed after the report, trading at $1.3325 at 12:40 p.m. in Frankfurt.
Energy Costs
The euro-region economy may shrink 0.3 percent this year after expanding 1.4 percent in 2011, the European Commission said on Feb. 23. While Germany's economy, Europe's largest, is seen growing 0.6 percent in 2012, the commission projected contractions for Belgium, Spain, Italy and the Netherlands.
Rising energy costs threaten to further weaken the region's economy by sapping the purchasing power of companies and consumers. Oil prices have been pushed higher on concern that sanctions against Iran will disrupt supplies from the second-largest producer in the Organization for Petroleum Exporting Countries.
U.S. and European sanctions against Iran are already curbing the supply of oil from the Persian Gulf state, the U.S. Energy Department said in a report yesterday. The EU in January approved a ban on the purchase, transport, financing and insurance of Iranian oil.
'Disturbing Developments'
"Risks surrounding commodity energy prices remain skewed to the upside, as geopolitical risks concerning Iran's external relations continue to escalate," Fabio Fois, an economist at Barclays Capital in London, said in an e-mailed note. "We expect euro-area energy inflation to peak at 10.4 percent year-on-year in August this year, before starting to ease."
ECB council member Ewald Nowotny said at a conference on Feb. 28 that "disturbing developments in the Middle East" could fuel euro-region inflation. "That could make life a bit more difficult," he said.
The ECB cut borrowing costs twice in the fourth quarter, bringing the benchmark rate to 1 percent, matching a record low, to bolster the economy. The Frankfurt-based central bank will publish its latest inflation projections when council members meet on March 8. In December, it forecast that inflation will slow to 2 percent this year from 2.7 percent in 2011.
The statistics office is scheduled to release a breakdown of February consumer prices later this month. Euro-area core inflation, which excludes volatile costs such as energy, slowed to 1.5 percent in January from 1.6 percent in December.