Sex, Humiliation Scheduled Daily in 'Assistance': Jeremy Gerard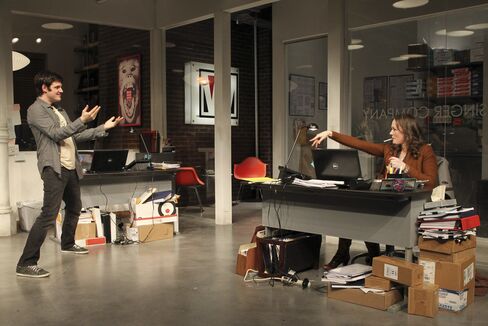 The writer is Leslye Headland. If the odd spelling doesn't make you remember her name, "Assistance" will. It's the funniest play about the movie business since David Mamet's "Speed-the-Plow."
Most black comedies about back-stabbing, greed, furtive sex, double-dealing, grandiose bosses and extreme bad behavior in the film industry tend to be set in Hollywood.
"Assistance," presented by Playwrights Horizons, takes place in the downtown Manhattan headquarters of the Daniel Weisinger Company.
He's a producer who grinds up assistants and spits them out for breakfast, lunch and dinner. The name suggests Harvey Weinstein, who just won the best film Oscar for "The Artist." The land-mine office atmosphere suggests Scott Rudin, who just lost the best film Oscar for "Extremely Loud and Incredibly Close."
"Working for Daniel is like living the last thirty minutes of 'Goodfellas' over and over again," Nick (Michael Esper) says to Nora (played by Virginia Kull). "Every day is the day you're coked out of your mind and you've got a million things to do and everything that could go wrong does go wrong. And the narcs are shadowing you in a helicopter. And you get royally f****d by the very people you dedicated your life to ... but MAN!...What a rush!? Right?"
Taking Calls
Typical workdays run 24/7 and consist of taking Daniel's calls, which may require immediate plane tickets to London, picking up his children at school or correcting the grammar of the unlucky person who answered the last call, who's at risk of immediate dismissal.
Nora is the newest member of the put-upon team; Nick takes her under his wing, and that's a euphemism. Esper is the definition of slacker until the phone goes off, when a calm cunning voice masks the abject fear registering on his face.
Kull, brilliant as the girlfriend in "Man and Boy," is quickly becoming one of our most beguiling comic stage actresses. She's got an irresistible mix of slapstick timing, vulnerability and fearlessness. The very fine cast includes Lucas Near-Verbrugghe, Sue Jean Kim, Amy Rosoff and Bobby Steggert.
Staged like Fourth of July fireworks by Trip Cullman, the dialogue crackles, the jokes hit their marks and the comic savagery smolders, seductively dangerous as glowing coals. David Korins's hip office set is a character in itself, and the coup de theater that ends this 85-minute one-act is dazzling, in a nightmarish sort of way that adds the perfect final touch.
Through March 11 at 416 W. 42nd St. Information: +1-212-279-4200; http://wwww.ticketcentral.com.
Rating: ***
What the Stars Mean:
****        Do Not Miss
***         Excellent
**          Good
*           So-So
(No stars)  Avoid
(Jeremy Gerard is the chief U.S. drama critic for Muse, the arts and leisure section of Bloomberg News. Any opinions expressed are his own.)
Before it's here, it's on the Bloomberg Terminal.
LEARN MORE