Hochtief Shares Drop on Loss, Canceled Dividend: Frankfurt Mover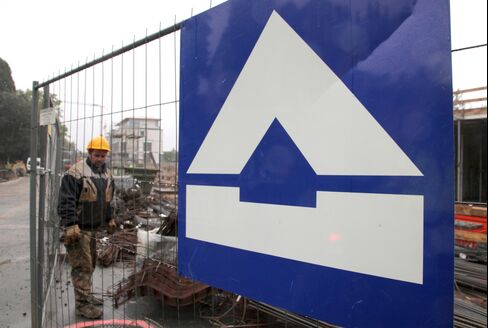 Hochtief AG, the German construction company controlled by ACS Actividades de Construccion & Servicios SA, fell the most in 3 1/2 months after reporting a loss for 2011 and canceling its dividend.
Hochtief dropped as much as 8.9 percent to 50.26 euros, the biggest intraday decline since Nov. 14, and traded down 5.8 percent at 51.99 euros as of 9:42 a.m. in Frankfurt. Spanish builder ACS gained control of Hochtief in June, ending a nine-month takeover battle.
Hochtief, which paid a 2-euro-a-share dividend for 2010, said it won't propose a payout to shareholders for last year as a result of a 160 million-euro ($215 million) loss. The Essen-based company expects to return to profit this year.
The loss was tied to additional charges in the fourth quarter at its Australian subsidiary and costs related to the departure of executives in the course of the takeover by ACS.