Huawei Sales Pass $32 Billion, Narrows Gap With Ericsson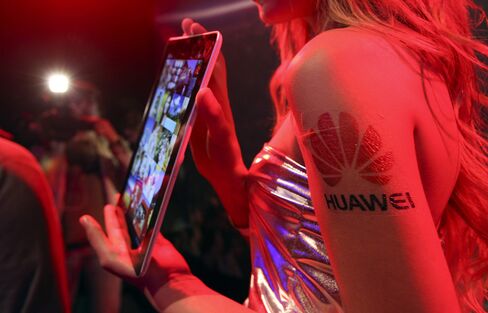 Huawei Technologies Co., China's largest maker of telephone equipment, said revenue exceeded $32 billion in 2011, narrowing its gap behind Sweden's Ericsson AB.
Revenue grew about 11 percent last year, William Xu, a Huawei board member and president in charge of its enterprise division, said in an interview at the Mobile World Congress in Barcelona, citing preliminary figures. The Shenzhen-based company also met its profit targets, helped by sales of mobile devices and growth at the enterprise business, he said.
At $32 billion, Huawei's revenue was about 50 percent more than France's Alcatel Lucent, which sells fewer products than Huawei. Stockholm-based Ericsson, the biggest maker of wireless network equipment, reported 2011 sales of 227 billion kronor ($34.5 billion). Chief Executive Officer Ren Zhengfei is adding cloud computing and business computing services as well as sales of smartphones and tablets as Huawei works on a goal of generating $100 billion in sales.
"The networks are converging, from the terminal to the infrastructure, supported by cloud computing and applications," Xu said in the interview yesterday. "Huawei in the future could be one of the leading companies" in the field of information and telecommunications systems.
Shares of Ericsson fell 0.2 percent to 66.45 kronor at 9:14 a.m. in Stockholm. Alcatel Lucent slipped 0.2 percent on the Paris exchange. Huawei is closely held.
Slower Growth?
More than $3.8 billion of last year's sales came from Xu's division, which focuses on contract sales of business computing services, as it expanded in Europe and the Middle East and made headway with smaller U.S. corporations, he said.
Growth at Huawei Enterprise may be slower than originally anticipated, Xu said, adding that $15 billion in contract revenue by 2015 is a more realistic target. Leon He, another Huawei executive, in May last year gave a sales projection of $15 billion to $20 billion for the division.
That more cautious outlook stems from a change in strategy where Huawei now works more through system integrators such as Spain's Telefonica SA to create solutions for specific industries.
"In the past, in the previous strategy there was more high-level integration so there was more conflict with our partners," Xu said. "As a result our sales revenue might not be as high as in the past strategy, but we'll have closer cooperation."
$100 Billion
Still, the enterprise business plans to increase its workforce to more than 20,000 people this year from over 10,000 at the end of 2011, Xu said.
The enterprise unit is making about 40 percent of its sales in China, Xu said, adding that that ratio will probably remain steady through 2015.
Xu is one of four executive directors on Huawei's 13-member board, according to its 2010 annual report. Prior to taking charge of the enterprise division, he served in roles including president of the international technical sales and marketing department; president of the European region; and chief strategy and marketing officer. Xu, who holds a Master's Degree from Southeast University in China, joined Huawei in 1991.
Huawei's push beyond its traditional business of supplying equipment for phone networks is intended to more than triple total sales to $100 billion in the next five to 10 years, the company said last April.
Before it's here, it's on the Bloomberg Terminal.
LEARN MORE