10Q: Starbucks 2015 Environment Goals are a Cup Half Full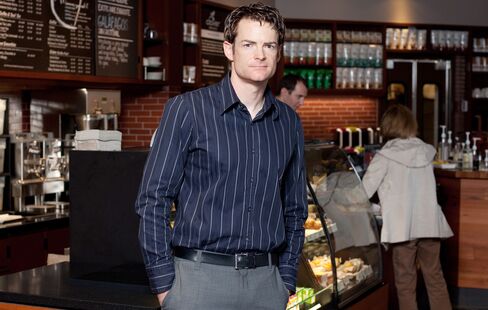 By Siobhan Wagner
Seventeen thousand and three. That's how many coffee shops Starbucks operated as of October 2011, in 55 countries, from Argentina to Vietnam. To make those stores more sustainable, the company must manage everything from tropical agronomy to the recyclable fiber in each paper cup.
Jim Hanna is director of environmental impact at the world's largest coffee-shop chain, and oversees Starbucks' progress toward cutting energy and water use by 25 percent in company-owned stores by 2015, compared to 2008 levels. He spoke last week with Siobhan Wagner, analyst at Bloomberg New Energy Finance.
Q: What is your simplest definition of sustainability?
A: Existing has an impact on the environment. The notion that you can have a zero impact on the environment is not necessarily a legitimate one. If you use the textbook definition of sustainability, it's taking away less from the Earth than you give back. We just need to do everything we can to reduce that impact.
Q. Are there any consequences for a company that does not meet its own sustainability goals?
A. We absolutely do believe there are consequences. Foremost, reducing energy consumption for us reduces the operating cost in our stores. Energy security and price spikes and brownouts and climate change are really now part of our everyday lives and everyday lexicon. Those who choose to spend their dollar at Starbucks, or make their careers at Starbucks, expect us to really use our size for good in that arena. Whether we're regulated or not, this is something we are going to continue focusing on as a company.
Q. Do you link sustainability metrics with bonuses?
A. Some of our employees, our partners, have incentive goals based on sustainability, and it's not just energy. That's really part of individual decision-making within the business units to incorporate those goals into their performance indicators. It's something we encourage. I think it helps focus and prompt people but it's not universal throughout the company.
Q: Starbucks aims to serve 25 percent of beverages made in your stores in reusable cups by 2015. What's your plan?
A: We've done some pretty extensive customer research on enhancing the 10-cent discount that we've always provided our customers for using reusable mugs. Simply upping the discount has no impact on customer behavior. What this tells us is that financial incentives alone aren't really the drivers that get people to make the personal choices to bring in their own mugs.
What we need to focus on when we talk about getting people to use more reusable cups is: What are the existing and perceived barriers that they have to doing it and what are the cultural shifts necessary to make it part of the societal norm?
Q: You have a goal of 100 percent recyclable cups by 2015? What does this mean?
A: For us, recyclability means that when our customers have finished enjoying their beverages, whether they're in our stores, whether they're in public spaces, or in their homes or in their offices that at that moment they have the ability to recycle those cups. What we're focusing on is developing the market and developing the infrastructure to recycle our cups. It turns out there are a lot of paper mills out there that can easily process and use the valuable fiber in our paper cups.
Q. Starbucks aimed to reduce energy consumption by 25 percent in company-owned stores by 2010, compared to 2008 levels. Instead, electricity use decreased by only 1.6 percent. What happened?
A. If you look at the target it's really based on successfully deploying a number of strategies around our green building commitments. Unlike a lot of manufacturing companies we can't just switch out one giant machine and achieve significant reductions right there. It's really incremental, piece by piece.
It wasn't necessarily that we don't believe we can achieve that goal it's just that the timeline was a little aggressive for us.
Q: Starbucks is swapping conventional bulbs for LEDs in all company-owned stores. How far along are you?
A: We are going to complete that retrofit this fiscal year. Once retrofitted, the stores are averaging about 7 percent energy reduction from lighting.
Q: The company's LEDs were specially tweaked by General Electric Co. What was wrong with conventional LEDs?
A: We're all aware of the old clichés around LED lighting: that it's stark white, makes everything look like a hospital or locker room. We challenged our partners at General Electric to help us overcome some of those traditional issues around LED.
Q. Is Starbucks headquarters just like one big Starbucks store?
A. If you look at our headquarters, there is basically a full loaded kitchen within any one office in the building so we have all of the free Starbucks beverages we could ever want and management takes advantage of that.
Q. How many cups of coffee have you had today, Jim?
A. I'm on my third. (Time in Seattle: 9:30 a.m.)
Visit www.bloomberg.com/sustainability for the latest from Bloomberg News about energy, natural resources and global business.
-0- Feb/28/2012 14:59 GMT
Before it's here, it's on the Bloomberg Terminal.
LEARN MORE