Merkel Says Germany Sees No Need to Boost Europe Firewall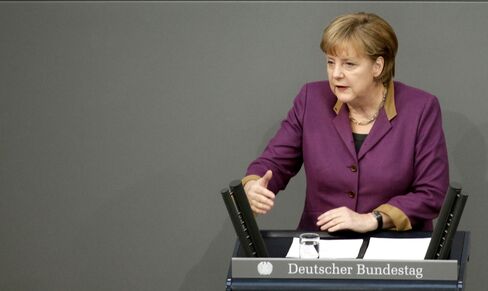 Chancellor Angela Merkel said there's currently no need to increase the lending capacity of Europe's bailout mechanisms, citing lower borrowing costs for indebted euro states.
"There's no need now for a debate on increasing the capacity" of the temporary and permanent bailout funds, Merkel told lawmakers today as they prepared to vote on a 130 billion-euro rescue package for Greece, the second in two years.
Merkel said euro leaders this week will discuss moving up capital payments for the permanent fund, the European Stability Mechanism, and that Germany is willing to pay in 11 billion euros this year if other countries speed up payments as well.
Before it's here, it's on the Bloomberg Terminal.
LEARN MORE