Scared Straight? For MBAs, Maybe, Maybe Not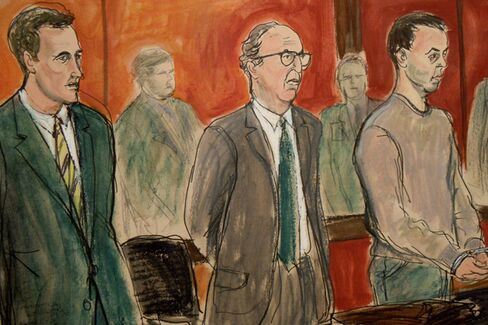 A few days ago, Garrett Bauer, who pleaded guilty in December to one of the longest-running and profitable insider trading schemes of all time, appeared on a video screen in a conference room at Carnegie Mellon University's Tepper School of Business. His goal: to become an object lesson in the consequences of white-collar crime. But if he left the students terrified about the high price he paid for his misdeeds, it's hard to tell.
Bauer's qualifications for the job are undisputable. For 17 years, he was part of a conspiracy to steal confidential information from major law firms and use it to make trades that netted the participants $37 million. Free on bail for the time being, he faces four felony counts when he returns to court for sentencing next month. According to the New York Times, he could be sent away for as much as 25 years.
Bauer has been making the rounds at business schools and law schools in the last few weeks, appearing at Tepper, London Business School, and the West Point of capitalism, Harvard Business School, among many others. He tells his tale and fields questions from curious students. At Tepper, he told students about his time in the lockup, including his use of a "spork" at mealtime and being issued a nonworking phone card. Some students were surprised at the severity of his anticipated sentence, which he says will likely be nine to 11 years. As one student told the Tartan, Carnegie Mellon's student newspaper: "His future is basically ruined."
But will tales of sporks and nonworking phone cards be enough to put Tepper's students off a life of crime? Jennifer Cai, a business student who helped coordinate the event, thinks so. She told me that the length of Bauer's sentence, the details of his time in jail, and the uncertainty of his future all left students with an appreciation for how serious a crime insider trading is. "Students really were scared," she says.
Maybe so. But at Tepper, a student interviewed by the Tartan found the presentation "interesting"-not terrifying, or even off-putting. At the University of Utah Eccles School of Business, where Bauer spoke on Feb. 13, students took away a mixed message. In emails to their faculty advisor after the event, they spoke of the impact his story had on them. "I learned about how crossing the ethical line may seem like a very small thing, but it has very large and lasting consequences," wrote Nigel Bloomfield, an MBA student. But this was clearly a sympathetic audience: students noted that insider trading can seem "very innocent" and is easily rationalized.
At LBS, one student who blogged about Bauer's presentation there concluded that insider trading is "definitely not worth it"-not because it's wrong, or the consequences are severe, but mainly because he "didn't make that much (or any) money for many years" and was earning a good salary at his day job. The blogger, Payal Patel, considers insider trading a "victimless" crime. "I don't believe Garrett is evil," she wrote.
This isn't the first time business students have turned an opportunity for enlightenment on its head. Last year, U.S. Attorney Preet Bharara, in the midst of a crackdown on Wall Street bad boys that netted the billionaire hedge fund manager Raj Rajaratnam, made the rounds of b-schools, including Wharton, Columbia and Stern to talk about ethics and personal integrity. In a speech at the CUNY School of Journalism he complained of MBAs less interested in right and wrong, and more interested in what they can get away with.
Bauer's attorney, Michael Bachner, says the the b-school presentations were his client's idea, and not part of a plea agreement, adding that he appears to be making a big impression on students. "The impact is enormous," Bachner told me. "He's a very down-to-earth, unassuming individual. He's not Gordon Gekko. People think, 'Holy cow, this could be me.'" The Hudson County Jail, in New Jersey, where Bauer spent about five days awaiting bail, was no picnic, Bachner said.
Bauer may not be evil, but as a general rule if your business involves the use of disposable cell phones, as Bauer's did, you're on the wrong side of the law. Were business students scared straight by his tale? Not clear. Perhaps Bauer would be more effective after a few years in prison. By then, sporks will be the least of his problems.
Updates with comments from Bauer's attorney, Michael Bachner.
Before it's here, it's on the Bloomberg Terminal.
LEARN MORE