Berkshire Profit Declines 30% as Gains Narrow on Derivatives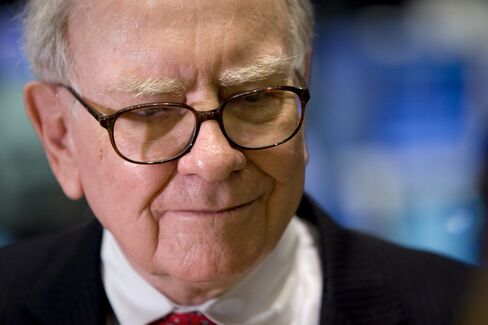 Berkshire Hathaway Inc. said fourth-quarter profit fell 30 percent on smaller gains from Warren Buffett's portfolio of derivatives.
Net income declined to $3.05 billion, or $1,846 a share, from $4.38 billion, or $2,656, a year earlier, Omaha, Nebraska-based Berkshire said today in its annual report.
Buffett, Berkshire's chairman and chief executive officer, is investing in stocks and acquisitions as operating units generate cash. Derivatives bets, made in prior years on long-term gains in stocks and the solvency of borrowers, produced more than $2 billion of profit in the fourth quarter of 2010.
"These are contracts that don't expire for another 10 or 15 years and might fluctuate a lot every quarter," said David Kass, a professor at the University of Maryland's Robert H. Smith School of Business. Buffett is "not really bothered by the volatility short term," said Kass, in an interview before results were released.
Berkshire has slumped 4 percent in New York in the last 12 months, compared with a gain of 4.6 percent for the Standard & Poor's 500 Index.
The gain from equity index puts dropped to $350 million in the last three months of 2011 from $2.49 billion a year earlier. The contracts are tied to four stock indexes including the S&P 500, which rose 11 percent in the period, and the Nikkei 225 Stock Average, which fell 2.8 percent. Liabilities narrow when equity benchmarks rise, and the fluctuations are recorded each quarter in Berkshire's income statement.
Credit-Default Contracts
Losses from credit-default contracts, in which Buffett bets on the ability of borrowers to repay debt, widened to $216 million from $157 million a year earlier. Some fourth-quarter results were calculated by subtracting figures for the first nine months from the full-year data provided today.
Berkshire's cash hoard increased to $37.3 billion on Dec. 31 from $34.8 billion three months earlier. Buffett, 81, drew down funds in the third quarter to purchase engine-additives maker Lubrizol Corp. for about $9 billion and accumulate an equity stake in International Business Machines Corp. Berkshire had $38.2 billion in cash at the end of 2010.
Book value, a measure of assets minus liabilities, rose in the last three months of 2011 to $164.9 billion from $160 billion on Sept. 30, and $157.3 billion at the end of 2010. Full-year net income slipped to $10.3 billion from $13 billion in 2010.
Burlington Northern
Acquisitions have given Berkshire more than 70 operating units that produce energy and chocolate, operate planes and trains, and insure against car wrecks and earthquakes. Berkshire's investment portfolio generates income by collecting dividends and bond coupons. The firm is the biggest equity investor in Coca-Cola Co. and Wells Fargo & Co.
The stock portfolio was valued at $77 billion at the end of the fourth quarter, up from $68.1 billion on Sept. 30 as American Express Co., ConocoPhillips and IBM climbed in New York trading. Berkshire spent $4.31 billion on equities and $1.24 billion on fixed-maturity securities in the quarter.
Buffett's biggest takeover, railroad Burlington Northern Santa Fe, was completed in 2010 in a $26.5 billion transaction. The business contributed $909 million to quarterly earnings, compared with $644 million a year earlier. Auto, mineral and chemical shipments have fueled gains in Burlington Northern's traffic.
Iscar, Marmon
"Our major businesses did well last year," Buffett said in a letter in Berkshire's annual report today. "Each of our five largest non-insurance companies -- BNSF, Iscar, Lubrizol, Marmon Group and MidAmerican Energy -- delivered record operating earnings."
The manufacturing segment that includes toolmaker Iscar and Lubrizol posted pretax profit of $658 million, up from $449 million, on earnings at the engine-additive maker. Pretax earnings at Marmon rose to $240 million from $192 million a year earlier. The business has operations including the manufacture of railroad tank cars and wire and cable products.
Profit at utility unit MidAmerican Energy Holdings Co., fell to $316 million from $344 million a year earlier. The business, which sells electricity to homes in the U.S. and U.K., has been investing in renewable energy projects, including the $2 billion Topaz solar project in California.
Buffett has been boosting capital expenditures as he adds staff to support the expansion of Berkshire's businesses, largely in the U.S. Operating companies spent a record $8.2 billion for property, plant and equipment in 2011. Berkshire increased its headcount by about 10,000 in the year to more than 270,000 employees as Buffett added Lubrizol.
Capital Commitments
"Expect the overwhelming majority of Berkshire's future capital commitments to be in America," Buffett wrote in the letter. "In 2012, these expenditures will again set a record."
Buffett uses so-called float, or the insurance premiums Berkshire holds before paying claims, as a source of funds for investments. In most years the cost of claims has been lower than premiums collected, delivering an underwriting profit to Berkshire in addition to investment income.
The insurance businesses had a fourth-quarter underwriting loss of $107 million driven by results at Berkshire Hathaway Reinsurance Group. That compares with a profit of $414 million a year earlier. Flooding in Thailand in the period contributed to a record year for catastrophe losses in the insurance industry.
Insurance investment income fell to $825 million from $911 million a year earlier after the redemption of securities Berkshire held in Goldman Sachs Group Inc., General Electric Co. and Swiss Re Ltd. Investment income will be "negatively affected" because new investments have comparatively lower yields, according to the report.
Pretax earnings at McLane, the unit that delivers food and alcoholic beverages by truck to clients including Wal-Mart Stores Inc., declined to $59 million from $91 million. Berkshire's furniture stores, jewelry shops and the candy business posted pretax profit of $131 million, compared with $122 million a year earlier.
Before it's here, it's on the Bloomberg Terminal.
LEARN MORE