Societe Generale, BNP Paribas Add to Tally of Bonus Cuts: Table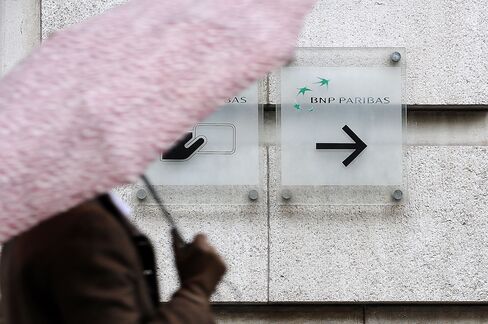 BNP Paribas SA, France's biggest lender, is cutting 2011 bonuses by about half and Societe Generale SA will reduce payouts 44 percent, adding to the list of firms taking aim at compensation for investment bankers.
The following table updates Bloomberg's compilation of pay decreases at banks and securities firms, with summaries of the terms. Links to news stories with more complete descriptions are in the column at right.
Wall Street firms are curbing pay and changing compensation formulas to limit expenses as they grapple with lower revenue. Some are giving less cash and more stock, and others are deferring a greater percentage of total pay. Revenue shrank last year as mergers and trading slowed, turning financial stocks into 2011's worst performers in the Standard & Poor's 500 Index.
Among the most recent disclosures:
-- Societe Generale, based in Paris, cut the bonus pool at its corporate and investment bank by "something like 44 percent," said Chief Executive Officer Frederic Oudea in a Feb. 16 interview with Bloomberg Television.
-- BNP Paribas, also Paris-based, reduced by half the 2011 bonus pool for capital-markets professionals, Chief Executive Officer Jean-Laurent Bonnafe said on Feb. 15.
-- UBS, Switzerland's biggest bank, cut its 2011 bonus pool by 40 percent, and reduced bonuses at its investment bank by 60 percent, the Zurich-based company said on Feb. 7. *T
AVERAGE COMPANY CUT IMPACT ** ----------------------------------------------------------------
BNP Paribas SA 50% Cuts bonuses for capital
markets staff.
Societe Generale SA 44% Reduces bonuses at
corporate and investment
bank.
Credit Suisse Group AG 41% Applies to bonus pool;
some senior staff get
bonds backed by
derivatives.
UBS AG 40% Affects bonus pool.
Reduces pool at
investment bank 60%.
Barclays Plc 32% Affects bonus pool
at securities unit; caps
cash bonuses at 65,000
pounds.
Citigroup Inc. 30% Reduces bonuses for
investment bank.
Morgan Stanley 20%-30% Covers senior investment
bankers and traders,
caps cash bonuses at
$125,000, raises
average deferred pay
to 75 percent.
Goldman Sachs Group Inc. More than Affects pay for all
26% 33,300 employees.
Bank of America Corp. 25% Applies to investment
bankers; freezes
some salaries
and limits some cash
bonuses to $150,000.
Lazard Ltd. 20% Reduces discretionary
bonuses firm-wide.
Deutsche Bank AG 15% Applies to corporate
and investment-banking
division; caps bonuses
paying out this year
at 200,000 euros.
JPMorgan Chase & Co. 9% Covers salary, bonus
and benefits at
investment bank.
**Summary of terms; for more complete details, click on highlighted links to original articles. Some figures represent approximations by the companies.
Before it's here, it's on the Bloomberg Terminal.
LEARN MORE