10Q: Unilever Targets the Next Billion Consumers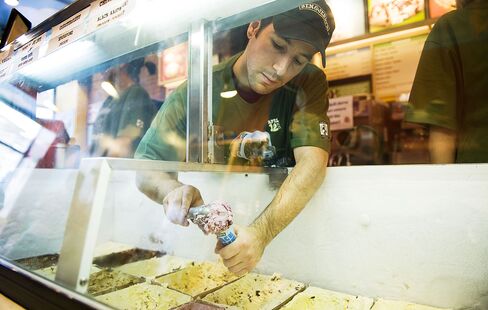 By Siobhan Wagner
Clarification: Unilever says that, contrary to remarks made by its executive and reported in an earlier version of this article, the company does not have a timeline for doubling its sales.
Two billion people around the world use Unilever products every day, company officials are quick to say. They know that to increase their reach further, they'll need to satisfy a rapidly growing global middle class, without overtaxing the resources available to them.
Unilever, based in London and Rotterdam, saw 11.5 percent sales growth in emerging markets last year. New middle-class customers may help sales (also called turnover) double to 80 billion euros ($106 billion), according to Karen Hamilton, Unilever's vice president for sustainability. Hamilton spoke with Siobhan Wagner, of Climate & Carbon Brief, a publication of Bloomberg New Energy Finance.
Q: Do Unilever's investors care whether your company has a climate change action plan?
A: Investors are rightly more interested in: Do you have a sustainable model for growing the business?
Q: Unilever aims to double 2009's 39.8 billion euro ($52.8 billion) sales income. How does sustainability help?
A: If you look through the lens of sustainability, you find new innovations. An example of a very different business for Unilever is Pureit, which is an in-home water purifier for the developing world. It's a little bit like a Brita water filter but it's for countries like India, where even water that is supposedly safe to drink can be contaminated and cause cholera, diarrhea, dysentery and very serious and potentially fatal diseases. In countries where water is becoming more scarce, the quality of the water is also going down.
Q: How fast can that scale up?
A: Just to give you a feel, we launched in India in 2006. In the last 12 months, we've launched in Brazil, Mexico, Bangladesh, Indonesia and now Nigeria. We're really expanding the business with a totally different business model.
Q: How tethered is sustainability to climate change?
A: It's in exactly those markets that consumers are facing, and will face, some of the greatest challenges from climate change, water scarcity, the cost of food rising and worsening hygiene and sanitation.
Q: How does water scarcity pose a risk for your company?
A: We are very concerned about water scarcity in agriculture and the limit this might put on the growing of crops. There are solutions like drip irrigation, which uses little tubes to bring small amounts of water directly to the plant and maybe nutrients, as well, rather than spraying large amounts of water.
Q: Have any other business opportunities come out of your sustainability initiatives?
A: We have a soap brand called Lifebuoy, which is very big in the developing and emerging world. We have developed hygiene education programs that help people wash their hands the five times of day that really matter – before eating, after going to the toilet, are the key times of day. There is a win-win business case in that.
Q: Has Unilever formed any business partnerships to promote sustainable products or concepts?
A: We are the number one ice cream company in the world, so we have a lot of those small ice cream freezers that go into mom-and-pop stores. Starting more than a decade back we began working with Coca-Cola and Greenpeace and now increasingly companies like Pepsi-Co on reducing the greenhouse gas effects of those freezers because they use refrigerants that release HFCs [hydrofluorocarbons].
Q: Are you referring to propane, isobutene and R-1441A, chemicals that recently received approval for refrigeration by the U.S. Environmental Protection Agency?
A: Yes. The coolants that used to be in refrigerants needed to be removed [in the 1980s] because they were affecting the ozone layer. The chemicals they were replaced with [HFCs] turned out to have a very high global warming potential. In 2008, Ben & Jerry's [a unit of Unilever] put a proposal in that others should be accepted for refrigeration, and the results just came through in December.
Q: Do you see this as an example of where business can drive new government policies and regulations?
A: Business can help to move along policy in a positive way. There is a challenge for governments now with short election cycles and the intense national pressures that come from that. It is very difficult for governments to band together and tackle global environmental challenges.
Q: How far can the influence of business go in making up for governments?
A: You need to change your supply chains and encourage the right type of consumer demand. But you can't do that alone. But the rules of the game, the policies, need to be there as well. I am not one that sees there not being a role for governments. I think it's crucial.
Visit www.bloomberg.com/sustainability for the latest from Bloomberg News about energy, natural resources and global business.
-0- Feb/28/2012 02:26 GMT
Before it's here, it's on the Bloomberg Terminal.
LEARN MORE