Putin Thanks Oil Billionaires for Rescuing Nuclear Sub Base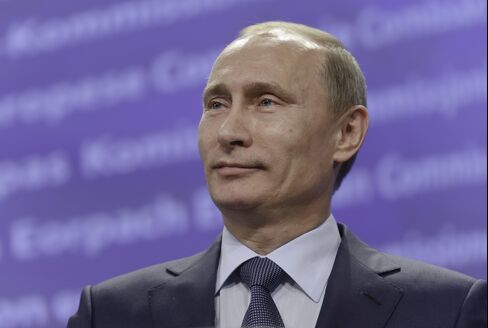 Feb. 20 (Bloomberg) -- Prime Minister Vladimir Putin said he owed a debt of gratitude to oil companies TNK and OAO Surgutneftegas for providing the cash needed to keep Russia's seaborne nuclear forces in the Pacific afloat in 2002.
Then-President Putin asked the non-state companies to fund the Vilyuchinsk base on the Kamchatka Peninsula after the military proposed closing the facility, Putin said in an article published today in government newspaper Rossiiskaya Gazeta.
"Now we have a modern base at Vilyuchinsk that will soon" be home to a new generation of nuclear submarines, he wrote.
Putin came to power in 2000 vowing to destroy the so-called oligarchs who acquired state assets in the 1990s "as a class." TNK, owned by a group of billionaires led by Mikhail Fridman, Viktor Vekselberg and Len Blavatnik, merged with BP Plc's Russian operations to form TNK-BP in 2003. TNK-BP is now Russia's third-largest producer of oil and Surgut is No. 4.
Mikhail Khodorkovsky, once Russia's richest man and owner of the country's biggest oil producer, was convicted in 2005 for tax evasion and fraud and his OAO Yukos Oil Co. dismantled in a campaign he alleges was motivated by his political activities.
Surgut lent $1.7 billion to the buyer of Yukos's biggest production unit, which was later acquired by state-run OAO Rosneft, the Kommersant newspaper reported in 2004.
The press services of Surgut and TNK-BP declined to comment on Putin's remarks. The prime minister's spokesman, Dmitry Peskov, declined to say how much they contributed for the nuclear base.
March Presidential Bid
Putin's article, on national defense and military issues, is part of a series the premier is publishing to lay out his policies before March 4 presidential elections.
Surgut's Chief Executive Officer Vladimir Bogdanov was Putin's campaign manager in Siberia during his first run for the presidency. The company had a net cash position of $27.8 billion in the third quarter, Renaissance Capital estimated Jan. 20.
Bogdanov is Russia's 32nd richest man, according to Forbes with a fortune of $3.3 billion. Fridman is seventh with $15.1 billion and Vekselberg 10th with $13 billion, according to the magazine.
To contact the reporter on this story: Ilya Arkhipov in Moscow at iarkhipov@bloomberg.net
To contact the editor responsible for this story: Brad Cook at bcook7@bloomberg.net