Coca Femsa in Talks For Control of Coke Philippines Unit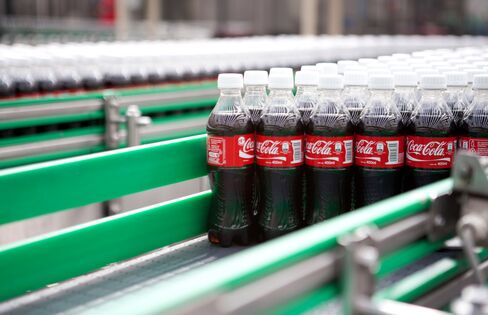 Coca-Cola Femsa SAB, the largest publicly traded Coke bottler by volume, is in talks to buy a controlling stake in the Coca-Cola Co.'s Philippine unit in what would be its first acquisition outside Latin America.
The companies entered a 12-month exclusive agreement for the purchase of a controlling stake, Mexico City-based Coca-Cola Femsa said in a statement distributed yesterday by Marketwire. There is no guarantee a transaction will result from the discussions, the companies said.
Coca-Cola Femsa, which sells soft drinks in nine Latin American countries, last year used at least 24.5 billion pesos ($1.9 billion) of new stock to acquire three Mexican companies and add soda bottling rights. Atlanta-based Coca-Cola Co., the world's biggest soft-drink maker, has owned all of the Philippine unit since buying the 65 percent stake owned by San Miguel Corp. in 2007 for $590 million.
Coca-Cola Femsa's "expertise and successful track record operating in fragmented markets and emerging economies can be effectively deployed in this territory," the companies said.
The Mexican company is Latin America's biggest soft drink producer, with 35 bottling plants supplying 1.7 million retailers in the region, it said yesterday.
The announcement "reflects the substantial improvements made in Coca-Cola Bottling Philippines Inc.'s operations since it was acquired in 2007," Coca-Cola Co. said in a separate e-mailed statement today.
Shares Drop
Coca-Cola Femsa shares fell 0.9 percent to 128.51 pesos in Mexico City trading at 12:04 p.m. local time. The shares have risen 40 percent in the last year, compared with a 2.1 percent advance by Mexico's benchmark IPC stock index.
Coca-Cola Co. shares fell 0.1 percent to $68.98. They have risen 6.9 percent in the last year.
The move is positive for Coca-Cola Femsa, Banco Santander SA analysts Luis Miranda and Berenice Munoz wrote in a research note today. "It would allow the company to gain a deeper understanding of the Philippine operations before engaging in any formal commitment to the region," they said.
Coca-Cola Femsa is 54 percent owned by Fomento Economico Mexicano SAB and the Coca-Cola Co has a 32 percent stake, according to its website.
Bill Gates
The Bill & Melinda Gates Foundation and Cascade Investment LLC, which manages money for billionaire Gates, own more than 21 percent of Coca-Cola Femsa's American depositary receipts, according to data compiled by Bloomberg.
In addition to its home market, Coca-Cola Femsa has rights to sell drinks such as Coke, Sprite and Fanta in parts of Guatemala, Colombia, Panama, Brazil, Nicaragua, Costa Rica, Venezuela and Argentina.
Carolina Alvear, a spokeswoman for Coca-Cola Femsa, said the company didn't have additional comments beyond the statement.
Coca-Cola Femsa used stock in 2011 to buy the beverage unit of Grupo Fomento Queretano for 6.6 billion pesos and 11 billion pesos for the bottling operations of Grupo Cimsa. The company also paid 6.55 billion pesos for the Coke division of Grupo Tampico SA.
The bottler expects as much as 2.7 billion pesos in cash flow from the acquisitions, Chief Financial Officer Hector Trevino said in Dec. 15 phone interview.
In March, the company completed the purchase of Grupo Industrias Lacteas, a Panama milk producer, for an undisclosed amount. The milk company had 2010 sales of $140.9 million, Coca-Cola Femsa said at the time. The transaction was the first acquisition outside Mexico in a sector different than soft drinks, according to the company.