China Cuts Bank Reserve Ratios a Second Time as Exports Tumble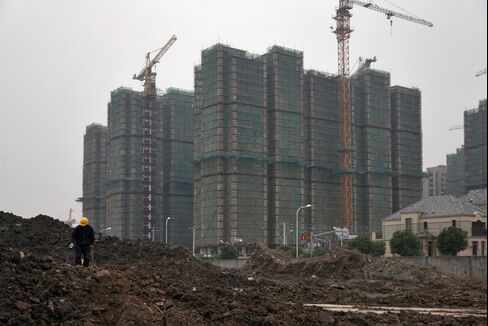 China cut the amount of cash that banks must set aside as reserves for the second time in three months to spur lending as Europe's debt crisis curbs exports and the housing market cools.
Reserve ratios will fall 50 basis points, effective Feb. 24, the People's Bank of China said on its website yesterday evening. The level for the nation's largest lenders will decline to 20.5 percent, based on previous statements.
China follows Japan in expanding monetary easing even as global equity markets are buoyed by signs of strength in the U.S. economy and optimism that Europe's fiscal crisis will be contained. Governor Zhou Xiaochuan's officials moved on the same day that a report showed home prices slid in most of the nation's biggest cities in January.
"Chinese policy makers are very much concerned about a possible deeper slowdown in domestic growth," said Yao Wei, a Hong Kong-based economist with Societe Generale SA.
A 50 basis-point cut may add 400 billion yuan ($63 billion) to the financial system, Australia & New Zealand Banking Group Ltd. estimates. UBS AG says 350 billion yuan. The previous reduction was the first since the global financial crisis.
Tight interbank liquidity may have triggered the latest move, according to UBS economist Wang Tao in Hong Kong.
In the U.S., the Standard & Poor's 500 Index has climbed to near the highest level since 2008 after America's jobless rate fell and Greece moved closer to securing another bailout. The Shanghai Composite Index gained has for five weeks on speculation that China will ease monetary policy.
No 'Hard Landing'
While China's commerce ministry describes the trade outlook as "grim," Vice President Xi Jinping said there will be no "hard landing" for the world's second-biggest economy.
Home prices in 47 of 70 cities fell in January, while the remaining 23 were unchanged from December. Volkswagen AG, Europe's largest carmaker, says sales in China, the company's biggest market, fell 4.5 percent last month.
China's gross domestic product grew 8.9 percent in the fourth quarter from a year earlier, the slowest pace since the first half of 2009. Exports and imports fell for the first time in two years in January and new lending was the lowest for that month in five years.
In a Feb. 16 interview in Beijing, Fan Jianping, chief economist at the government-run State Information Center, said that the nation may set a 7 percent or 7.5 percent target for growth this year, the least since 2004.
IMF Caution
The International Monetary Fund said this month that China's expansion may be cut almost in half if Europe's debt crisis worsens, demanding "significant" fiscal stimulus.
Lu Zhengwei, a Shanghai-based economist at Industrial Bank, said yesterday there's "no possibility" that China will cut interest rates soon, partly because of inflation concerns. Consumer-price gains unexpectedly rebounded to 4.5 percent in January, accelerating for the first time in six months, as a week-long lunar festival boosted spending.
Japan unexpectedly added to monetary easing last week by expanding an asset-purchase program, while the U.S. Federal Reserve said last month that it would keep interest rates low through at least late 2014 and indicated that it may make asset purchases.
Before yesterday's announcement, Ken Peng, a Beijing-based economist at BNP Paribas SA, said the Chinese government needs to be "careful not to overshoot monetary loosening, as it did in the financial crisis."
Credit Boom
Lingering effects of record lending in 2009 and 2010 include the risk for banks that local government financing vehicles will default, saddling lenders with bad loans.
The central bank said Feb. 15 that it will improve the use of differentiated reserve ratios, where requirements are calculated according to individual banks' capital adequacy levels and lending growth.
The bank also said that M2, the broadest measure of money supply, will probably grow 14 percent this year, a target that Zhu Haibin, a Hong Kong-based economist for JPMorgan Chase & Co., says may imply three to four cuts in reserve ratios this year.
Home prices have declined in cities from Beijing to Wenzhou as the government cracks down on speculation and implements a program to build low-cost housing.
Jim O'Neill, the economist who coined the term BRIC for developing nations Brazil, Russia, India and China, said Jan. 17 that Chinese officials had moved to avoid the "wild housing bubbles" that many Western nations had experienced. O'Neill, chairman of Goldman Sachs Asset Management, said he doesn't see a "hard landing" for China.
— With assistance by Lifei Zheng
Before it's here, it's on the Bloomberg Terminal.
LEARN MORE