General Mills Cuts Profit Forecast Amid Weak Demand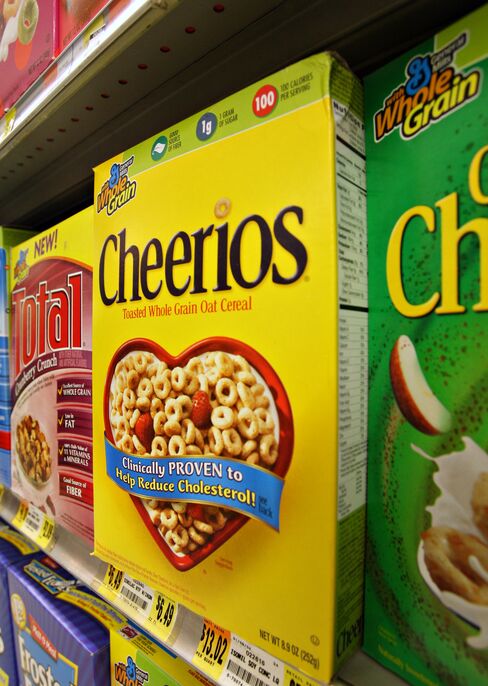 Feb. 17 (Bloomberg) -- General Mills Inc., the maker of Cheerios cereal and Yoplait yogurt, reduced its earnings forecast for its current fiscal year as weak demand and rising costs squeeze food producers.
Profit for 2012 will be $2.53 a share to $2.55 a share, the Minneapolis-based company said today in a statement. Previously, General Mills forecast $2.59 a share to $2.61 a share. Analysts projected $2.60, the average of estimates compiled by Bloomberg.
General Mills said "weak volume performance" across U.S. retail food categories in December and January hurt results in its fiscal third quarter. Yesterday, J.M. Smucker Co., the maker of its namesake jams, said its full-year profit may be less than previously forecast because of lower consumer demand.
"Consumers are still being frugal," said Kenneth Shea, senior consumer products analyst with Bloomberg Industries. "Food companies are experiencing year-over-year cost increases and they aren't being offset by price increases."
While commodity prices are coming down, they may not fall enough to give food producers relief for the next couple of quarters, Shea said.
"It's just a tough competitive landscape," he said.
General Mills fell 2.2 percent to $38.89 at 9:35 a.m. in New York. The shares rose 14 percent last year.
The company is scheduled to report results for its fiscal third quarter on March 21. Adjusted earnings per share will be 54 cents to 56 cents, according to today's statement. Analysts projected 60 cents.
To contact the reporter on this story: James Callan in New York at jcallan2@bloomberg.net
To contact the editor responsible for this story: Robin Ajello at rajello@bloomberg.net