Kindstar's Lab Work in China Carries Challenges
Medical testing company Kindstar finds it needs a logistics arm, too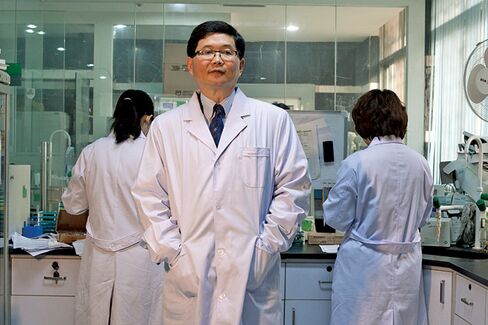 Wuhan Kindstar Diagnostics does lab work for more than 2,000 hospitals in 320 cities across China, charging $50 to $300 per test. Last year, the startup added 700 new hospitals as clients, and it expects to keep growing fast as more Chinese enter the middle class and can afford tests to diagnose cancers and other diseases that in the past often went undetected and untreated. "It's a unique opportunity," says Chief Executive Officer Shiang Huang.
Soon after Huang launched his startup in 2003, though, he realized that an understanding of logistics would be just as important as medical skills. China doesn't have a good answer to FedEx or DHL, so a small-but-fast-growing operation such as Huang's needed workers to shuttle samples from hospitals to the company's lab in Wuhan via buses, planes, and trains. Today an army of couriers makes up half of Kindstar's 1,000 employees, picking up 25,000 blood, urine, and tissue samples a day. "We never worry about there being enough demand" for lab tests, says Huang. "We only worry about how we get the samples out."
Huang, 52, went to college in 1977—a difficult time to win a spot in a university, since China's top schools reopened that year after the chaos of the Cultural Revolution. He received an MD from Tongji Medical College in the central Chinese city of Wuhan, where his father had been a doctor before him. The younger Huang went on to work in the U.S. for medical equipment maker Becton Dickinson, then joined the cancer center at the University of California at San Diego, where he spent four years doing stem cell and gene therapy research before returning to China and founding Kindstar.
On Jan. 30, Kindstar closed its latest round of investment, with $16 million from Silicon Valley venture capital giant Kleiner Perkins Caufield & Byers. The company got an additional $4 million from existing backers such as China venture capital specialist WI Harper Group and private equity firm Baird Capital Partners Asia. Brett Tucker, a partner in Baird's Shanghai office, points to testing companies in the U.S. such as Quest Diagnostics and LabCorp that have multibillion-dollar market capitalizations. With no such companies in China, Tucker says, "you have a massively under-diagnosed population."
It helps that Kindstar doesn't have to worry about competitors overseas. The Chinese government prohibits blood samples from leaving the country, which means even Chinese who can afford to use world-class testing centers such as the Mayo Clinic are forbidden from doing so. That's one reason Mayo last year decided to buy a stake (for an undisclosed amount) in Kindstar. Franklin Cockerill III, CEO of Mayo Medical Laboratories, the testing arm of the Mayo Clinic, says he expects to help Kindstar hone its skills. While Kindstar has 1,000 tests, "we have closer to 3,500," he says. "What we are doing is to clone those tests to Kindstar so they don't have to do that development."
Huang has faced another challenge few American startups must grapple with: a suffocating bureaucracy. For several years after launching his company, he operated without the proper government approval. He says he couldn't get a license because he wouldn't agree to give a local official a stake in the new company. "When you are small, government officials are always trying to get things from you," he says. Eventually, after changes in the bureaucracy eased the bottleneck, Kindstar got the license it needed, and Huang says the company benefited from the experience of having to get by on its own without a well-connected benefactor in government. Too many Chinese businesses, he says, become dependent on relationships with local officials. "They feed you, you eat from them," he says, "and you never really grow up."
Before it's here, it's on the Bloomberg Terminal.
LEARN MORE