A French Socialist Who Understands Business
France's Left has a presidential front-runner with capitalist views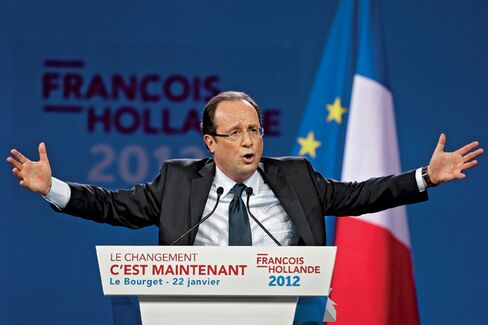 In fewer than 90 days, France could have its first Socialist President since François Mitterrand. Polls show that François Hollande, the party's candidate, will likely get more votes than President Nicolas Sarkozy in the first round of voting on April 22. Since neither is expected to win a first-round majority, a runoff on May 6 seems likely. A poll released on Feb. 14 by the IFOP survey group showed Hollande beating Sarkozy 57 percent to 43 percent in the second round.
On the stump, Hollande is firing up crowds with promises to crack down on financiers, tax the rich, and spend more on housing and education. With their populist tinge, these campaign pledges resemble those of Mitterrand, who nationalized banks, pumped billions into public works, and triggered an economic crisis.
Unlike Mitterrand, Hollande is promising to cut government spending by $65 billion to balance the budget by 2017. He's even attacking Sarkozy as a spendthrift. "The current government has massively increased spending, which isn't good for the country," says Jérôme Cahuzac, Hollande's economic adviser and possible Finance Minister. Although Hollande would hire more teachers and police, Cahuzac says there'll be no increase in the public payroll.
While Hollande wants to tax the rich more and end tax breaks for big business, he's calling for generous tax cuts for small and midsize companies. At a Feb. 13 lunch with journalists, he praised the market-friendly policies of Britain's Labour Party. "The Left now grasps the idea that competitiveness is not a dirty word," says Françoise Gri, chief of French operations for temp-worker company Manpower Group. She says most of Hollande's policies "bear no resemblance whatever" to those of the last Socialist nominee, Ségolène Royal, Hollande's former companion. Royal wanted a hike in the minimum wage and pension payments and an end to flexible work rules.
Hollande's plan to curb the excesses of the finance industry is the same as Sarkozy's: tax financial transactions and force banks to separate their investment-banking and retail businesses. And while Hollande has criticized Sarkozy for raising the retirement age to 62 from 60, he wouldn't repeal the law; instead, he would rewrite some rules affecting relatively few workers.
Little known outside France, Hollande is a policy wonk with degrees from two top schools for the French elite, the Ecole Nationale d'Administration and the political studies institute known as Sciences Po, where he has taught economics and budget policy. "Hollande has the brain of an economist," says Laurent Dubois, a Sciences Po colleague. "Mitterrand was more into Balzac."
While rising through the ranks to become the party's head from 1997 to 2008, Hollande maintained a wide network of business and financial contacts. Before attending ENA and Sciences Po, he graduated from HEC, the business school where his classmates included Henri de Castries, now chief executive officer of insurance group AXA. Hollande belongs to a group that brings together entrepreneurs and members of Parliament for regular lunch meetings.
The public finances of France are in a grim state. Unemployment is near 10 percent, the budget deficit is at 5.5 percent of gross domestic product, and the country recently lost its AAA debt rating. On Feb. 8 the national auditor warned that the government had to step up efforts to reduce budget and trade deficits or risk an "unsustainable" debt spiral. On macroeconomic questions, "there's a quasi-consensus in the center of the political spectrum," says Dominique Barbet, an economist at BNP Paribas in Paris.
Hollande is not entirely business-friendly. He would eliminate measures passed under Sarkozy that make it easier for employers to get around the 35-hour workweek. He would raise the overall tax burden to 46.9 percent of the economy, up from the current 45.1 percent, one of the highest rates anywhere. Corporate France would end up paying an extra €23.8 billion ($31.3 billion) in taxes. What if companies move to cheaper locales? "I don't fear that," Hollande adviser Cahuzac says. "I don't see why managers of big companies should show less patriotism than the rest of the French."
Before it's here, it's on the Bloomberg Terminal.
LEARN MORE