10Q: How AES Captures and Stores the Wind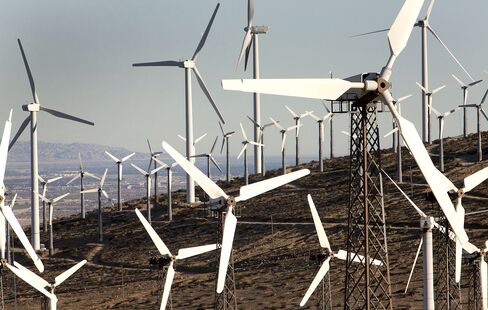 By Kari Lundgren
Wind farms have a problem: the wind. Turbines churn out power when conditions permit and idle when they don't. This intermittency creates no end of headaches for grid operators trying to balance electricity supply and demand. They often require coal power as a backup, which undermines carbon-free wind.
AES Energy Storage President Chris Shelton says that battery storage can make wind power more--not less--reliable than the fossil fuel incumbents. The AES Corp. unit last September opened its first energy storage project, a 32-megawatt system that will be linked to a 98-megawatt West Virginia wind farm. Their sealed lithium-ion batteries, originally designed for buses, fill rows of 53-foot long shipping containers.
Shelton spoke in December about large-scale energy storage with Kari Lundgren, who covers European energy for Bloomberg News.
Q: Where does battery storage fit into the power sector?
A: We're using the batteries to do what power plants have done historically. If what you really need is power a few hours a day, a few months a year, you may not need a power plant for that. Batteries will start supplanting a lot of things that peaking power plants do.
Q: When and why is storing wind power in batteries better than turning on a coal power plant?
A: There's no water usage, no need for fuel, no emissions and you can put them in all kinds of places because they're modular. You can scale it in as demand grows. A storage system can be connected to the grid at any time without burning any fuel and can provide power in less than one second.
Q: How long will it take to scale battery storage technology?
A: We started in 2008 with a 1 megawatt system, quickly jumped to 12, then 20, then 32 and those systems have been running for a long period with a high performance. It's happening very quickly.
Q: How big a storage unit can be done?
A: I don't think there is any limit to what size you would make these batteries. One way to get people to think about this is in 50 megawatt building blocks, and then about how many are needed. Our proposals are multiples of 100, up to 400 megawatts.
Q: How is large-scale battery storage being used today?
A: We're focused on reserve for unexpected generation or transmission events, reserve that is there to quickly jump in.
Q: What's exciting about your wind farm project?
A: Our facility is one of the first times that reliability service is being done using renewables. So you have a wind farm that's improving the operability of the system.
Q: Where do you foresee battery storage being most useful?
A: In more urban areas and the more constrained areas, where utilities are looking for additional power capability, we can have a batteries operating within a year. And you could scale these in over time. If you know that five years from now you'll need 200 megawatts, you don't need it instantly 5 years from now, you need it incrementally.
Q: How does battery storage compare to other energy technologies?
A: A lot of business and financing is being done on new energy technologies, such as thin-film solar, assuming they will last 20 years. The proven calendar life and cycle life of batteries is better known than those technologies. That to me is encouraging.
Q: What markets are the most exciting for you?
A: We're focused on the U.S., Latin American, and Europe where there is a fair amount of interest in storage. We'll go to established markets where the need is.
Q: What's new in how batteries will be used in the power sector? A: Power companies haven't had an opportunity to benefit from assembly line systems, and we're going to see that in storage, as it's happened in solar. It's a broad theme that's going to change the whole industry.
Visit www.bloomberg.com/sustainability for the latest from Bloomberg News about energy, natural resources and global business.
-0- Feb/16/2012 20:02 GMT