Yahoo Drops After Report Says Asia Asset Talks Hit Impasse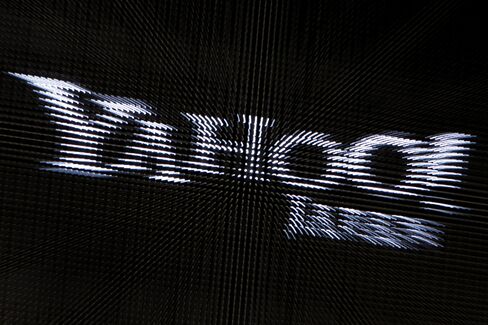 Yahoo! Inc., the largest U.S. Web portal, tumbled as much as 7.4 percent following a report that the talks concerning a possible sale of its Asian assets have hit an impasse.
The discussions stalled partly because of concerns over whether the terms will be tax-efficient enough, according to the technology blog AllThingsDigital. Yahoo, based in Sunnyvale California, owns stakes in Alibaba Group Holding Ltd. and Yahoo Japan.
The stock fell 5.5 percent to $15.24 at 1:49 p.m. New York time after earlier sinking to $14.92. A collapse of negotiations may put additional pressure on Yahoo's board, which recently endured a shakeup and has conducted a strategic review of the company since September, following the ouster of Chief Executive Officer Carol Bartz.
Yahoo said earlier this month that it weighed proposals for equity investments without receiving an attractive offer. The company said it continues to discuss a possible sale of its holdings in Asia and that it's devoting "significant resources to these discussions."
The Web portal is replacing Chairman Roy Bostock and three other directors, according to a statement Feb. 7. The announcement came a month after Yahoo hired Scott Thompson as its new CEO.
Dana Lengkeek, a spokeswoman for Yahoo, didn't immediately return a phone message seeking comment.
Before it's here, it's on the Bloomberg Terminal.
LEARN MORE