Glickenhaus Escaping Wall Street With One-of-a-Kind Ferrari P4/5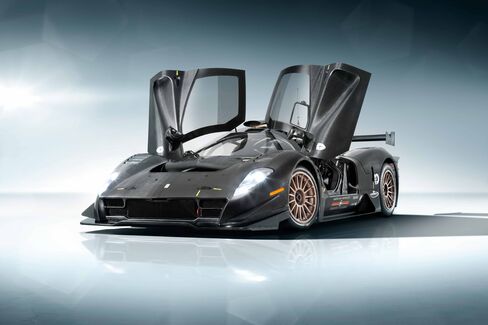 James Glickenhaus hits the gas pedal of his custom-built, 650-horsepower Ferrari P4/5 by Pininfarina while making a right at an intersection in Bedford, New York. He cuts off an oncoming Volvo that's turning left, and the driver beeps his horn in irritation.
Glickenhaus pays no mind and speeds up. By the time his low-slung and curvaceous red Ferrari reaches 75 miles per hour in a 40-mph zone in this rural area, the Volvo is a speck in the rearview mirror.
Glickenhaus, 61, a general partner at New York investment firm Glickenhaus & Co., has devoted 40 years and about $20 million to collecting, restoring and perfecting rare and fast cars. Wall Street bankers and traders have long been enamored of high-speed Porsches, Lamborghinis and Bugattis for the glamour and thrill of the ride, Bloomberg Pursuits reports in its premier issue.
Glickenhaus takes his obsession to the extreme: He not only owns 16 sports and classic cars, including six street-legal Ferraris, which sell new for more than $450,000 and reach speeds of 208 mph. He has also spent about $8 million to redesign two Ferraris to make them even faster.
In May, Glickenhaus's racing team will put the P4/5 Competizione he created to the test at the 24-hour Nurburgring contest in Germany, which a Ferrari has never won.
"I've always loved Ferraris," Glickenhaus says in his office, which is decorated with wall-length posters of his 1931 Duesenberg and 1967 Ferrari 330 P3/4. "I thought they were the most functional and beautiful-looking sports cars that could be raced."
Dino Berlinetta
On a warm Saturday in November, Glickenhaus walks into his 8,000-square-foot (740-square-meter) garage near Tarrytown, a short distance north of Manhattan, where he keeps 10 of his prized possessions.
The slender, 6-foot-1-inch (1.85-meter) money manager lifts the gull-wing doors on his canary-yellow 1967 Ferrari Dino Berlinetta Competizione, which has a glass-encased bubble cockpit that sits behind swooping front fenders. Maranello, Italy-based Ferrari SpA made only one of these.
He points to his 1967 Ford MK-IV J6, an aerodynamic racer sporting a flared tail, explaining that it finished fourth at France's 24 Hours of Le Mans in 1967. His grand 1931 Duesenberg Model J Franay Convertible Sedan, with ruby, diamond and emerald instrument indicators and a royal lineage, sits in stark contrast to the 1967 Hurst Baja Boot desert race buggy.
Steve McQueen
He says the late actor and car racer Steve McQueen used the buggy -- which lacks side windows, a hood and a trunk -- to win the 1969 Baja 500 race in Mexico. Glickenhaus also has a pocketbook belonging to the actor's then-wife, actress Ali MacGraw, which McQueen repurposed as a tool kit.
Glickenhaus stores it in a trophy case along with McQueen's stopwatch from his 1971 race movie, "Le Mans". "My emotional connection is the history and stories these cars tell," he says.
While many collectors pamper their cars like museum pieces, Glickenhaus drives all of his vehicles and revels in the publicity that comes with owning and remaking them. In 2005, he hired Pininfarina SpA, Ferrari's outside auto-design firm, to recraft the body of the Enzo Ferrari, named after the founder of the carmaker.
Glickenhaus dubbed it the Ferrari P4/5 by Pininfarina, after Ferrari's P3/4 and P4 racers from the 1960s. Five years later, his auto team combined the engine of a Ferrari F430 GT2 with the chassis of a Ferrari 430 Scuderia to create a racing car that he called the P4/5 Competizione.
'Great Taste'
To the delight of Ferrari lovers, Glickenhaus streamed video of the making of the Competizione on FerrariChat.com and also created Facebook pages and websites for both cars.
"He has great taste in automobiles," says Miles Morris, a former worldwide head of Christie's International Motor Cars and now a Connecticut-based classic-car consultant and broker. "He goes out of his way to tell people the story about his cars and how he gets such a buzz out of them."
Ferrari, which began making its namesake sports cars in 1947, has moved to stop Glickenhaus from exploiting its iconic brand. In 2007, the carmaker's then head of branding sent a warning letter to Glickenhaus.
If his redesigned Enzo carried the company's prancing-horse emblem, the letter said, Glickenhaus couldn't sell licensing rights for merchandising the car. The money manager has retained the company emblems on his P4/5 by Pininfarina.
But he says he stripped them off his Competizione to show Ferrari that he could get public attention and sponsors for the car without the aid of the brand.
Scale Models
The Competizione's racing sponsors in 2011 included Italian tiremaker Pirelli & C. SpA, and Glickenhaus authorized a company to make and sell scale models of the car, for which he says he received almost $6,000 in royalties.
"All Ferraris are engineered and built to guarantee the best features in terms of performance but also to meet stringent safety regulations," Ferrari spokeswoman Joanne Marshall says. "Any modification which alters the car can put at risk those features, and therefore, the car can no longer be considered a Ferrari."
Glickenhaus makes most of his money as an investment manager focused primarily on stocks at a firm founded by his 97-year-old father, Seth Glickenhaus. Seth started on Wall Street in 1929 and still works four days a week as chief investment officer at the firm, which manages $1.5 billion, including family capital and the Glickenhaus Foundation.
Early Interest
Seth says his son's interest in engines and cars began at a very early age. "We took him to the beach in Florida when he was a young boy, and you'd think he'd want to build sand things or go in the water," he says. "Instead, some guy pulled up in a boat with an engine on it, and Jimmy went over, and they had a conversation for two hours."
At the age of 17, Jim pestered his father to buy him a Ferrari 330 LMB for $8,000. Seth, who along with his wife raised Jim and his sister in New Rochelle, New York, preferred collecting original Edward Hopper paintings. He declined to buy his son a sports car.
Glickenhaus earned the money to buy his first Ferrari in 1970 while pursuing a bachelor of arts degree in sculpture at Sarah Lawrence College. He and a friend devised a plan to organize a Caribbean cruise to view the comet Kohoutek, predicted to be a spectacular celestial light show.
Comet Cruise
They convinced cruise line Holland America to provide the ship if they could fill it with passengers. The pair placed ads in the New York Times and set up a phone bank to take orders for tickets. Glickenhaus says he and his partner grossed a total of $250,000 from the cruise. He used part of his earnings to buy a used 1966 Ferrari 275 GTB for $6,000.
After graduating in 1972, Glickenhaus started making movies -- mostly violent thrillers -- as an independent filmmaker. He spent $60,000 of his own money to make his first movie, "The Astrologer", about a scientist mixed up with a suicidal devil cult.
In 1980, backed by $2 million that came mostly from his parents, he wrote and directed "The Exterminator", a vigilante tale of a Vietnam War veteran who exacts revenge on gangs using a flamethrower. Panned by the New York Times, the movie became an unexpected hit and was rereleased in 2011 on Blu-ray disc.
After eight movies over two decades, Glickenhaus quit the business in 1995 and went to work with his dad. "Getting coked-up actresses out of their Winnebagos is a lot more fun when you're in your 20s," Glickenhaus says.
Debate With Ferrari
As Glickenhaus began building his collection of cars in 1999, he got into a debate with Ferrari over the authenticity of one of them. He paid $500,000 to a former Formula One driver in 2000 for a remade 1967 Ferrari from the P4 series, one of the automaker's most successful lines of racers.
As he and his full-time mechanic, Sal Barone, began refurbishing the car, they noticed cracks in its chassis. The damage matched up with the accident records of a famed Ferrari 330 P3/4 that had won the 24 Hours of Daytona in 1967. It then took first place in the four-hour race at the Le Mans course in France before catching fire during another attempt at Le Mans.
The automaker disassembled the damaged car, decided that the chassis couldn't be repaired and scrapped the Ferrari. After a two-year examination, Glickenhaus and Barone concluded that their chassis was from the victorious Daytona racer.
"When we saw the engine mounts and I got the factory build sheets, it was a eureka moment," Glickenhaus says. "Everybody said it was destroyed and burned to the ground. When I did my research, people said, 'Maybe Jim isn't sniffing glue.'"
Restored Racer
In 2004, Glickenhaus touted his findings in a 100-page presentation on FerrariChat.com and on gearhead blogs. He spent another $500,000 to have Barone's team restore the legendary racer, including its No. 23 racing number and period sponsor stickers.
Glickenhaus pushed Ferrari to certify that he had the original chassis, known by its number, 0846. The stamp of authenticity would give him bragging rights and the ability to enter the car in Ferrari shows. It might also increase the car's value. So he sent Ferrari documents and photos to make his case.
In a brief letter to Glickenhaus, the company declined to authenticate the car. Ferrari said chassis 0846 was scrapped and written off, thus ending the car's official existence.
"If some of the remaining components such as engine and gearbox were considered as possible spare parts, the chassis, because of its racing history and the fire damages suffered, was definitively scrapped," the letter said.
'Trash Container'
"Therefore eventual pieces retrieved from the trash container should not have been used to rebuild or to revive a car which was written off."
As Glickenhaus earned a reputation as a devoted Ferrari collector, Pininfarina approached him to team up in customizing a Ferrari. He quickly said yes and chose a 2003 V-12, 660-hp Enzo Ferrari to redesign. The car was the fastest and most expensive Ferrari ever, according to Car and Driver, a trade magazine.
But its angular, blunt-nosed body -- designed by Pininfarina -- drew bad reviews. "The Enzo is not Pininfarina's prettiest Ferrari," AutoWeek wrote.
Paolo Garella, then head of Pininfarina's special projects unit, says Glickenhaus wanted to make a statement with the remake of the Enzo.
"Collectors are people who don't take risks; they buy cars that already have a place in history and a clear value," Garella says. "Jim is not concerned about making an investment. The major thing was to do something absolutely unique, to be part of the design, engineering and construction of an automobile."
$4 Million Remake
Glickenhaus tracked down a new Enzo at a Beverly Hills, California, dealer, paid $1 million for it and shipped the car to Pininfarina's Turin design shop. The one-year remake, involving more than 30 people, cost about $4 million.
While leaving the original engine intact, Pininfarina smoothed out the Enzo's sharp body angles to create a more curvaceous look resembling Glickenhaus's beloved 1960s racers.
The firm enhanced the aerodynamics by flattening the hood, adding a bubble cockpit, installing airfoils on the front of the car and reducing its weight by 617 pounds (280 kilograms). The changes helped double the car's so-called down force, allowing air pressure to push it lower to the ground and thereby enhancing performance in turns.
Pininfarina designed more-efficient vents in the door ducts so the engine can ingest a greater volume of air, improving horsepower while providing cooling. The result: a verified top speed of 233 mph achieved by retired Formula One racer Rene Arnoux on a test track in 2006 compared with 217 mph for the original car.
Ferrari for Racing
In 2007, the remade Ferrari won a design award for the best concept car or prototype at the Concorso d'Eleganza Villa d'Este on the shores of Italy's Lake Como.
The car's success inspired Glickenhaus to create a Ferrari for racing. He hired Garella, who had left Pininfarina, to manage the four-month, $4 million project. Garella used two Ferraris bought by Glickenhaus to make the Competizione.
Mechanics removed the 483-hp engine and gearbox from a racing version of a Ferrari F430 GT2, re-engineered them to add extra horsepower and placed them for racing in the chassis of a street-legal Ferrari 430 Scuderia so the car could later be driven in New York.
Garella's team crafted the body out of carbon fiber using molds from Glickenhaus's Ferrari P4/5, adding a steel roll cage to comply with racing requirements.
Nurburgring
In June 2011, Glickenhaus's team entered the car in the 24-hour race on the Nurburgring in Nurburg, Germany, a grueling event on a mountain road track filled with treacherous hairpin turns.
"You have very, very high-speed corners," Garella says. "It's continuous turning and bumps and downhill."
The Competizione, driven by four professionals, finished a respectable 39th out of 210 cars, even after an accident requiring a three-hour pit stop. Another Ferrari finished eighth, giving Glickenhaus the incentive to enter the race again this year.
But first, his team is redesigning part of the car again, to reduce drag and improve performance on straightaways. "No Ferrari-powered sports car has ever won the 24 hours of Nurburgring," Glickenhaus says. "We hope to change that."
Before it's here, it's on the Bloomberg Terminal.
LEARN MORE