George Takei's Facebook Masterclass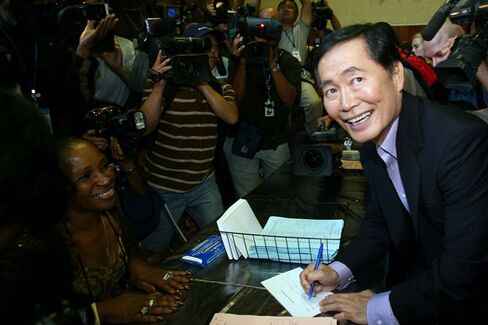 The brightest Facebook star of 2012 hasn't been the new timeline, a Mafia assassination game, or even the company's initial public offering. It's 74-year-old actor, gay rights activist, and sci-fi icon George Takei, best known for playing the cool headed, deep-voiced Mr. Sulu on the original Star Trek series. After launching his Facebook page last October, Takei has gained more than a million followers and his short, visual, fan-generated posts—which range from dogs dressed as Yoda to jabs at Rick Santorum—have rapidly spread to the news feeds of many millions more Facebook users.
Bloomberg Businessweek recently tapped Takei to school us in the art of Facebook curation.
Tell us a little about the growth of your page.
I began with Twitter in January of 2011 but moved to Facebook in October of 2011, as it gave me more of a way to interact and share ideas and laughter as a community. The site really gained traction after the first of the year, when we hit some kind of critical mass of people sharing and reposting, so that all "friends of friends" started joining in. Things really took off after I went on strike for a day [January 17th] to protest SOPA [the Stop Online Piracy Act proposed in Congress]. I think fans realized that the page had become a part of their daily lives, and so they were more eager than ever to participate.
What do you look for when you're considering a post?
True to my base, I like to find fan-generated images that are in the world of science fiction, especially Star Trek or Star Wars—both are franchises that I have worked in. One of the most popular posts ever was a picture of Nichelle Nichols [who played Lt. Urura on Star Trek] and myself on the bridge of the Enterprise, and we had a fan caption contest, with the fans voting for the three finalists. The winner had Uhura saying, "the captain kisses like a girl." And I was there saying, "I know."
I also have a strong LGBT following, so images that have a gay spin to them are common. We're split about 50/50 men and women, so posts that poke fun at either or both sexes are popular. On top of these, posts that make you think—or speak to the politics of the day or even of the moment—tend to be shared and commented on frequently.
How many submissions do you get per day—and how many, on average, do you post?
I receive hundreds of posts on the wall and e-mails from fans and unfortunately, don't have the time to look at them all. But when I do, it's not hard to find very funny material to share. I'll share six items on a good day.
You've managed to capture a fairly large swath of users from different backgrounds. What's the key to Facebook posts with wide appeal?
I think the fans understand that I am an equal-opportunity Facebooker. That is, everyone needs to be able to poke fun at themselves and not be too serious. We aren't out to hurt anyone, just laugh together. Things that bring a smile, even if they are a bit naughty or edgy, are my favorites. Like the recent Gay Terrorist picture, with a fine-legged Arab fellow in heels, a full beard and a white dress, named Yomama Been Shoppin. I knew it was wrong, but I laughed anyway and thought: "If I can laugh at this, others should be able to as well." And I was right.
The intros to each posting are short, succinct, and witty. What are you looking for when you write them? They're almost Haiku-like.
I've had the fortune in my career of working with terrific writers for television, film, and stage, across all genres. Perhaps I am channeling them. The English language is a beautiful, malleable, and glorious tool when used effectively, so I like to put a little more effort into each post.
As the page's followers have snowballed, how has this affected your posting, or the quality of material?
I like to think not. Certainly the material is shared more often, so I try to be careful to post higher-quality images, so that as many people on Facebook can enjoy them as possible. And I try to proofread more carefully—there's nothing worse than a typo that 100,000 people point out to you. I also reduced the number of times per day I interact with the site, so that I can give each post and as many of the comments within them their due.
You're a political figure on many issues, but the page seldom has overt political postings, and politics are more often subtly referenced. [For example, a cartoon with
marshmallow peeps standing around a plate of Fig Newtons, holding signs that say "God Hates Figs."] What place should politics have on a Facebook page?
There are fans from all political spectrums who follow the page, and I wouldn't want it to become some large bridge for "trolls" to dwell under. Finding material that unites people in laughter is better than standing on a soapbox to disseminate messages that divide. That said, when there is an issue that all of us of good conscience can get behind, irrespective of political affiliations—like same-sex marriage—I am happy to pontificate.
Facebook has filed for an IPO and is valued somewhere close to $100 Billion. Given the spread of your page and the quantity of Facebook users who are forwarding and reposting your posts—and that the Telegraph recently valued each Facebook user at approximately $125—what would you value the page at?
There are certainly more important things than money, and I'm the last person to be able to answer that question. On occasion, I will ask the fans for support of a charity or project, and if they respond with contributions, that's good enough for me. We were able to help a young documentary maker, for example, get funding for his Second Class Citizens project on gay rights. And we're doing a plug for The Old Globe Theater and the Japanese American National Museum, both of which are favorite nonprofits of mine.
How has the background of your existing fan base helped this page grow so rapidly?
It appears that sci-fi fans tend to be quite avid Facebookers, so that core has really helped us grow initially. They also like to communicate with one another on the page, since it reminds them that we're all a little weird, and finding other weird people with the same weird sense of humor is quite comforting. That's one of the great aspects of Facebook: It can bring people together—in this case to laugh—without forcing you to sit right next to someone else. I'm not sure it's what Mark Zuckerberg had in mind initially, but now look what's happened. I'm having the time of my life at nearly 75 years old. But just imagine when all the 20- and 30-somethings today are still on Facebook as grandparents, poking each other and starting Facebook fights. How very droll!
Before it's here, it's on the Bloomberg Terminal.
LEARN MORE