Philippines Plans Tighter Mining Rules That May Add Revenue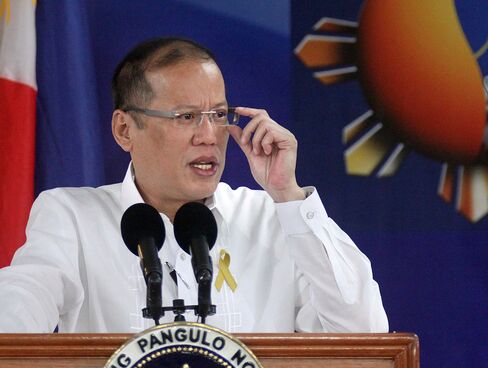 The Philippines is considering tightening rules, cutting tax breaks and reviewing resource contracts in what could be the biggest revamp in its mining policy since a 2004 court ruling supporting foreign investment.
President Benigno Aquino is proposing the nation introduce competitive bidding for mining rights, widen a ban on the activity to more areas, and boost state revenue from the industry, according to a draft executive order obtained by Bloomberg News. The eight-page document, which was sent by Aquino's office to various departments for feedback, was confirmed by Finance Secretary Cesar Purisima.
"Mining should be done in a manner that doesn't destroy the environment, in a way that benefits are properly shared between the companies and the country," Purisima said in an interview in Manila Feb. 10. "The revenue that the government shares from mining must be increased."
The proposals reflect Aquino's struggle to balance efforts to spur investment in the Southeast Asian nation with the need to protect the environment and ensure Filipinos benefit from the plans. The Philippines, whose government has had annual budget deficits since a surplus in 1997, would join at least 11 countries from Australia to Ecuador that Deutsche Bank AG says announced plans to increase taxes or royalties on sales of resources such as gold and coal last year.
Hurting Profit
The new guidelines could affect companies including Xstrata Plc, whose stalled $5.9 billion copper and gold project in the nation would be the country's biggest foreign investment, and OceanaGold Corp., the Australian gold producer with mines in New Zealand and the Philippines that is developing the $185 million Didipio mine in Luzon in the northern Philippines.
Atlas Consolidated Mining & Development Corp., a Philippine miner, fell 1.9 percent at 3:04 p.m. in Manila, heading for its lowest close in a month. In contrast, the benchmark Philippine Stock Exchange Index gained 0.3 percent.
Aquino's proposals include demanding economic valuations before allowing projects, and a review of all existing mining agreements to ensure that they are in line with the new policies, "provided however that the review shall not result in the impairment of contracts," according to the document.
2004 Ruling
The Philippines had more than 500 mining lease contracts, permits and agreements with companies including OceanaGold as of Jan. 31, according to the Mines and Geosciences Bureau. In 2004, the Supreme Court affirmed a law that allows overseas investors to skirt a constitutional ban on owning the country's mining companies, easing foreign access to untapped mineral wealth estimated to be worth $1 trillion.
The draft rules are "profoundly disturbing in that it creates great uncertainty for established and potential investors into the Philippines," the Joint Foreign Chambers of the Philippines said in a Feb. 9 letter to Aquino obtained by Bloomberg News today. The letter was signed by the American, Australian-New Zealand, Canadian, European, Japanese and Korean chambers as well as by the Philippine Association of Multinational Companies Regional Headquarters Inc.
Investments in exploration and mining projects in the Philippines totaled $3.8 billion from 2004 to 2010, and the industry generated 9.1 billion pesos ($215 million) of taxes, fees and royalties in 2010, according to the Department of Environment and Natural Resources' Mines and Geosciences Bureau website.
Boosting Revenue
Mineral exports totaled $1.87 billion in 2010 and mining currently employs 197,000 people in an economy where the World Bank says one in four people lives on less than $1.25 a day.
Aquino proposes boosting government revenue from mining by revoking an income tax holiday for miners and reviewing mining fees, taxes and incentives. He plans to boost downstream processing of minerals and ban direct shipping of raw or unprocessed strategic metallic ores three years after the executive order takes effect, according to the document.
At present, mining companies may be given income-tax holidays that range from four years to seven years, according to Leo Jasareno, Mines and Geosciences Bureau director.
The government is considering raising a current 2 percent excise tax on mining, Neric Acosta, presidential adviser for environmental protection who is part of the group crafting the policy, said in a telephone interview Feb. 10.
Balancing Act
The revocation of income-tax holidays and review of fees would "clearly reduce the profitability of mining projects," Michael Bengson, a Manila-based analyst at Deutsche Bank, said in a note today.
Areas that will be banned from mining would be expanded to include prime agricultural lands and eco-tourism zones under the new mining policy being proposed, according to the draft.
"The government is trying to perform a balancing act to establish a clear, level playing field which protects property rights and heightens transparency while also reducing tax avoidance," said Aninda Mitra, Singapore-based head of Southeast Asian economics at Australia & New Zealand Banking Group Ltd. "This is not going to be easy."
Resource nationalism, or state demands for higher taxes, royalties or stakes, jumped to being the number-one concern among mining executives in 2011, replacing capital allocation, Ernst & Young said in its annual risk survey published in August.
"You need good mining laws and policies to give us confidence on developing and investing our capital," OceanaGold Chief Executive Officer Mick Wilkes said in a speech in Manila Feb. 10. The company didn't comment directly on the government's proposals when asked by Bloomberg News today, saying its Didipio project is on schedule.
Harmonizing Laws
Aquino is seeking investments for more than 700 billion pesos of projects in mass rails, highways and airports to boost growth to as much as 8 percent annually. The Philippines' $200 billion economy expanded 3.7 percent last year.
The changes being considered are designed to protect the environment, harmonize conflicting laws and "maximize" benefits from mining, according to the draft order. The move toward competitive public bidding for mining rights would depart from the current first come-first served procedure, it said.
The draft order was accompanied by a letter from the Office of the President of the Philippines signed by Aquino's executive secretary, Paquito Ochoa, which sought feedback on the proposals. The letter, entitled Memorandum from the Executive Secretary, was addressed to Finance Secretary Purisima, Trade and Industry Secretary Gregory Domingo, as well as the head of the National Economic Development Authority and the secretaries of science and technology and agriculture.
Xstrata Project
The new guidelines will help resolve Xstrata's dispute with a provincial government over its project, Purisima said, without elaborating.
Sagittarius Mines Inc., an Xstrata unit, and its partner Indophil Resources NL, planned to use open-pit mining as the method for extraction at the Tampakan mine, the largest untapped gold and copper deposit in Southeast Asia. The local government of South Cotabato banned open-pit mining in June 2010 on concern it would harm the environment. Aquino's government subsequently denied the project's environmental clearance application.
Officials are still debating the details of the draft order, which aren't final yet, Purisima said. The finance secretary said he hasn't decided whether he supports or opposes the review of contracts being proposed.