Vodafone Service Sales Growth Slows on Italy, Spain Cuts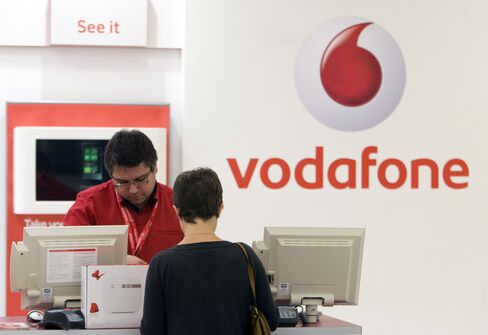 Vodafone Group Plc reported slowing service revenue growth for the fiscal third-quarter, missing analyst estimates, as consumers in Spain and Italy cut spending amid the European sovereign debt crisis.
Service revenue excluding currency swings and acquisitions in the three months through December gained 0.9 percent, after rising 1.3 percent in the prior quarter, the world's largest mobile-phone company said today. Analysts had projected growth of 1.1 percent, according to a Bloomberg survey. Service sales include voice, data, messaging and broadband services. They exclude handsets and accessories.
"In Italy, there is clearly an impact on disposable income," Chief Executive Officer Vittorio Colao said on a conference call. "I expect things not to become much worse but it will be long."
The slowdown shows how the European debt crisis is hurting mobile-phone operators such as Newbury, England-based Vodafone and Madrid-based Telefonica SA which have been trying to drive data sales from smartphones including Apple Inc.'s iPhone. Vodafone's quarterly service revenue declined 8.8 percent in Spain, the country with the highest unemployment rate in the European Union, and 4.9 percent in Italy.
Vodafone dropped as much as 1.6 percent in London and was down 1.1 percent at 171.75 pence as of 8:15 a.m., valuing the company at 86.2 billion pounds. Before today, the stock had declined 3 percent this year, while the U.K. benchmark FTSE 100 index had gained 5.5 percent.
Spanish Recession
The total third-quarter service revenue gain also trails Vodafone's own long-term forecast. The company in November 2010 said service revenue will grow in the range of 1 percent to 4 percent in the next three years. The company today reiterated its full-year forecast for adjusted operating profit of 11.4 billion pounds ($18.1 billion) to 11.8 billion pounds.
Spain fell back into a recession in the last quarter of 2011, its second since the end of 2009, and may contract 1.5 percent this year as the government accelerates spending cuts, the Bank of Spain estimates. Spain's unemployment rate rose to 22.9 percent, the highest in 15 years, in the fourth quarter from 21.5 percent in the previous three months.
Colao, a former McKinsey & Co. partner who became Vodafone CEO in 2008, said in November he will start a new push to cut costs to cushion the impact of Europe's economic slowdown.
Greece Losses
This week, Vodafone Group abandoned an attempt to merge its Greek unit with rival Wind Hellas after facing European Union regulatory opposition. A successful merger would have allowed Vodafone to reduce costs and better compete in the country with Hellenic Telecommunications Organization SA, or OTE, which is controlled by Deutsche Telekom AG.
Vodafone is now in talks with Wind Hellas about sharing networks, Colao said today, adding that "it is something we can look at pretty quickly."
Vodafone in November booked an impairment loss of 450 million pounds for its business in Greece, citing lower cash flow and an increase in discount rates. In the year-earlier period, Vodafone had already lowered the value of its Greek operations by 800 million pounds.
To benefit from rising demand for data services, Colao last year shifted billing towards tiered pricing with more consumption-based tariffs. Data revenue grew by 21.8 percent in the third quarter and now represents 14.8 percent of the company's service revenue, compared to 12.1 percent a year earlier.
Verizon Boost
Colao also has said the tightening partnership with Verizon Communications Inc. will help to slash expenses.
Vodafone in November raised its interim dividend and said it would pay a 4-pence special dividend as the company is set to receive a 2.8 billion-pound payout from Verizon Wireless, the U.S. venture in which it owns a 45 percent stake. Verizon had withheld the dividend from the Verizon Wireless partnership to focus on paying down debt.
Verizon Wireless' third-quarter service revenue grew by 6.8 percent, Vodafone said today.
Before it's here, it's on the Bloomberg Terminal.
LEARN MORE