Banks Agree to $25 Billion Deal to End Foreclosure Probe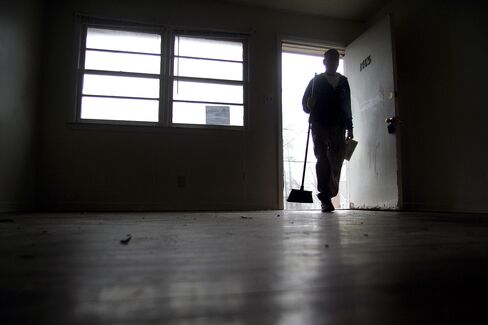 Bank of America Corp., JPMorgan Chase & Co. and three other U.S. banks reached a $25 billion settlement with 49 states and the federal government to end a probe of abusive foreclosure practices stemming from the collapse of the housing bubble.
In what the U.S. called the largest federal-state civil settlement in the nation's history, the banks have committed $20 billion in various forms of mortgage relief plus payments of $5 billion to state and federal governments.
"There are something like 10 million-plus homes under water to the tune of half a trillion dollars," said Lynn Turner, the former chief accounting officer at the Securities and Exchange Commission and a managing director at consulting firm Litinomics Inc. in Los Angeles. "I don't think this settlement, which lets all the bank executives off the hook for filing false documents with courts, is going to make much of a dent."
The accord announced today in Washington was 16 months in the making, following a move by states to investigate bank foreclosure practices in 2010. The deal will "begin to turn the page on an era of recklessness" that led to the housing bubble, President Barack Obama said today in Washington, where he was joined by administration officials and state attorneys general.
Five Biggest
The nation's five largest mortgage servicers -- Bank of America, JPMorgan, Wells Fargo & Co., Citigroup Inc. and Ally Financial Inc. -- negotiated the settlement with federal agencies, including the Justice Department, and state attorneys general.
The deal comes more than a year after attorneys general from all 50 states announced a probe into foreclosure practices following disclosures that banks were using faulty documents to seize homes.
Oklahoma reached a separate agreement worth $18.6 million with the banks and didn't sign the federal settlement, according to a statement from the state's attorney general, Scott Pruitt.
The $25 billion agreement includes $1.5 billion in payments to some 750,000 borrowers who lost their homes to foreclosure. About $17 billion will pay for mortgage debt forgiveness, forbearance, short sales and other assistance to homeowners. Servicers will also provide $3 billion in refinancing to lower homeowners' interest rates. A website has been set up to give information on the settlement.
Cash Payments
Bank of America has committed as much as $11.8 billion, including a cash payment of $3.24 billion, according to a government fact sheet. The balance will be applied toward mortgage modifications and other benefits for borrowers. Wells Fargo has committed as much as $5.35 billion; JPMorgan $5.29 billion; Citigroup $2.2 billion; and Ally $310 million.
The total could grow to $40 billion if the next nine largest mortgage servicers sign on to the agreement, said an administration official who briefed reporters on condition of anonymity before the announcement. In a best-case scenario, if all banks participate fully, the deal could be worth $45 billion to homeowners and people who lost their homes to foreclosure, the official said.
This settlement will hold accountable institutions that wronged families and neighborhoods and "contributed to the collapse of not just the American economy but the international economy," Housing and Urban Development Secretary Shaun Donovan said in Washington.
Reserves Set Aside
Banks have probably already set aside reserves to cover most of the costs for this settlement, Richard Bove, a bank analyst at Rochdale Securities LLC, said in an interview with Bloomberg Television.
"In terms of the impact on the banks, it's not going to be actually that significant despite the huge amount of money we're talking about," Bove said.
JPMorgan, the largest U.S. bank by assets, won't need to set aside additional reserves to cover its share of the agreement, Kristin Lemkau, a spokeswoman for the New York-based bank, said in an e-mail. It expects that the financial impact on results for this quarter and future periods won't be material.
Citigroup said in a statement it expects that existing reserves will be sufficient to cover customer relief payments and "all but a small portion" of the cash payment. The bank will adjust its fourth-quarter and full-year 2011 financial results to reflect an additional $84 million after-tax charge.
'More Certainty'
"This settlement will help provide additional support for homeowners who need assistance, brings more certainty to the housing market and aligns to our ongoing commitment to help rebuild our neighborhoods and get the housing market back on track," Dan Frahm, a Bank of America spokesman, said in a statement.
Borrowers whose loans are owned by banks and haven't been pooled into mortgage bonds will be most likely to benefit from the agreement, said the administration official at the briefing. Borrowers who suffered foreclosures from the start of 2008 through 2011 will be eligible for payment.
"There's a wide array of issues and no one action is going to put all of that to a close," Mike Heid, Wells Fargo's mortgage president, said in an interview. "Today's settlement is a big step forward in a very substantial and meaningful piece of the business."
Amounts May Vary
Actual restitution to individual borrowers will depend on how many make claims, with the administration official estimating that each borrower could get $1,500 to $2,000.
"This agreement has more things to help homeowners than anything we've seen before," said Iowa Attorney General Tom Miller, who led the talks for the states.
Banks must spend the money within three years or face a fine. The proposal must be approved by a federal judge. Banks will get extra credit for funds distributed in the first 12 months, the official said.
California Attorney General Kamala Harris, who initially didn't sign on the accord when states were required to decide, said in a statement that the settlement provides a commitment to the state of as much as $18 billion.
California's agreement with the banks includes $12 billion for principal reduction, with incentives for banks to move swiftly and penalties if they don't, Harris said today.
The state will hold banks accountable for this settlement after an earlier accord with Countrywide Financial Corp., acquired by Bank of America in 2008, gave the lender credit for promises that went unfulfilled, she said.
Further Liability
The settlement doesn't release banks from any criminal liability or grant any immunity, release any private claims by individuals or any class-action claims, or release claims related to the packaging of mortgage loans into securities, according to the website outlining the agreement.
The resolution also establishes a monitor, Joseph A. Smith Jr., North Carolina's banking regulator, to track compliance with the terms of the agreement.
The 50-state investigation, announced Oct. 13, 2010, came after New York-based JPMorgan and Ally Financial's GMAC mortgage unit said they would stop repossessions in 23 states where courts supervise home seizures, and Charlotte, North Carolina-based Bank of America froze foreclosures nationwide.
Ally, based in Detroit, was first to freeze evictions in September 2010, after depositions in lawsuits challenging foreclosures surfaced showing that employees signed affidavits containing information they didn't personally know was true.
10,000 Documents
In December 2009, a GMAC employee said in a deposition in a foreclosure case filed in West Palm Beach, Florida, that his team of 13 people signed about 10,000 documents a month without verifying their accuracy.
Bank of America, JPMorgan, New York-based Citigroup, San Francisco-based Wells Fargo and other mortgage servicers have also been required by the Office of the Comptroller of the Currency to improve their foreclosure procedures. The OCC in April 2011 announced enforcement actions against the companies for "unsafe and unsound" practices related to loan servicing and foreclosures.
"They fueled the downward spiral of our economy and of communities nationwide," U.S. Attorney General Eric Holder said today of bank practices. "They eroded faith in our financial system. And they punished American taxpayers who have had to foot the bill for foreclosures that could have been avoided."
Before it's here, it's on the Bloomberg Terminal.
LEARN MORE