Callas Battles Onassis as Tyne Daly Plays Diva: London Stage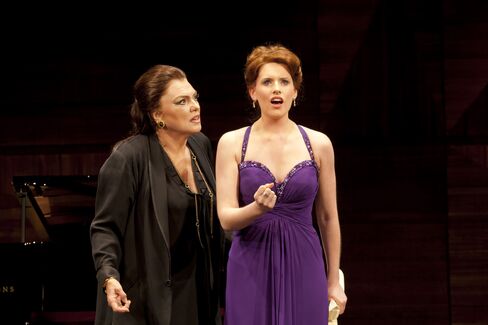 Ugly dumpling Maria Callas lost almost a hundred pounds and transformed herself into a beautiful diva. She ditched her dull husband and hooked up with the dangerous Aristotle Onassis, who then abandoned her. Callas died lonely, a recluse. Someone should write an opera about it.
They haven't, so an alternative is to see Tyne Daly in "Master Class," Terrence McNally's 1995 play about Callas. It's at the Vaudeville Theatre in London, having transferred from Broadway.
This is one of those performances where you can't quite believe you're watching an actor, so complete and detailed is the portrait. From the inflection of a Greek-American-British-Italian vowel (Callas invented her own accent, as she invented many other things about herself) to the haughty snap of a handbag clasp, everything springs from a core of truth.
It's all the more remarkable since the hefty Daly looks nothing like Callas, and her wig and costume need improvements. Her eyeliner stripes go so far sideways it looks like she's trying to join them up at the back of her head. It doesn't matter. Like the great diva, she makes you believe in her by the force of her talent and wit.
Callas gave a series of master classes at Juilliard School in New York in 1970-71, and McNally takes this idea as the starting point for his play. In between discussing the arias performed by three students, Callas reminisces about her hardships in Athens during the war, her difficult mother, her teacher, her rivals.
"Joan Sutherland?" she says with a pitying shrug. "She did her best."
Upstaging Students
There are plenty of laughs along the way, some generated by Callas's grand manner. "Don't look at me. I'm invisible. I'm not here," she tells the audience before the students sing. Then she proceeds to upstage them one by one.
The set is a simple dais. There's a grand piano (ably played by Jeremy Cohen) to accompany the students, and a high stool for Callas. On two occasions it all slides apart to leave Daly alone in the dark while recordings of Callas singing Bellini and Verdi are played. During the first of these trips into the psychological interior, Callas recalls her tortuous relationship with Onassis, playing both sides of the arguments.
It's a gift of a scene for a talented actor who can switch character on a pinpoint, and Daly makes the most of it. One moment, she's a macho, aggressive, calculating Greek billionaire, and the next, she's a needy diva with an inferiority complex. "You don't like it when I call you my canary, do you?" sneers Onassis with gruff glee.
Quirky Casting
If the students (two sopranos and a tenor) aren't given great roles, the performers still could work a bit more on them. Some of the singing is fun. Garrett Sorenson displays a free and ringy top B flat in his performance of the Puccini air "Recondita armonia" and Naomi O'Connell brings fire to Verdi's Lady Macbeth. (Odd casting, since her biography says she's a mezzo, not a soprano.)
Callas's emotional and technical critiques are right on target, and her passionate defense of art in general and opera in particular are some of the highlights of the show.
Then the play runs out of steam in Act 2. When the set slides off for the second time to plunge us into the single spotlight that is Callas's subconscious, the device has a "here we go again" feel. This time around, she's spatting with her first husband, a clingy industrialist who needs her more than she needs him.
I suppose part of the problem with these scenes is that they highlight the fact that this is really a giant monologue masquerading as a play. Nothing is given the same weight as Callas's view of herself. If drama is the point where an immovable object meets an irresistible force, here you only get the latter.
Never mind. It doesn't seem so much of a hardship with Daly on hand to make that force seem utterly believable. Rating: ***.
"Master Class" is at the Vaudeville Theatre through April 28. Information: http://www.nimaxtheatres.com or +44-844-412-4663.
(Warwick Thompson is a critic for Muse, the arts and leisure section of Bloomberg News. The opinions expressed are his own.)
What the Stars Mean:
****      Excellent
***       Good
**        Average
*         Poor
(No stars)Worthless
Before it's here, it's on the Bloomberg Terminal.
LEARN MORE