Hanjin Leads Ship Line Gains on U.S. Rates Increase: Seoul Mover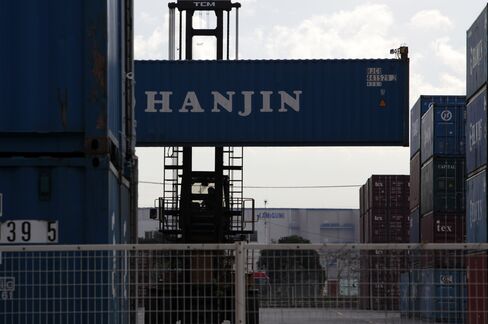 Hanjin Shipping Co., South Korea's largest shipping line, climbed to the highest in more than six months in Seoul trading after carriers announced plans to raise Asia-U.S. rates for the second time this year.
The company advanced as much as 7.7 percent to 18,150 won, the highest intraday price since Aug. 4, and traded at 17,600 won as of 10:53 a.m. local time. Orient Overseas International Ltd., Hong Kong's biggest container line, gained as much as 5.5 percent to HK$53.50 in the city.
Members of the Transpacific Stabilization Agreement shipping group yesterday said they would seek a $300 per 40-foot box increase next month after "successfully" pushing through a boost in January. The lines will also try to raise rates by $500 per container in annual contracts starting around May after price wars and higher fuel costs caused industrywide losses that probably totaled $5.2 billion last year, according to Drewry Shipping Consultants Ltd.
"There's a consistent news flow of shipping lines trying to raise rates and this could continue until the summer peak season," said Jee Heon Seok, an analyst at NH Investment & Securities Co. in Seoul. "Shipping lines seem to have a mutual understanding that unless they take drastic measures to curb losses, it will be a losing battle for everyone."
Asia-Europe Rates
Efforts to boost rates are also planned for Asia-Europe cargo next month. A.P. Moeller-Maersk A/S, owner of the world's biggest container shipping line, and other companies are seeking to raise levies by as much as $775 per 20-foot container starting March 1.
China Shipping Container Lines Co., the country's second-biggest shipping company, climbed as much as 4.1 percent in Hong Kong. Mitsui O.S.K. Lines Ltd., Japan's biggest shipping company by market value, advanced as much as 3.6 percent in Tokyo.
The TSA, which represents 15 of the world's largest shipping lines, has limited antitrust immunity to discuss rates and advise on yearly shipping contracts. Members include Hanjin and Orient Overseas, as well as Maersk and Neptune Orient Lines Ltd.'s APL Ltd. unit.
The industry lost money last year after rates dropped and because lines had added too many ships in anticipation of an economic recovery. The TSA, which called the increase "critical" to carriers, said its members will consider further revenue and cost recovery initiatives later in the year.
"If carriers adopt a marginal increase that only partially offsets huge losses as costs continue to rise, the result is another 18 months of losses," Brian Conrad, a TSA director, said in the statement. "This year in particular, rate recovery must be meaningful in order to maintain service levels and, ultimately, carrier viability."
The container industry was under "severe pressure" last year and "we still see an unhealthy balance between supply and demand," Michael Pram Rasmussen, chairman of Copenhagen-based Maersk, said yesterday in the company's employee newsletter.
Global freight rates dropped on average 25 percent last year, according to RS Platou Markets AS. Prices fell the most on Asia-to-Europe routes, where the decline was almost 60 percent, the Oslo-based broker said in a Jan. 4 note.
Before it's here, it's on the Bloomberg Terminal.
LEARN MORE