Student Debt Could Be Next 'Bomb,' U.S. Bankruptcy Lawyers Say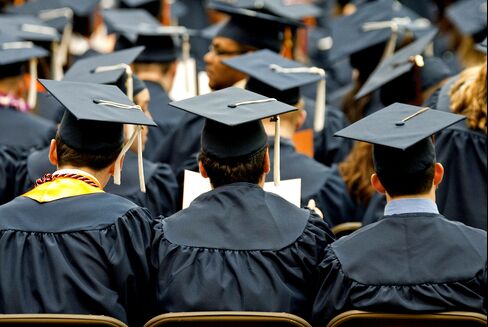 Almost half of U.S. bankruptcy attorneys representing consumers say that potential clients with student-loan debt have "significantly increased" over the past three to four years, a survey found.
The National Association of Consumer Bankruptcy Attorneys, a group that represents consumer debtors and their lawyers, released a survey today of 860 bankruptcy attorneys in the U.S who are members of the organization.
Federal and private student-loan debt is approaching $1 trillion and surpassed credit-card debt for the first time in 2010, according to Mark Kantrowitz, publisher of FinAid.org, a college grant and loan website. The borrowing represents a threat reminiscent of the mortgage crisis, the attorneys group said in a statement. Under U.S. law, student-loan debt -- unlike credit-card borrowings -- can rarely be discharged in bankruptcy court.
"Take it from those of us on the frontline of economic distress in America," William E. Brewer, Jr., president of the group, said in a statement. "This could very well be the next debt bomb for the U.S. economy."
Before it's here, it's on the Bloomberg Terminal.
LEARN MORE