Saudis Set to Tap Fuel Oil Boom With Latest Pricing for Crude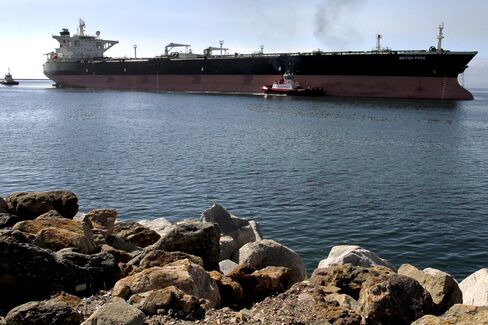 Saudi Arabia, the world's biggest oil exporter, is poised to raise the price of its lowest-quality crude to the most in two years relative to the top grade as it benefits from the rising cost of shipping fuel.
Arab Heavy, the kingdom's cheapest oil, will be sold to Asian customers next month for $2.02 a barrel less than higher-quality Arab Light, the smallest difference since March 2010, according to a Bloomberg survey of 10 buyers in Japan, Singapore, China, South Korea and India. State-run Saudi Arabian Oil Co. will announce official selling prices, which act as benchmarks for pricing in Iran, Iraq and Kuwait, on Feb. 5.
The return on making fuel oil, used as "bunker" to power ships and for producing electricity, rose 70 percent in January, according to data from PVM Oil Associates Ltd. Supplies from Russia and Sudan are waning even as consumption rises in China and Japan, lifting bunker prices by 30 percent from a year ago.
"Bunker-price hikes will surely justify the hike of Arab Medium and Arab Heavy," said Osamu Fujisawa, an oil economist in Tokyo who worked for Saudi Arabian Oil Co. and Royal Dutch Shell Plc in a career spanning 43 years.
While Aramco is expected to cut the so-called differentials for all of its export grades to Asia, the drop for the heavier grades will be smaller than that for lighter grades, according to the 10 survey respondents. They declined to be identified, citing company policy.
Lowest Spread
Aramco will cut its so-called price differential for Arab Heavy sold in March by 17 cents a barrel, according to the survey. That means the grade would cost 62 cents a barrel less than the average of the Oman and Dubai regional benchmarks, which traded today at $110.68, up 4.7 percent this year. Arab Light will fall by 65 cents to $1.40 a barrel, according to the survey. That would put the price gap between them at $2.02, the lowest spread since March 2010.
A narrowing backwardation, a market situation where the price for delivery now is greater than for shipments later, is another reason for Aramco's expected reductions, the survey said. Dubai swaps for February cost an average 88 cents a barrel more than April during trading in January, according to PVM data. The difference is down 21 percent from $1.11 in December.
Refiner losses on producing fuel oil from a barrel of Dubai crude, known as the crack spread, averaged $1.40 a barrel in January, according to data from PVM, a London-based broker. The compares with average losses of $4.50 in December. Refiners traditionally accept losses on making fuel oil, a residue in the process of making profitable fuels such as gasoline, diesel and naphtha.
Fuel-Oil Yields
Arab Heavy yields 53 percent heavy residue during basic processing, compared to 42 percent for Arab Extra Light, according to New York-based Energy Intelligence Group.
Fuel oil prices have been supported by stronger demand in Japan and China, according to analysts including BNP Paribas SA.
"Residual fuel oil stocks are generally low globally, most noticeably in Asia, due largely to strong Japanese power generation demand," Harry Tchilinguirian, of BNP Paribas, said in a Jan. 30 research note. Japanese fuel oil stocks are below the five-year average and will fall lower on higher demand from utilities during winter, he said.
Japan's utilities purchased 543,000 barrels a day of fuel oil and crude to burn for power generation in December, according to data from the Federation of Electric Power Companies. That is more than three times the level of one year ago, before Japan closed most of its nuclear reactors for the Fukushima Dai-Ichi disaster in March 2011.
Japan's use could rise to 700,000 barrels a day in August when demand reaches its seasonal peak, JPMorgan analysts, led by Lawrence Eagles, said in a Jan. 30 research note.
Sudan Blend
The loss of South Sudanese oil production will boost demand further for fuel oil, according to a Feb. 1 research note by Deutsche Bank's Soozhana Choi. The East African nation has shut output because of a pipeline fee dispute with Sudan, closing down 350,000 barrels a day of crude.
The country's Dar Blend is mixed with fuel oil and processed by Chinese refiners. Its Nile Blend is used in Japan to burn for power generation.
"The lack of Dar Blend supplies may also be behind some of fuel oil's strength in Asia," Vienna-based JBC Energy GmbH said in a Jan. 31 research note. "This could also help explain why China is ramping up imports of fuel oil, something that is contributing strongly to the booming regional fuel oil crack we have been seeing over the month in Asia."
China's fuel oil imports in December rose 30 percent from a year earlier, according to data from the Customs Administration of Customs.
Russia's Taxes
Russia's fuel-oil supply may fall by about 100,000 barrels a day this year, translating into lower exports to Asia, according to JBC. Russia announced new taxes starting Oct. 1 designed to encourage higher-value exports such as crude, while discouraging sales of fuel oil.
Ships passing through Singapore in December bought more than 3.2 million tons of bunker, 16 percent more than a year ago, according to data from the Maritime and Port Authority. Prices for the fuel averaged $718.18 a metric ton last month, more than the previous record high in July 2008.
Hanjin, South Korea's largest shipping company, said Jan. 30 that it had a loss of 823.9 billion won ($728 million) for 2011. Bunkers represent about 70 percent of an average vessel's total costs, according to the Baltic and International Maritime Council, or Bimco, the Bagsvaerd, Denmark-based organization that groups two-thirds of the world's shipowners.
The carrying capacity of the world fleet of oil tankers, bulk carriers and container ships rose 10 percent to almost 1.3 billion deadweight tons last year, according to Clarkson Research Services Ltd., a unit of the world's biggest shipbroker.
The following table gives the median of 10 responses to a survey of oil buyers. Prices for customers in Asia are set as a differential to the average of Oman and Dubai grades as assessed by Platts, the energy-information division of McGraw-Hill Cos. Prices are in U.S. dollars a barrel.
---------------------------------------------------------------

                    February     March(Est.)       Change (Est.)
Arab Extra Light    +3.55        +2.75             -0.80
Arab Light          +2.05        +1.40             -0.65
Arab Medium         +0.75        +0.30             -0.45
Arab Heavy          -0.45        -0.62             -0.17
Light v Heavy       -2.50        -2.02             +0.48
----------------------------------------------------------------
Before it's here, it's on the Bloomberg Terminal.
LEARN MORE