Micron Appoints Mark Durcan to CEO Role After Appleton's Death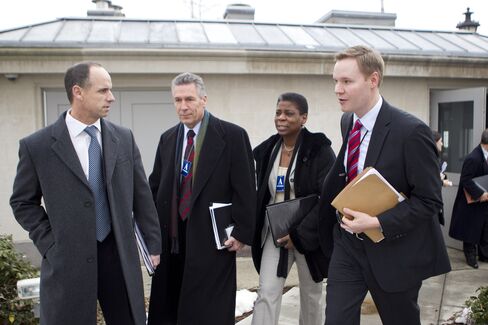 Micron Technology Inc. named Mark Durcan as its chief executive yesterday, replacing Steve Appleton, who died on Feb. 3 after crashing an experimental plane.
Durcan, 51, who had been planning to retire in August, was appointed by the board of Boise, Idaho-based Micron after agreeing to fill in temporarily. Robert Switz will become chairman of the board, and Mark Adams, head of sales, was named company president, Micron said in a statement.
"I have provided the board my ongoing commitment to work with the management team and continue to move the company forward," said Durcan in the statement. "We are deeply saddened by Steve's loss and will miss his hand at the helm."
Durcan, who joined Micron in 1984, had been scheduled to hand over his role as chief operating officer to Adams in August. Adams joined Micron in 2006 as part of Micron's acquisition of Lexar Media Inc. They will pick up where Appleton left off, navigating the sole U.S. maker of computer memory through a period of volatile price swings that left Micron unprofitable eight of the past 14 years.
Micron's board met yesterday following the death of Appleton, who took charge of Micron at the age of 34 and went on to become the memory-chip industry's longest-serving chief executive officer. He was 51.
Appleton was flying a private aircraft with a fixed wing and single engine when it crashed between two runways, said Patty Miller, a spokeswoman for the Boise airport. Appleton was the only fatality.
Noyce Award
A skydiving triathlete who flew stunt planes and raced motorcycles, Appleton had been working before his death to decrease Micron's reliance on sales of the chips, which help computers process information.
Last year, Appleton was awarded the Semiconductor Industry Association's Robert N. Noyce Award, a prestigious honor named for the inventor of the integrated circuit. In the 1980s, Appleton worked with the U.S. government as a main negotiator to help American chip companies gain access to Japanese markets.
"There is such a long list of things he did for the industry," Ray Stata, chairman of Analog Devices Inc., said in an interview. He introduced Appleton at the award ceremony last year. "He was one of those kinds of people when he decided to speak, he had wisdom and insights and thoughts that were taken seriously," Stata said.
Micron shares fell 3.1 percent to $7.70 in late trading Feb. 3, after having been halted at $7.95 prior to the announcement. The company has a market value of $7.85 billion.
Second Takeoff
Appleton's death follows recent management changes at the company. Micron said last month two board members, Teruaki Aoki and James W. Bagley, are departing.
Under Appleton, Micron suffered from the price fluctuations that plagued the broader memory-chip industry. Micron, the last remaining U.S. maker of dynamic random access memory, or DRAM, reported a second-consecutive quarterly loss in December as weak demand for personal computers hammered chip prices.
Appleton's aircraft crashed at about 8:56 a.m. in Boise, shortly after his second takeoff of the day, Zoe Keliher, a National Transportation Safety Board investigator, said during a press conference. His Lancair IVP aircraft first departed at 8:46 a.m. and landed after getting 5 to 10 feet off the runway, she said.
Regaling Reporters
After departing again, Appleton requested permission to land a second time. He indicated that there was a problem and said, "I'm going to taxi back in and see if I can figure it out," according to a recording of Boise airport air-traffic control conversations posted on LiveATC.net.
"I'd like to turn back in and land," he said. "Coming back in."
Soon after that, people at the control tower can be heard yelling, "Oh my God," over and over as the plane crashed.
The Lancair aircraft that Appleton was piloting when he died had a "disproportionate" number of fatal accidents, according to a U.S. Federal Aviation Administration notice to Lancair operators on Sept. 25, 2009.
A Los Angeles native, Appleton flew stunt planes as a hobby and experienced an earlier crash, in 2004. He later showed off photographs of the destroyed aircraft while regaling reporters with his account of crawling from the wreckage only to return to work the following day. The NTSB said that accident was caused by the pilot's failure to stay clear of the ground while performing acrobatic maneuvers.
Rough Upbringing
Appleton also enjoyed other high-adrenaline activities, including triathlons, skydiving, kite-boarding and motorcycle racing.
"Everything Steve did was bigger than life -- whether it was flying one of his planes, running the only DRAM company in the U.S.A., or the many other daredevil activities in which he engaged," former Intel Corp. Chairman Craig Barrett said in a statement. "Having worked with Steve in the semiconductor industry for over two decades, I grew to respect his energy, commitment and integrity."
Appleton started at Micron at the age of 22, working the graveyard shift in a factory. He once said he slept just four hours a night, framing his days around 4 a.m. and 9 p.m. workouts, and that he kept his body fat to 5 percent. Appleton attributed his intensity to a rough upbringing in Los Angeles.
"It was sticks in elementary school, knives in junior high, and guns in high school," Appleton said in a Businessweek interview from 1996. He said he lost one friend to a shotgun blast and others to prison.
Power Struggle
Appleton also was a nationally ranked tennis player at Boise State University and learned to play left-handed after breaking his right wrist.
"He was aggressive," said Gordon Smith, a former Micron board member. "He was the kind of guy who was out on the edge all the time with his flying. I think he liked to do things that maybe a traditional-type pilot wouldn't do."
His competitive nature helped him prevail in a power struggle with Micron's board that saw him fired and rehired eight days later.
"He was intense," said Smith, who said he had disagreed with Appleton about his management style before leaving Micron's board. "He spent a lot of time worrying about Micron."
Micron's U.S. rivals, including Intel and Texas Instruments Inc., abandoned the memory-chip market in favor of other semiconductors. Samsung Electronics Co., which also generates money from sales of products such as mobile phones and screen displays, is the industry leader.
CEO Pilots
Flying is a hobby of several technology company executives, including Zynga Inc. CEO Mark Pincus, Google Inc. Chairman Eric Schmidt and Oracle Corp. CEO Larry Ellison.
Chief executives with pilot licenses are more prone to take risks in business, according to a study last year.
Companies led by pilot CEOs were 40 percent more likely to make an acquisition in any given year than other companies, said Matthew Cain, a finance professor at the University of Notre Dame, who co-wrote the study.
Companies suffering fatalities from aviation accidents include Tesla Motors Inc., which lost three employees in a crash in 2010, and Atlas Air Inc., whose CEO died in 2001. Hedge-fund owner Michael Klein died in a 2007 crash.
"The things that I do outside of work are why I've been successful inside that industry," Appleton said in an interview in November. "When you look at airplanes and cars and motorcycles and big-wave surfing and all of that stuff, those things reflect the same personality traits that make us successful as a company and make me successful."