Nationals Sign All-Star Pitcher Jackson After Yankees' Pursuit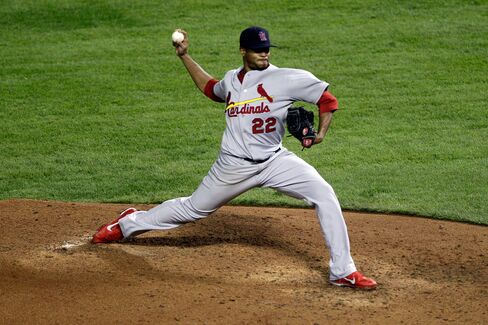 The Washington Nationals agreed to contract terms with right-handed pitcher Edwin Jackson, a former All-Star who had been in talks with the New York Yankees.
Jackson, 28, will join the Nationals on a one-year contract provided he passes a physical, the team said today on its website. Jackson and his agent met with the Yankees last month, according to the New York Post.
Financial terms of the contract weren't disclosed
Jackson is 60-60 with a 4.46 earned-run average and 801 strikeouts in a nine-year career with six teams. In 2010, he threw a no-hitter with the Arizona Diamondbacks, and last year went 1-1 in four playoff starts for the World Series-champion St. Louis Cardinals.
The Nationals were 80-81 last season, finishing third in the National League East. The team acquired left-handed pitcher Gio Gonzalez in a trade with the Oakland Athletics in December.
Before it's here, it's on the Bloomberg Terminal.
LEARN MORE