House Panel Votes to Delay Expansion of 97,000-Pound Trucks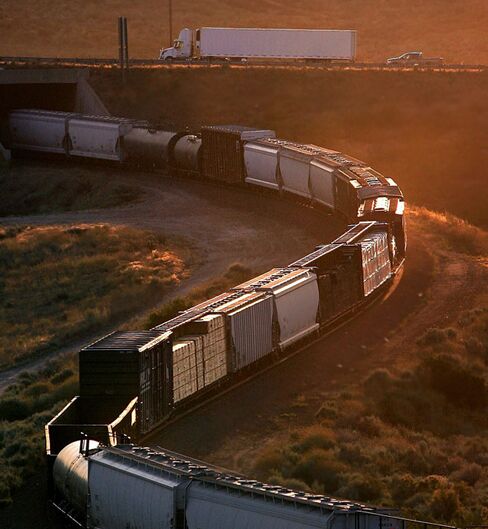 A House panel voted to stop a measure written by its own chairman to allow 97,000-pound trucks on U.S. interstate highways and expand use of double- and triple-trailers in states that now allow them.
The House Transportation and Infrastructure Committee today voted 33-22 to delay any expansion in use of trucks weighing more than 80,000 pounds for three years, so the U.S. Transportation Department can study the potential effect on highway safety, roads and bridges.
The vote was a victory for the U.S. railroad industry -- whose chief lobbyist yesterday called killing the provision his top priority -- and a defeat for trucking companies like Con-way Inc. and Werner Enterprises Inc., and shippers including Home Depot Inc. and International Paper Co.
"Before we put the public safety at risk, we should do the study and make an informed decision," said Representative Jerry Costello, an Illinois Democrat who offered the amendment to the bigger-truck language in a five-year, $260 billion surface transportation policy bill.
Twenty-nine states already allow limited numbers of trucks weighing more than 80,000 pounds on their interstate highways, usually by special permit, according to the Coalition for Transportation Productivity, a Washington-based group whose members include Kraft Foods Inc. and International Paper.
Rails, Trucks
The decision by Representative John Mica, the Florida Republican who leads the transportation committee, to include the trucking provision in his proposal Jan. 31 rekindled the decades-long lobbying rivalry between freight railroads and trucking companies.
"The railroad industry has run a multimillion dollar propaganda campaign for several years anticipating this fight," said James Burnley, a former U.S. transportation secretary and trucking-industry lobbyist. "It is paid for and orchestrated by the railroad industry for purely cynical and competitive reasons."
Railroads argued U.S. taxpayers would have to pick up the tab for damage that heavier trucks cause to roads and bridges. U.S. diesel-fuel taxes would have to be raised by about $1 per gallon, to $1.24, to pay the full cost of the damage, said Ed Hamberger, president and chief executive officer of the Association of American Railroads, based in Washington.
The group's members, including Warren Buffett's Burlington Northern Santa Fe and Union Pacific Corp., believed the truck provisions would represent "a major change in the competitive playing field between truck and rail," Hamberger said.
Aligned With Senate
The House committee's provision over bigger trucks now aligns with one in a counterpart proposal approved by the Senate commerce committee Dec. 14. The truck section of the Senate committee's transportation bill also proposes mandating a Transportation Department study rather than changing size and weight laws.
Senator Frank Lautenberg, the New Jersey Democrat who authored the law in 1991 that froze current state size and weight limits on interstate highways, urged the House to drop the truck language at a news conference yesterday.
"The trucks have to share roads with our families," Lautenberg said. "We're never going to let trucks take the priority over the well-being of our families."
More-Productive Trucks
Railroads carry 43 percent of the nation's freight as measured by the ton-mile, according to their trade group, the Association of American Railroads. The American Trucking Associations says 8.3 billion tons of U.S. freight moves on trucks and isn't suitable for railroads. About 1.6 billion tons moves by rail and isn't competitive for trucking. The two modes compete for 900 million tons of shipments, two-thirds of which currently move by truck, according to the ATA.
The trucking association is disappointed with the vote, because "there have already been dozens and dozens of studies" showing increasing truck productivity reduces the number of miles driven by trucks, Sean McNally, a spokesman for the Arlington, Virginia-based group, said in an e-mailed statement. That "not only reduces accident risk, congestion and emissions, but also will ultimately save money in reduced highway maintenance costs."
The House bill would have provided an 18 percent to 25 percent productivity gain for about 25 percent of the U.S. truck fleet, said John Runyan, executive director for the Coalition for Transportation Productivity. The biggest winners would be shippers of dense, heavy goods, Runyan said.
Bill Graves, president and chief executive officer of the American Trucking Associations, accused his railroad rivals in a Jan. 30 letter of an "attempt to use government regulation to suppress competition in order to maintain their massive profits at the public's expense."
Rail Traffic
AAR and the Railway Supply Institute, a trade group that represents makers of railroad equipment and technology like Wabtec Corp., Alstom SA and Lockheed Martin Corp. cite a study by Carl Martland, a Massachusetts Institute of Technology researcher, that concluded increasing truck weights to 97,000 pounds would reduce rail traffic by 19 percent. As a result, increasing truck weights would put result almost 8 million more trucks on the road, they say.
The heads of four unions representing railroad workers wrote to every U.S. House member last week that heavier trucks "will cause greater infrastructure damage and will result in an even larger government subsidy for the trucking industry."
Higher size and weight limits also would eliminate "thousands of good-paying railroad jobs," the presidents of the American Train Dispatchers Association, the Brotherhood of Railroad Signalmen, the Transportation Communications Union and the United Transportation Union wrote.
Safety Advocates
The railroad industry-funded safety group the Coalition Against Bigger Trucks works with law enforcement, local government, engineers, independent truckers and safety advocates. This broad cross-section of groups reflects the fact that "three-quarters of the public are strong against bigger, heavier trucks," Curtis Sloan, a senior adviser with the group, said in a phone interview.
The Grain Valley, Missouri-based Owner-Operator Independent Drivers Association, which split with the American Trucking Associations, argued that the legislation would force independent truckers who make an average of $37,000 a year to invest $100,000 on equipment upgrades.
Bigger rigs may need the length of two football fields to stop, Tom Bracken, a lieutenant with the Delaware State Police, said yesterday at a news conference in Washington.
'Cracking the Whip'
He said triple trailers present another problem called "cracking the whip" in which the third trailer veers into other traffic lanes, where it may sweep other vehicles off the road.
The truck and rail industries have been debating those issues for many years, with rail usually doing more effective lobbying, Jason Seidl, an analyst with the New York-based investment bank Dahlman Rose & Co. LLC, said in a phone interview.
"Unfortunately for the trucking industry you can make this a very public crusade and scare people with truck weights and lengths because the average voter drives on the highways," Seidl said. "You're not driving on the train track, so it doesn't bother you if there's a longer train."
The bill number is H.R. 7.
Before it's here, it's on the Bloomberg Terminal.
LEARN MORE