Glencore Said to Be Near Deal to Combine With Xstrata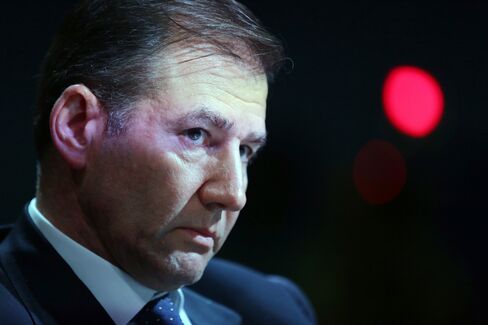 Glencore International Plc is nearing an agreement to combine with Xstrata Plc, adding mines from Africa to Asia to the world's largest listed commodity trader, said two people with knowledge of the plan.
The two Switzerland-based companies may announce a deal as early as this week, said the people, who declined to be identified because the plans are confidential. The combined company may be valued at 52 billion pounds ($82 billion) after excluding Glencore's 34 percent stake in Xstrata.
Joining Zug-based Xstrata with Glencore, located two miles away in Baar, would reunite two groups which separated a decade ago when Xstrata bought Glencore's Australian and South African coal mines for $2.5 billion and went public in London. A deal may generate savings of as much as $704 million, Credit Suisse Group AG said in a report in October.
"Glencore being such a dominant trader and marketer of commodities, and Xstrata being such as strong operator of difficult assets, I think it creates enormous value," Prasad Patkar, who helps manage about $1 billion at Platypus Asset Management Ltd. in Sydney, said by phone. "On one end you have great mining expertise. On the other you've got great marketing expertise - two and two together should make five."
Shares Gain
Glencore shares gained 5.6 percent to HK$53.50 at 2:48 p.m. local time in Hong Kong, set for the biggest gain since Dec. 1. Shares in mining companies in Australia were among the biggest gainers on the benchmark index on optimism that the deal may spur more takeovers in the sector.
A deal would be the biggest for Xstrata since it ended a 29.2 billion-pound offer for London-based Anglo American Plc in October 2009 after Anglo's board snubbed the approach. BHP Billiton Ltd. withdrew from what would have been the world's biggest mining deal, a $66 billion offer for Rio Tinto in 2008.
"Combining gives them that much more scale to compete against some of the bigger players," including BHP and Rio Tinto, Cameron Peacock, a Melbourne-based market analyst at IG Markets Ltd. said by phone.
Joining the companies would reunite Glencore Chief Executive Officer Ivan Glasenberg, 55, with his Xstrata counterpart Mick Davis, 53. Glasenberg, a former coal trader who led the company to a $10 billion initial public offering in May, said in August the commodities trader is "aggressively" seeking mergers and acquisitions as market valuations slide.
Talks Ongoing
Glasenberg, a South African native and Australian citizen, is the second-richest person in Australia with an estimated net worth of $7.2 billion, Forbes Magazine said today. Gina Rinehart, an Australian mining heiress and media investor, is the richest person, valued at $18 billion.
The talks between Xstrata and Glencore are ongoing and an agreement could still fall apart, one of the people said. Glencore was studying a merger with Xstrata to gain more access to financing, two people familiar with the matter said in May 2010, 12 months before Glencore's IPO.
Simon Buerk, a spokesman for Glencore, and Alison Flynn, a spokeswoman for Xstrata, declined to comment.
Mining takeovers are accelerating as companies struggle to replace depleting deposits and China's industrial growth stokes metals demand for construction, cars and appliances. Global mining deals swelled to $98 billion last year, the highest level since 2007, from $76 billion in 2010, according to data compiled by Bloomberg. The average premium for takeovers last year was 23 percent, according to the data.
'Rude Health'
"There's really nothing technically that should be preventing large-scale M&A activity," Daniel Rohr, an analyst at Morningstar Investment Services Inc. in Chicago, said by telephone yesterday. "Balance sheets across the industry are in rather rude health and large miners have massive cash balances that seem to grow larger with each passing quarter."
Mining companies may spend $134 billion developing assets this year, up 23 percent from 2010, according to a report last month by Citigroup Inc. Glencore had $18.3 billion in long-term borrowings as of Dec. 31 and Xstrata had borrowings of $7.2 billion, according to data compiled by Bloomberg. Both have a "Baa2" rating from Moody's Investors Service.
Combined, Xstrata and Glencore would report net income of about $11.2 billion in 2012 and Glencore would control about 65 percent of a merged company, assuming a takeover with no premium attached, Credit Suisse said in October.
Deal Maker
Xstrata's Davis, a South African, built the group through more than $30 billion of deals since its purchase of Glencore's coal mines and its London IPO in 2002, adding copper, nickel and zinc. His largest deal was the $18.1 billion acquisition of Canadian nickel producer Falconbridge Ltd. in 2006.
He abandoned a hostile bid for platinum producer Lonmin Plc in October 2008 after metal prices plunged and withdrew from bidding for Australia's WMC Resources Ltd. in 2005 after being trumped by BHP. Xstrata produced 85.3 million metric tons of coal last year.
Glencore, which owns mines, plants and warehouses, had a first-half profit of $2.5 billion, up 68 percent on a year earlier. It may post adjusted net income of $4.4 billion for 2011, according to the average estimate of 15 analysts surveyed by Bloomberg.
Metal prices have declined 16 percent in past year and mining companies have dropped 17 percent in the same period, according to data compiled by Bloomberg. Glencore has fallen 19 percent since it listed in London and Xstrata is down 21 percent from a year ago.
Before it's here, it's on the Bloomberg Terminal.
LEARN MORE