Job Impact of China Trade Disputed in Advance of Xi's U.S. Visit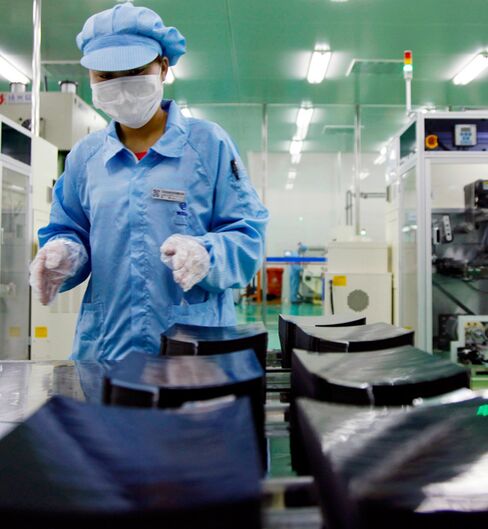 Advocates on both sides of the debate over China's trade practices are ramping up the pressure in advance of a scheduled visit by Vice President Xi Jinping.
A coalition of labor leaders, U.S. lawmakers and trade groups yesterday called for stronger enforcement action, saying China's policies put 1.6 million auto parts jobs at risk. A day earlier, a group of solar companies issued a report that predicted 60,000 U.S. jobs would be lost if President Barack Obama responds to complaints and imposes duties on the imports.
"It's important that they play fair, it's important to stand up to China," Senator Sherrod Brown, an Ohio Democrat, said yesterday at a news conference at the U.S. Capitol. "When they were admitted into the World Trade Organization, they pledged to play by the rule of law and they simply haven't."
The dueling events came as Xi, who is scheduled to become Communist Party general secretary this year, plans to visit Washington on Feb. 14 for meetings with Obama on bilateral and regional issues.
Unions, including the United Steelworkers of America, plan to keep pressure on Obama through lobbying, rallies and other events, pushing Obama to bring more trade complaints to the World Trade Organization, Leo Gerard, president of the steelworkers' union, said at yesterday's conference.
"Our union views this as a call to arms," Gerard said. "It's a call to make sure that we don't let a vital industry in the heartland of America get plundered."
China Violations
China's violations of WTO rules have already contributed to more than 400,000 lost jobs since 2000, according to a report released yesterday by the Alliance for American Manufacturers, a group that includes Pittsburgh-based United States Steel Corp. China imported $62 billion in auto parts since 2001, increasing an auto-parts deficit with China by 850 percent, according to the group.
China will invest $1.5 trillion in "new energy" vehicles and parts in a drive for global leadership by 2030, according to research by law firm Stewart and Stewart cited by the alliance. China's manufacturers are targeting batteries, electric motors, electronic cooling systems and fuel cells, according to the report.
The lawmakers joined the alliance as it unveiled reports that claim 1.6 million auto parts jobs are at risk from Chinese trade.
"I urge the administration to read these reports and use all its resources to bring a trade enforcement case against China for illegally subsidizing its auto parts industry," Representative Mike Michaud, a Maine Republican and chairman of the House Trade Working Group, said in a statement.
'Open Door'
"They might be pushing through an open door," Nicholas Lardy, a fellow at the Peterson Institute for International Economics in Washington, said in a telephone interview. "The president has already announced stronger enforcement."
Obama in last week's State of the Union address said he is creating a trade enforcement group that would use investigators and other federal resources to combat unfair trade practices in nations including China. He also called on Congress to create a program to provide credit to companies competing against foreign counterparts that benefit from preferential credit from their governments.
Obama may be forced to be more active as the result of an election campaign that highlights efforts to keep jobs from being exported overseas, Lardy said.
"The Chinese have gotten much more sophisticated about this," Lardy said. "They really don't get into it, as they feel the threat of legislative action is something that they have seen."
A representative from the Chinese embassy in Washington didn't return a message seeking comment.
Before it's here, it's on the Bloomberg Terminal.
LEARN MORE