Outokumpu to Buy ThyssenKrupp Inoxum Unit for $3.5 Billion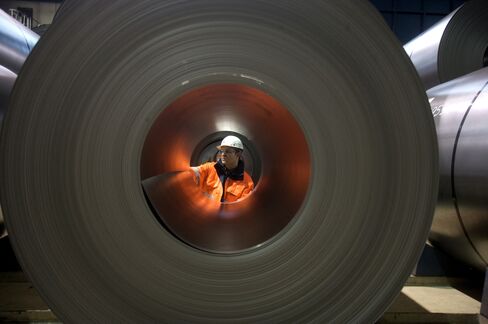 Outokumpu Oyj agreed to buy ThyssenKrupp AG's Inoxum stainless steel division in a deal valuing the German unit at about 2.7 billion euros ($3.5 billion), creating Europe's largest maker of the alloy.
ThyssenKrupp will retain a 29.9 percent stake in the business, receive 1 billion euros in cash, and transfer liabilities of 422 million euros for Inoxum to Finland's Outokumpu. ThyssenKrupp's supervisory board and Outokumpu's board of directors approved the deal, the German company said today in a statement on its website. Outokumpu fell the most in more than three years in Helsinki.
"It's a very good deal for ThyssenKrupp," Ingo-Martin Schachel, an analyst at Commerzbank AG in Frankfurt, said by phone. "The 2.7 billion euros is a better valuation than we expected. This much-awaited consolidation will be positive for the entire market."
ThyssenKrupp is offloading a unit that cost 800 million euros in writedowns for 2011 and contributed to its full-year loss. Outokumpu will more than double stainless-steel capacity to 5.5 million metric tons, estimates Neil Sampat, an analyst at Nomura Holdings Inc. in London. The combined business will have more than 19,000 workers and annual sales of about 11.8 billion euros, ThyssenKrupp said.
Outokumpu will sell 1 billion euros of shares in a rights offering fully underwritten by investors, it said in a separate statement. It expects the deal to spark "significant cost synergies" starting in 2014 that will reach an estimated 225 million euros to 250 million euros a year by 2017. The accord also includes a loan note of 235 million euros for ThyssenKrupp.
Outokumpu Slumps
Germany's largest steelmaker rose 2.7 percent to 21.67 euros by the close of trading in Frankfurt. Outokumpu slumped 15 percent to 6.27 euros in Helsinki, the biggest one-day drop since July 24, 2008.
Global steel-industry deals totaled $38.8 billion in the past 12 months, up from $20.9 billion a year earlier, according to data compiled by Bloomberg. The largest transaction was Nippon Steel Corp.'s $9 billion all-share purchase of Sumitomo Metal Industries Ltd., to create the world's second-biggest steelmaker.
Combining Inoxum and Outokumpu would establish a European stainless-steel industry leader with about 50 percent market share, Nomura's Sampat said last week. European producers have struggled for years with overcapacity, sliding profit and rising costs, while failing to agree on mergers.
Italy, Germany
Outokumpu will gain better access to central Europe's main markets through the transaction, Michael Broeker, an analyst at Steubing AG in Frankfurt who also covers both steelmakers, said by phone today.
"With this deal, Outokumpu solves one of its key disadvantages: It gets Inoxum's plants in Germany and Italy and therefore better access to customers in central Europe's main markets," Broeker said. "They're also becoming Europe's leading supplier of ferritic stainless steel," used to make pots and pans, kitchen accessories and washing machines, he said.
ThyssenKrupp, whose stainless-steel panels were used in the construction of the Chrysler Building in 1929 and the Empire State Building in 1931, on Dec. 2 posted a fiscal full-year loss because of 2.9 billion euros in impairment charges, mainly on project delays and cost overruns at its Steel Americas unit.
Job Losses
The Inoxum sale "hands ThyssenKrupp greater financial flexibility quicker than expected," enabling the company to invest in its technology businesses, Broeker said.
The two companies and Inoxum employee representatives reached an agreement today that includes rules for site and employment protection after talks that started Jan. 27, ThyssenKrupp said in an earlier statement.
The steelmakers undertook to avoid compulsory redundancies and to preserve all German production sites until at least 2015, ThyssenKrupp said. The melt shop at its Krefeld plant will be gradually shut down by the end of next year, while the facility at Bochum will be preserved until the end of 2016, it said. The agreement covers a planned total reduction of 850 jobs in Germany, with ThyssenKrupp offering alternative jobs for as many as 600 current Inoxum employees, Outokumpu said.
The deal requires board and regulatory approvals. ThyssenKrupp's supervisory board and Outokumpu's board of directors meet later today to decide on the transaction, the companies said.
Perella Weinberg Partners LP and JPMorgan Chase & Co. are advising Outokumpu. Citigroup Inc., Deutsche Bank AG and Rothschild are advising ThyssenKrupp.
Before it's here, it's on the Bloomberg Terminal.
LEARN MORE