Michelin Names 630 Value-for-Money Restaurants Across France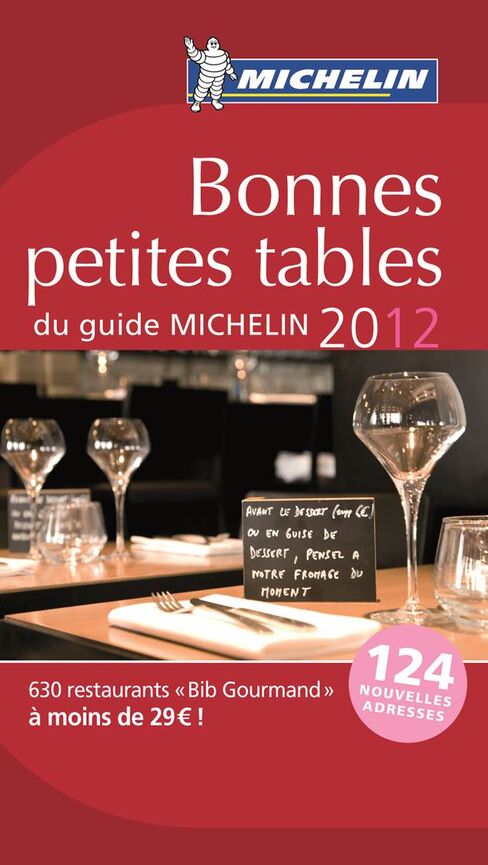 Michelin today released its selection of all the 630 restaurants in France that will be recognized next month for serving good, inexpensive meals.
The Bib Gourmand label indicates a restaurant serving three-course meals offering good value for the money, defined as less than 35 euros ($46) in Paris and 29 euros elsewhere. The selection has increased by 140 percent in six years, with more than 120 additions in 2012 alone.
"These restaurants never fail to delight Michelin guide readers with their wide range of styles, from traditional terroir to trendy gastro-bistro, from ethnic adventure to extremely creative," Michelin said in an e-mailed release.
Michelin's guide to France is scheduled to be announced on Feb. 27. The Clermont-Ferrand, France-based company is the world's second-biggest tiremaker, after Bridgestone Corp. It produced its first guide in August 1900, distributed free of charge (until 1920) and intended for chauffeurs.
Here are the new 2012 Bib Gourmand restaurants, with the locality first, followed by the department in parentheses and the restaurant name:
Alencon (61) Rive Droite
Angouleme (16) Agape
Annecy (74) L'Esquisse
Arbois (39) Le Grapiot
Argentiere (74) La Remise
Balanod (39) Philippe Bouvard
Belleme (61) Relais Saint-Louis
Belley / Contrevoz (01) Auberge de Contrevoz
Berrwiller (67) L'Arbre Vert
Bizanet (11) La Table du Chateau
Bonlieu (39) La Poutre
Bordeaux (33) Le Bistrot du Gabriel
Bouin (85) Le Martinet
Boulogne-Billancourt (92) Le Bistrot
Bressieux (38) Auberge du Chateau
Briancon (05) Le Peche Gourmand
Caen (14) ArchiDona
Caen / Herouville St-Clair (14) L'Esperance
Cairanne (84) Coteaux et Fourchettes
Cannes (06) Aux Bons Enfants
Chagny (71) Pierre & Jean
Chalon-sur-Saone (71) Parcours
Chambolle-Musigny (21) Le Millesime
Champagne (72) Le Cochon d'Or
Chamdai (61) L'Ecuyer Normand
La Chapelle-d'Abondance (74) Les Cornettes
Chartres (28) Les Feuillantines
Chassignolles (43) Auberge de Chassignolles
Chateauroux (36) Jeux 2 Gouts
Cognac (16) Le P'tit Yeuse
Coulombiers (86) Auberge le Centre Poitou
Le Creusot (71) Le Restaurant
La Croix-St-Leufroy (27) Le Cheval Blanc
Cucugnan (11) La Table du Cure
Dijon / Chenove (21) Auberge du Clos du Roy
Dijon / Velars-sur-Ouche (21) L'Auberge Gourmande
Douarnenez (29) Le Clos de Vallombreuse
Douarnenez (29) L'Insolite
Dourgne (81) Hostellerie de la Montagne Noire
Dreux (28) Le St-Pierre
Eguisheim (68) La Grangeliere
Fleurville (71) La Marande
Fontenay-le-Conte / Velluire (85) Auberge de la Riviere
Fouesnant / Cap Coz (29) Belle Vue
La Garenne-Colombes (92) Le Saint-Joseph
Guecelard (72) La Botte d'Asperges
Guingamp (22) Le Clos de la Fontaine
Honfleur (14) Au P'tit Mareyeur
Honfleur (14) L'Endroit
Ile de Noirmoutier (85) Le Grand Four
Jassans-Riottier (01) L'Embarcadere
Kruth / Frenz (68) Les Quatre Saisons
Labaroche (68) La Rochette
Langogne (48) Domaine de Barres
Limoges (87) La Cuisine
Limoux (11) L'Odalisque
Limoux (11) Tantine et Tonton
Lons-le-Saunier / Courlaoux (39) L'Epicurien
Lyon (69) L'Art et la Maniere
Lyon (69) L'Ourson qui Boit
Lyons-La-Foret (27) Le Grand Cerf
Macon (71) L'Ambroisie
Macon (71) Le Poisson d'Or
Le Mans (72) La Reserve
Marigny (71) L'Atelier du Gout
Martres-Tolosane (31) Le Castet
Menthon-St-Bernard (74) Le Confidentiel
Montendre (17) La Quincaillerie
Montgibaud (19) Le Tilleul de Sully
Mortagne-au-Perche/ Le-Pin-la-Garenne (61) La Croix d'Or
Muhlbach-sur-Munster (67) Perle des Vosges
Muret (31) La Villa 31
Nice (06) Bistrot d'Antoine
Oletta (2B) A Magina
Paris 3e Ambassade d'Auvergne
Paris 5e Bibimbap
Paris 5e Bistro des Gastronomes
Paris 6e La Ferrandaise
Paris 6e Fish la Boissonnerie
Paris 6e La Marlotte
Paris 9e Le Pantruche
Paris 10e Chez Casimir
Paris 10e Chez Marie-Louise
Paris 10e Zerda
Paris 11e Tintilou
Paris 14e Le Bistro T
Paris 14e Les Caves de Solignac
Paris 14e Kigawa
Paris 15e L'Atelier du Parc
Paris 15e Le Casse Noix
Paris 15e L'Epicuriste
Paris 19e Les Grandes Tables du 104
Paris 19e L'Hermes
Paris 20e Chatomat
Perpignan (66) Le Garriane
Puylaurens (81) Cap de Castel
Rasigueres (66) Le Relais de Sceaury
Remigny (71) L'Escale
La Roche-L'Abeille (87) La Table du Moulin
La Rochelle (17) La Cuisine de Jules
Roure (06) Auberge le Robur
Saint-Andre (66) La Table de Cuisine
Saint-Jean-de-Monts (85) Le Petit St-Jean
Saint-Jean-Sur-Veyle (01) Le Grand St-Jean Baptiste
Saint-Jouin-Bruneval (76) Le Belvedere
Saint-Palais-sur-Mer (17) De la Plage
Saint-Sulpice (81) Auberge de la Pointe
Saintes / Thenac (17) L'Atelier Gourmand de Jean Yves
Tarascon-sur-Ariege (09) Saveurs du Manoir
Tende / Casterino (06) Les Melezes
La Tour-du-Pin / Rochetoirin (38) Le Rochetoirin
Tournus (71) Meulien
Tours (37) L'Arome
Tregastel (22) Le Macareux
Trizay / Lac du Bois Fleuri (17) Les Jardins du Lac
Turckheim (68) A l'Homme Sauvage
Vaulx (74) Par Monts et Par Vaulx
Vence (06) La Litote
Vienne (38) Saveurs du Marche
Vierzon (18) Les Petits Plats de Celestin
Villefort (48) Balme
Volmunster (57) L'Argousier
Zimmerbach (68) Au Raisin d'Or
(Richard Vines is the chief food critic for Muse, the arts and leisure section of Bloomberg News. He is U.K. and Ireland chairman of the World's 50 Best Restaurants awards. Opinions expressed are his own.)
Before it's here, it's on the Bloomberg Terminal.
LEARN MORE