Washington Plans Biggest Refunding as Outlook Made Negative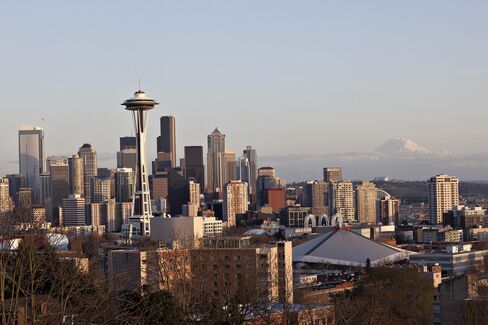 Washington, home to Microsoft Corp. and Amazon.com Inc., will sell $959 million of refunding bonds as soon as tomorrow in the largest U.S. municipal-debt offering this year and the biggest refinancing ever for the state.
Refunding debt became more attractive after the $3.7 trillion municipal market had its biggest rally since at least 1992 last year. Yields on 20-year general-obligation bonds with an average Moody's Investors Service rating of Aa2, the third-highest, fell to the lowest since April 1967 in the week ended Jan. 19, according to a Bond Buyer index.
The U.S. Federal Reserve said last week it would keep its target for overnight rates, now at zero to 0.25 percent, low until at least late 2014.
"Rates are absolutely at an all-time low," Bud Byrnes, chief executive officer of Encino, California-based RH Investment Corp., said in a telephone interview. "If it's feasible to get a refunding done, the window of opportunity has been set by Ben Bernanke: They have this year and next year."
The refunding is Washington's largest and may save about $8 million in general-fund debt costs, Treasurer James McIntire said in a telephone interview.
Washington needs about $1.5 billion to close a deficit in its current two-year budget and replenish reserves, Ralph Thomas, a spokesman for the state financial management office, said in a telephone interview. The state passed a budget in June that erased a $5.1 billion shortfall without additional revenue.
Closing Gaps
Thirty-nine states closed $95 billion of budget gaps in the current fiscal year with spending cuts and revenue measures, according to the National Association of State Budget Officers.
Moody's Investors Service revised its outlook on Washington today to negative from stable, citing revenue shortfalls and depleted reserves. It maintained its second-highest Aa1 rating on the bonds, according to a report.
Fitch Ratings revised its outlook on the Washington bonds last week to negative from stable on concern about the state's budget gap in "an environment of significantly constrained revenue-raising and spending-control flexibility," according to a statement. It grades the bonds AA+, its second-highest level.
Governor Christine Gregoire, 64, has proposed a fee of $1.50 a barrel on Washington's oil industry to help maintain roads, bridges and ferries over the next decade. In a speech Jan. 10, she also asked for a temporary sales-tax increase to 7 percent from 6.5 percent, which would raise an estimated $494 million.
Track Record
Standard & Poor's rates Washington's bonds second-best at AA+ with a stable outlook.
"The state has a good track record of being proactive when the budget falls out of balance, and they correct it relatively quickly," Gabriel Petek, S&P's senior director of credit market services in San Francisco, said by telephone.
An index of Washington state and local bonds returned 12.5 percent in the past 12 months, according to Barclays Capital indexes tracking prices and interest payments. That trails the 13.7 percent of the total market, according to the indexes.
The competitive sale is planned for Jan. 31. The amount exceeds the $800 million of general-obligation bonds Illinois issued on Jan. 11, the biggest deal so far this year.
Washington's refunding would make up about one-fifth of total issuance this week, according to data compiled by Bloomberg.
The sale will "provide a benchmark for everybody in the western United States," Byrnes said.