Sanusi Says Nigeria May Raise Rates If Oil Price Increased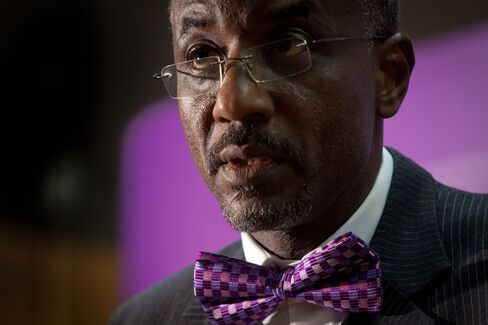 Nigeria's central bank may raise interest rates to curb inflation if lawmakers boost spending above budgeted targets and lift the benchmark oil price, Governor Lamido Sanusi said.
Nigeria is facing a "number of inflationary threats" this year, including a reduction in fuel subsidies and higher government spending, Sanusi said in an interview at the World Economic Forum in Davos today.
President Goodluck Jonathan on Dec. 13 set a budget of 4.8 trillion naira ($29.8 billion) for this year, based on an oil price of $70 per barrel, requiring the government to save revenues if oil prices exceed that limit. There is "concern" that the National Assembly may increase the budgeted oil price to $75, fueling spending, Sanusi said.
"If the National Assembly does that, which we think is inadvisable, then we would have to look at an even tighter situation because we've got to respond to protect price stability," Sanusi said. "Monetary policy is tight. It remains tight."
The central bank of Africa's largest oil producer raised its benchmark interest rate by 5.75 percentage points to 12 percent last year to curb price pressures. The bank will probably keep the rate unchanged for a second meeting on Jan. 31, according to eight of the nine economists surveyed by Bloomberg.
Fuel Strike
Nigeria, sub-Saharan Africa's second-biggest economy, is recovering from a weeklong general strike that the government estimates cost 207 billion naira. The action ended on Jan. 16 after Jonathan agreed to partially remove the subsidy on fuel, limiting an increase in gasoline costs to 97 naira a liter.
The fuel-subsidy cut "in the short term will have an upward impact on headline inflation," Sanusi said. The inflation rate was little changed at 10.3 percent in December from 10.5 percent in the previous month, according to the statistics agency.
Nigeria's economy will probably expand more than 7 percent "partly because the growth has largely been driven historically by agriculture," Sanusi said. "We don't expect a massive moderation in the price of oil" given the political tension in Iran, he said.
Yuan Reserves
In a separate interview with Bloomberg TV in Davos, Sanusi said the Petroleum Industry Bill, which was recently submitted by the government to lawmakers for approval, will boost investment in oil refining, promote development and create jobs.
The Central Bank of Nigeria, based in Abuja, has continued to increase its holdings of yuan in foreign currency reserves, Sanusi said. While this is mainly in cash and deposits, the bank is in talks with its counterpart in China to invest in "interbank and asset-class" investments, he said.
Foreign currency reserves stood at $34 billion as of Jan. 20, according to central bank data.
The naira fell for a second day, declining 0.3 percent to 161.10 per dollar on the interbank market as of 1 p.m. in Lagos, the commercial capital.
Before it's here, it's on the Bloomberg Terminal.
LEARN MORE