Gold Reaches 7-Week High on Demand for Dollar Alternative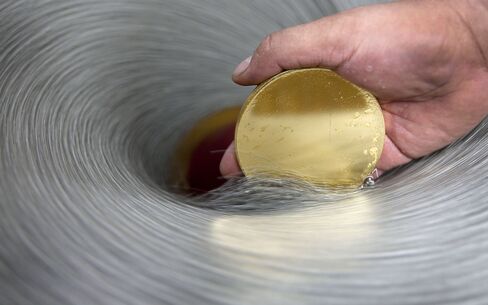 Gold futures rose to a seven-week high as the Federal Reserve's pledge to keep U.S. borrowing costs low drove the dollar down, boosting demand for precious metals as alternative assets. Silver jumped to a two-month high.
The greenback fell to the lowest in almost seven weeks against a basket of currencies. Yesterday, the Fed said that its benchmark interest rate will stay low until at least late 2014, and gold surged 2.1 percent, the most in three weeks.
The central bank's statement "was very bullish for gold," David Meger, the director of metal trading at Vision Financial Markets in Chicago, said in a telephone interview. "The weakness in the dollar is also helping gold."
Gold futures for April delivery gained 1.6 percent to settle at $1,729.90 an ounce at 1:44 p.m. on the Comex in New York, the highest closing level since Dec. 7. Earlier, the metal touched $1,734.50, the highest for a most-active contract since Dec. 8. Prices have jumped 10 percent this month, heading for the biggest January gain since 2008.
Bullion may rise to a record $2,200 this year on mounting concern that inflation will accelerate, according to Michael Pento, the president of Pento Portfolio Strategies, who correctly predicted the annual high for prices in the past three years. Pento, in a telephone interview from Holmdel, New Jersey, said today he changed his Jan. 5 forecast of "at least" $1,800 after the Fed's statement.
Silver futures for March delivery climbed 1.9 percent to $33.743 an ounce on the Comex. Earlier, the metal reached $33.79, the highest since Nov. 17.
On the New York Mercantile Exchange, platinum futures for April delivery advanced 2.4 percent to $1,616.80 an ounce, rising the most in more than a week. Palladium futures for March delivery climbed 0.2 percent to $694.45 an ounce.
Before it's here, it's on the Bloomberg Terminal.
LEARN MORE