FCC Handling of Falcone's LightSquared Faces House Hearing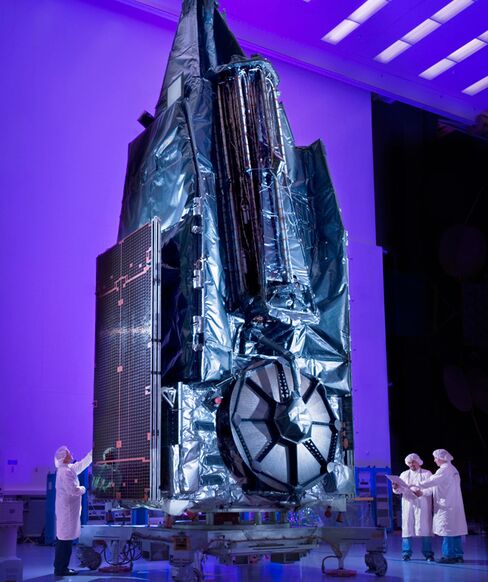 A U.S. House panel plans to examine the Federal Communications Commission's handling of LightSquared Inc.'s proposed wireless service, which has been stymied amid arguments about interference with navigation gear.
No date is set for the hearing planned by the House Subcommittee on Communications and Technology, Representative Greg Walden, the Oregon Republican who leads the panel, said today. Tammy Sun, an FCC spokeswoman, declined to comment.
The high-speed wireless venture backed by hedge fund billionaire Philip Falcone won preliminary approval from the FCC a year ago. It remains without final clearance as the agency and other federal regulators weigh test results that show LightSquared disrupts global-positioning system equipment used on autos, tractors, boats and aircraft.
"How did that process fail?" Walden said in a briefing with reporters in Washington. "Because you've got a lot of people spending a lot of money trying to sort this out now, and it would seem to me somebody would have sorted it out before they made the licenses available."
LightSquared has said GPS makers should accommodate its use of airwaves and that technical solutions exist to resolve interference. Makers of GPS devices say LightSquared proposes an inappropriate use of its frequencies, which have been reserved mainly for faint emissions from satellites and would carry stronger signals from ground-based antennas if its plans were approved.
GPS Standards Considered
"I don't understand the process where someone buys the spectrum, put forth by the FCC to be used for a purpose, only to discover later on you can't use what you just bought because of interference issues," Walden said. "I'm trying to figure out how the cart got so far ahead of the horse."
The hearing also will examine whether there should be federal standards for GPS receivers, Walden said. Receivers may be "sloppy" and take in signals from neighboring airwaves, which as a result can't be used for some purposes, he said.
The FCC in an order released April 6 said it may establish receiver standards and said that "responsibility for protecting services rests not only on new entrants but also on incumbent users themselves."
LightSquared "has cleared every regulatory hurdle going back more than a decade," Terry Neal, a spokesman for the company, said in an e-mailed statement.
Transparency Concern
"We have been shocked" that "some in the government" would work to protect GPS makers, Neal said. If Walden's hearing leads to more transparency, "it will have served American taxpayers and consumers well," Neal said.
LightSquared hasn't satisfied non-interference requirements set by the FCC, Jim Kirkland, general counsel of GPS gear maker Trimble Navigation Ltd., said in an e-mailed statement.
"Walden is right to ask how we got here," Kirkland said. "The rules have been clear all along."
Trimble, based in Sunnyvale, California, is part of the Coalition to Save Our GPS that was formed to oppose LightSquared's plan. The group lists members including package shippers FedEx Corp. and United Parcel Service Inc., GPS-unit maker Garmin Ltd., Delta Air Lines Inc. and Southwest Airlines Co., and farm-equipment maker Deere & Co.
Before it's here, it's on the Bloomberg Terminal.
LEARN MORE