Yahoo's Revenue Trails Estimates as Demand for Ads Shrinks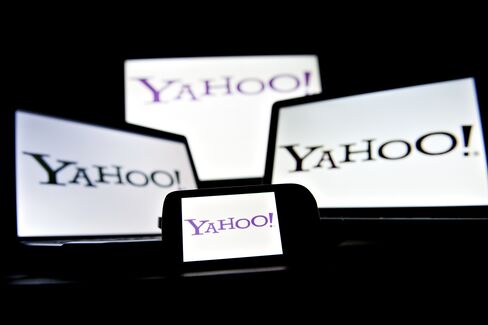 Yahoo! Inc., the largest U.S. Web portal, reported revenue and forecast sales that fell short of estimates as ebbing demand for display advertising underscored the challenge facing new Chief Executive Officer Scott Thompson.
Excluding sales passed on to partner sites, fourth-quarter revenue fell to $1.17 billion, Sunnyvale, California-based Yahoo said in a statement yesterday. That compares with $1.19 billion, the average projection of analysts surveyed by Bloomberg. Sales in the current period will be $1.03 billion to $1.11 billion, Yahoo said. Analysts had predicted $1.08 billion.
Web users are spending less time on Yahoo's pages, instead favoring such social networks as Facebook Inc. and search results generated by Google Inc. Display-ad buying was crimped amid economic weakness in Europe, Chief Financial Officer Tim Morse said in an interview. Thompson, who this month succeeded the ousted Carol Bartz, is attempting to reverse Yahoo's market-share losses and user defections while completing a strategic review that may involve selling Asian assets.
"Yahoo's results indicate sustained market-share losses with no sign of turnaround," said Clay Moran, an analyst at Benchmark Co. in Delray Beach, Florida. "Nothing here to inspire hope. It just reconfirms what a major, uphill battle it will be for Scott Thompson to turn this company around."
In the U.S. online-advertising market, Yahoo's share fell to 11 percent in 2011 from 13 percent a year earlier, according to EMarketer Inc. in New York.
'More Marginalized'
Yahoo's display revenue declined 4 percent to $546 million last quarter, after being unchanged in the third quarter, according to yesterday's report.
"Yahoo's becoming more and more marginalized, from an advertiser standpoint," said Martin Pyykkonen, an analyst at Wedge Partners Corp. in Greenwood Village, Colorado. "It's a market that's moved away from them."
The shares fell 0.8 percent to $15.56 at the close in New York. They declined 3 percent last year.
Income from operations in the first quarter will be in the range of $105 million to $155 million, Yahoo said, shy of the $184.2 million projected by analysts surveyed by Bloomberg.
Net income attributable to the company fell to $295.6 million, or 24 cents a share, from $312 million, or 24 cents.
Thompson, whose tenure began on Jan. 9, was formerly the president of EBay Inc.'s PayPal unit. There, he helped more than double revenue at the payments service while boosting the user base to more than 100 million.
Bartz, Yang
He'll seek to avoid the missteps of predecessors, including Bartz, who was on the job for less than three years. While she cut costs by shuttering or selling underperforming businesses, she was unable to increase revenue growth. The company announced a strategic review in September when she was fired.
Co-founder Jerry Yang, who preceded Bartz as CEO, came under criticism from investors after the company rejected an acquisition offer from Microsoft Corp. for $47.5 billion in 2008. Yang earlier this month stepped down from the board and all other positions, saying the "time had come" for him to move on from the company he helped start in 1995.
With Yang out, the company could be more free to sell its Asian assets, which include holdings in Alibaba Group Holding Ltd. and Yahoo Japan Corp, according to Brett Harriss, an analyst with Gabelli & Co.
'Big Potential'
Yahoo is still pursuing the sale of the holdings, while also talking with private-equity firms about selling a minority stake in itself, a person with knowledge of the matter said last week. An Asian deal is more likely and may be concluded in the coming weeks, the person said.
"It's important for you to know that the company remains open to anything that's good for our shareholders," Thompson said on the conference call. "But as you'd expect, our evaluating multiple options, we're focusing on what appears most promising."
Yahoo investor Third Point LLC late last year asked for Yang to step down as a board member. Third Point CEO Daniel Loeb cited the "board's inability -- or perhaps unwillingness -- to properly solicit true strategic alternative bids, let alone to negotiate them" in a November statement. Third Point had also called for Chairman Roy Bostock to step down last year.
Thompson said he's optimistic about Yahoo's prospects.
"I am here because I believe there's big potential at Yahoo, much bigger than the outside world imagines for us today," he said.