New Zealand Windfall Lures Goldman as Key Pushes State IPOs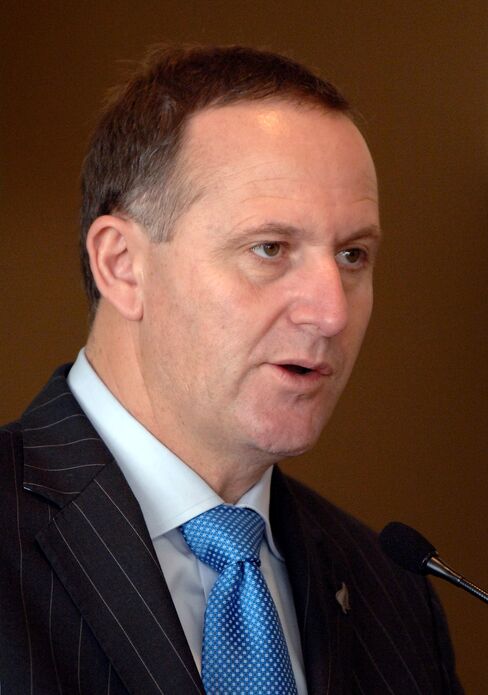 After a dearth of initial public offerings in the past decade, New Zealand is back on investment bankers' radar screens as Prime Minister John Key prepares the biggest round of state asset sales in more than 20 years.
The government may pick underwriters by early February for the NZ$1.5 billion ($1.2 billion) IPO of Mighty River Power Ltd., said two people with knowledge of the matter. That deal and four other divestments may raise as much as a combined NZ$7 billion over the next three years, the government estimates. That would be more than triple the total value of IPOs in New Zealand since 2001, according to data compiled by Bloomberg.
Key's plan represents an opportunity for bankers after IPOs in neighboring Australia last year dwindled to the lowest since at least 1999. Deutsche Bank AG, Goldman Sachs Group Inc., UBS AG and Macquarie Group Ltd. are poised to share in the resulting fees after winning roles to prepare the four proposed deals.
"These are high-quality assets and they are large, and that's attractive to the banks and others that will be involved," said Graeme Browning, Sydney-based head of Ernst & Young LLP's Oceania Transaction Advisory Services.
Australia's IPO market shrank to A$1.3 billion ($1.4 billion) last year from A$6.9 billion in 2010, according to Bloomberg data. The amount raised in New Zealand IPOs last year was NZ$493 million, bringing the total over the past decade to NZ$2.4 billion, the data show. International banks including UBS and Citigroup Inc. manage the two countries as one business.
Restarting Sales
Key, a 50-year-old former Merrill Lynch & Co. banker, was re-elected in November, pledging to restart state asset sales halted during the previous Labor government's reign. The government says its plan to sell as much as 49 percent of four energy companies and reduce a stake in national carrier Air New Zealand Ltd. will bring in NZ$5 billion to NZ$7 billion, bolstering efforts to eliminate a budget deficit by 2015.
New Zealand Treasury may as early as today name banks including Goldman Sachs, Macquarie and Credit Suisse Group AG to manage the Mighty River IPO, the Australian Financial Review reported today, without saying where it got the information.
A Treasury spokeswoman in Wellington and officials at the three banks declined to comment.
Between 1988 and 1999, New Zealand raised NZ$19.1 billion from selling state assets, both through IPOs and sales to other companies. The biggest deal was the sale of Telecom Corp. of New Zealand Ltd. to U.S. phone companies for about NZ$4.25 billion in 1990, government figures show. It sold assets worth about NZ$10 billion in the 1988-1990 period, according to the data.
Biggest Exports
New Zealand, claimed for Britain by James Cook in 1769, is home to about 4.4 million people, according to the Statistics New Zealand website. Sheep outnumber humans more than sevenfold, and milk powder, butter and cheese are the biggest exports, government data show.
Key's government in July appointed Frankfurt-based Deutsche Bank and its local affiliate, Craig's Investment Partners Ltd., as sole financial adviser to help prepare for the partial sales of the four energy companies and the stake in Air New Zealand, according to Treasury's website.
Government work is less lucrative than private share sales. Investment banks managing a state deal may earn about 1.5 percent of the proceeds in fees, compared with an average 2.5 percent to 3.5 percent for IPOs of privately owned companies, according to bankers who declined to be identified as they're not authorized to discuss commissions.
Mighty River
Based on an average 1.5 percent commission, underwriters may earn as much as NZ$105 million in fees on the five deals.
Mighty River, which serves 392,000 electricity customers in New Zealand and had sales of NZ$1.55 billion in the fiscal year through June, will be first to test investor demand for state assets. Sydney-based Macquarie is running a so-called scoping study on Mighty River ahead of a planned third-quarter listing to assess potential demand for the IPO, said one person with knowledge of the matter.
Goldman Sachs, UBS and First NZ Capital Group Ltd. are doing initial work for three other companies -- Genesis Power Ltd., Solid Energy New Zealand Ltd. and Meridian Energy Ltd., according to bankers familiar with the assignments.
New York-based Goldman Sachs, First NZ and Zurich-based UBS have been involved in several of the largest IPOs of the past decade, including Trade Me Ltd. and Gullivers Travel Group Ltd., Bloomberg data show.
'Capacity Constraints'
Officials at Deutsche Bank, Goldman Sachs, Macquarie and UBS declined to comment.
At the high end, proceeds from the asset sales, including the Air New Zealand stake, are equal to almost a fifth of the combined value of companies on the country's benchmark stock index.
"This is a lot of stock to be taken up by local and international investors, and they could end up hitting capacity constraints as New Zealand is a relatively small market," said Ian Ramsay, professor at the University of Melbourne's Center for Corporate Law. "Investors will have to manage their exposure to this geography and the energy sector."
The largest government IPO in New Zealand before Mighty River was the NZ$1.1 billion sale of a 60 percent stake in Contact Energy Ltd. in 1999, Treasury's website shows. Contact shares have advanced 54 percent from the offer price.
Showing the Way
In Australia, whose stock market is more than 30 times bigger than that of New Zealand, IPOs have withered as volatility in equities curbed investor demand. Seven of the past year's 10 biggest IPOs in Australia are trading at or below their offer prices, Bloomberg data show. The largest offering in 2011 was Collins Foods Ltd., at A$202 million. The fast-food company has fallen 46 percent since it sold shares in August.
Australia should follow New Zealand in stepping up asset sales, said Peter Swan, professor of finance at the University of New South Wales's Australian School of Business in Sydney. Those assets include electricity transmission and distribution networks in several states, he said.
"It's very tough for banks in the equity capital markets at the moment," Swan said. "They depend on having good government policy and well-functioning markets, and the government in New Zealand is showing Australia the way to do that at the moment."
Before it's here, it's on the Bloomberg Terminal.
LEARN MORE