Ex-Polly Peck CEO Nadir Accused of $233 Million U.K. Theft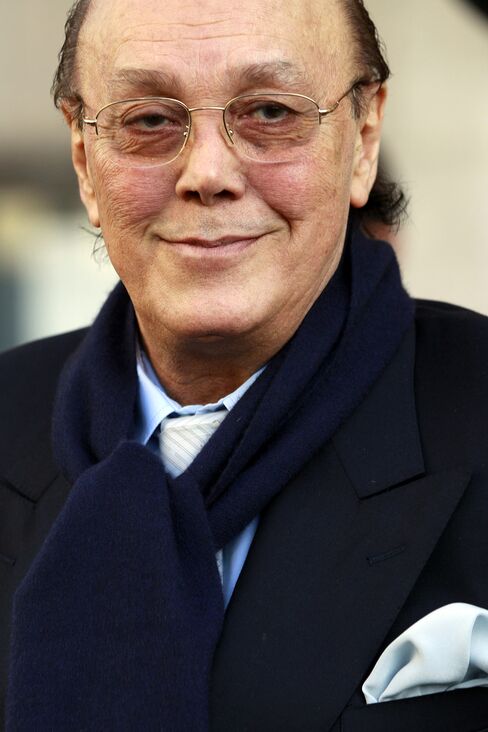 Asil Nadir, the former Polly Peck International Plc chief executive who fled Britain in 1993 following claims of fraud, was accused at a trial in London of stealing 150 million pounds ($233.4 million) from the company.
The amount, revealed by prosecutors on the first day of a four-month trial in London, is more than four times the figure cited by the Serious Fraud Office since the case began nearly two decades ago. Nadir, 70, and associates withdrew the money from the now-defunct electronics and food-packaging firm's U.K. bank accounts and funneled it through companies in Switzerland and the Bahamas between 1987 and 1990, prosecutors said.
Nadir "wielded very considerable power" over the company's operations and management, prosecutor Philip Shears said at London's Old Bailey criminal court. "We say he abused that power and helped himself to tens of millions of pounds of PPI's money."
When London-based Polly Peck collapsed in 1990, its administrators found more than 700 million pounds owed to creditors was unrecoverable from units of the company, which Nadir built up during the 1980s by expanding into areas such as electronics, hotels and an acquisition of the Del Monte fruit brand. Nadir agreed to return to the U.K. in 2010 to face fraud claims nearly 20 years after fleeing.
The SFO accused Nadir of 13 counts of theft totaling about 34 million pounds, using a selection of "sample" transfers. Nadir denies the charges and his lawyers will present his case later in the trial.
Secret Share Purchases
Prosecutors said Nadir stole from the company's accounts at National Westminster Bank Plc and Midland Bank Plc through at least 70 transfers, and that the money was used to secretly buy shares in Polly Peck and other companies. He also allegedly used the money to repay loans, make payments to Nadir family trusts and pay companies controlled by himself and his mother.
Nadir acquired a controlling interest in Polly Peck in 1980, when the company -- then about 20 years old -- was limited to the garment industry in East London, prosecutors say. He expanded the firm to include more than 200 subsidiaries in food, electronics, textiles and leisure, with offices in Lefkosia, Cyprus, New York, Istanbul and Hong Kong, the SFO said.
SFO prosecutors told jurors that Polly Peck increased Nadir's salary in 1990 to 350,000 pounds from 200,000 and gave him use of a corporate airplane and five cars, including a Bentley and a Ferrari.
'Thwarted' Dual Signatures
The theft succeeded as a result of weak financial oversight at the company, a weakness ensured by Nadir's own rules, prosecutors said. The SFO claims Nadir insisted that one board member's signature was enough to move the company's money and "thwarted" attempts by Polly Peck's board to adopt a dual signature process.
Nadir repeatedly told the board he needed sole control over the money to operate effectively in Turkey and Cyprus, where last-minute decisions would need to be made, and walked out of a board meeting when the conversation turned to dual signatures, the SFO said.
He also fired a controller who tried to institute "a comprehensive system of financial controls," prosecutors said. The manual that the employee helped create was later implemented in all of the company's subsidiaries except for Turkey and Northern Cyprus.
Under Nadir's leadership, Polly Peck loaned hundreds of millions of pounds to its subsidiaries in Turkey and Cyprus in the years before the company's collapse. Nadir later said the money was for a capital expenditure program and advance payments to citrus growers to benefit the company, according to the SFO.
'Black Hole'
"When PPI was in difficulty leading up to its going into administration, it proved impossible for PPI to get the cash back to the U.K., save for a very small amount," Shears said. "When the administrators went to Northern Cyprus they effectively found no cash at all -- just a black hole."
Nadir claimed to own 25 percent of Polly Peck in 1985 and four years later -- after increasing his holdings by more than 151 million pounds -- he resisted an attempt by the board of directors to probe the ownership structure of his shares, prosecutors said.
Nadir returned to London from Turkish-controlled Northern Cyprus in August 2010 to face trial, a month after a U.K. judge said that if Nadir did so he would be granted bail. He agreed to be fitted with an electronic security tag and to remain in the capital. The former executive was also ordered to comply with a curfew and check-in weekly at a police station.
While his lawyers had sought to have the trial earlier, a judge said it was unrealistic for the prosecution to be expected to re-compile a 17-year-old case on short notice. His lawyers later complained a senior U.K. prosecutor leaked information to the press. The SFO has denied that claim.