French Company Sentiment Falls as Crisis Talks Continue: Economy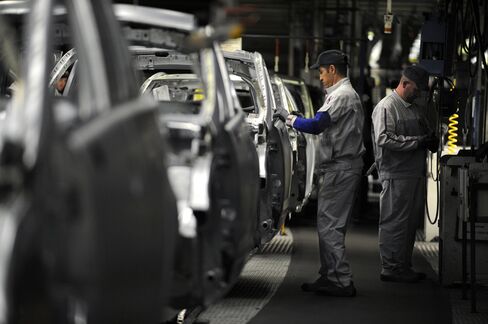 French business confidence unexpectedly fell to the lowest in almost two years this month, providing the latest sign that Europe's second-largest economy is mired in a recession.
A gauge of sentiment among factory managers fell to 91 from 94 in December, statistics office Insee said today in Paris. That's the lowest since February 2010. Economists forecast an increase to 95, according to the median of 15 estimates in a Bloomberg News survey. Euro-area consumer confidence probably fell to the lowest since August 2009 this month, according to a separate survey before European Commission data later today.
European finance ministers will meet in Brussels to discuss new budget rules and a Greek debt swap as part of a long-term fix to the crisis that is holding back growth in the region. A second recession in France would mark another blow to President Nicolas Sarkozy, who faces an election in three months, after the downgrade by Standard & Poor's this month.
"We will see little growth in France in the first quarter," said Marion Laboure, an analyst at Barclays Capital in Paris. It "will feel the pinch from less favourable global economic conditions as well as fiscal tightening."
An index of companies' orders fell to minus 32 this month from minus 26 last month, Insee said, while gauges of export orders and the outlook for production also declined. Among retailers, confidence dropped to 89 from 93. The survey of about 4,000 companies was conducted in the week before publication.
Recession Looms
The French economy probably shrank 0.2 percent in the fourth quarter and may shrink another 0.1 percent in the current three-month period, before expanding 0.1 percent in the second quarter of 2012, Insee forecast on Dec. 16.
"Our expectation is that the economy has stalled or is shrinking," said Michel Martinez, an economist at Societe Generale in Paris. Still, "this will be very mild, nothing like what happened in 2008 and 2009."
The darkening outlook may be taking its toll on Sarkozy's rating among voters. An opinion poll released Jan. 21 showed Francois Hollande, the Socialist Party frontrunner. with a 14-point lead over Sarkozy. The president, who hasn't declared his intention to run yet, would lose by 57 percent to 43 percent against the Socialist challenger if the two faced off in the second round of the elections on May 6, according to the BVA poll.
Spanish Slump
The Spanish economy shrank 0.3 percent in the fourth quarter, the most in two years, the Bank of Spain estimated today. An index of household sentiment in the 17-nation euro region slid to minus 21.4 in January from 21.1 the previous month, according to the median estimate of 25 economists in another survey. The European Commission will publish the data at 4 p.m. today in Brussels.
A separate report today showed Danish consumers were less pessimistic this month, with a gauge of sentiment rising to minus 7 from minus 9.8 in December.
In Russia, producer prices gained 0.8 percent in December from a month earlier, half the increase in November, a report today may show. In Australia, the Bureau of Statistics said producer-price growth slowed to 0.3 percent in the October-to-December period.
Stocks Mixed
The Stoxx Europe 600 Index was little changed as of 10:08 a.m. in London. The CAC 40, France's benchmark, was also little changed, while the U.K.'s FTSE 100 Index rose 0.3 percent. The MSCI Asia Pacific Index gained 0.2 percent.
The euro rose 0.3 percent against the dollar to $1.2964 before the meeting of finance ministers. Bondholders negotiating a debt swap with Greece have made their "maximum" offer, leaving it to the European Union and International Monetary Fund to decide whether to accept the deal, said Charles Dallara, who's representing private creditors in the talks.
The European Central Bank has cut interest rates twice since November and offered banks unlimited loans for three years to prevent a credit crunch. ECB President Mario Draghi said on Jan. 19 that 2012 will be a "much better" year for the euro area as governments push ahead with fiscal reforms and the benefits of the flood of cheap cash become more apparent.
Returning France to growth is key to helping the government meet its fiscal targets after S&P stripped the nation of its AAA credit rating for the first time. Presidential challenger Hollande will present his election platform on Jan. 26.
Sarkozy has already pushed through two rounds of spending cuts and tax increases to protect the budget and vowed to do more if necessary. After raising sales tax on restaurants, hotels, public transport and other services, Sarkozy is also pressing for a more general increase in value-added tax to be balanced by a cut in payroll levies.
"The rise in direct taxes will weigh on consumption," said Dominique Barbet, an economist at BNP Paribas in Paris. "The unemployment rate will continue to increase."
Before it's here, it's on the Bloomberg Terminal.
LEARN MORE