Sweden Break-Evens Back Bet on Riksbank Rate Cut: Nordic Credit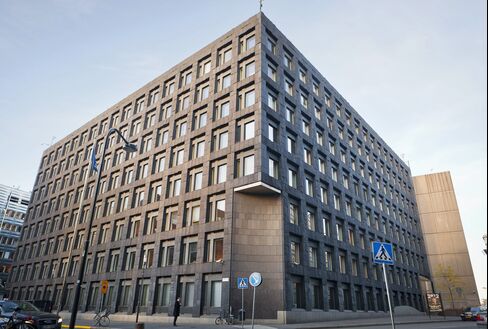 Sweden's inflation-linked bonds are signaling the country's central bank will cut interest rates as soon as this week as the largest Nordic economy is buffeted by a deepening debt crisis in the euro area.
Two-year break-even rates, a measure of inflation expectations, have fallen 49 percent since the beginning of April to as low as 0.5 percent last month, while the 10-year inflation-linked bond shows investors expect annual inflation of 1.5 percent over the next decade. The Riksbank in April forecast consumer price inflation of 2.9 percent in 2014.
"Swedish inflation linked bonds are cheap relative to nominal bonds," Jussi Hiljanen, head of fixed-income research at SEB AB in Stockholm, said by telephone. "One of the reasons for this is the risk of monetary policy and more rate cuts than currently discounted would hurt index linked bonds."
The plunge in break-evens signals both expectations that slowing growth will damp price pressures and that interest rate cuts will feed through to lower the mortgage cost component of the consumer price index, cutting returns. Swedish rate futures indicate that policy makers may cut rates as soon as this week, and lower them by half a percentage point by March next year.
The drop in break-even rates may now make it a good trade to snap up debt that offers protection against price growth, said analysts including Martin Tallroth at Swedbank AB. Inflation expectations over 10 years are the lowest in Europe besides Italy, even as the European Commission estimates the Nordic economy will expand this year and accelerate next year, compared with a 2012 contraction in the 17-nation euro area.
Lagging Europe
"There's reason to believe that Swedish linkers look cheap as they have been lagging Europe," Tallroth, an interest rate strategist at Swedbank in Stockholm, said in an interview. "Historically speaking, it is at a very low level."
The Riksbank in April kept the main rate unchanged at 1.5 percent, after two cuts since December, as growth revived in the first quarter. Investors predict the bank will have to lower rates again amid rising unemployment and slumping industrial production as European leaders struggle to contain the region's debt crisis after Spain sought a bailout for its banks.
Most economists predict the Riksbank will keep rates unchanged at the July 4 meeting. In a Bloomberg survey of 20 economists, 15 say they expect the bank to keep borrowing costs unchanged while five predict policy makers will lower the repo rate to 1.25 percent.
Rate Cuts
Repo rate futures show the bank may cut, with the September future dropping two basis points to 1.41 percent today. The March future also fell two basis points to 1.07 percent. Lower rates would, all else equal, eventually lead to faster inflation. The bank has monetary policy meetings on July 3 and Sept. 5, with a decision announced the next day.
"If the Riksbank's forecast of 3 percent inflation in 2014 is accurate, break-even levels are likely to begin a decisive uptrend later this year, rising above 2.5 percent in late 2013," said Jussi Hiljanen, head of fixed-income research at SEB AB in Stockholm, in note. "This implies long term upside potential of at least 100 basis points."
The 10-year break-even rates hit a low of 1.17 percent earlier last month before rallying 20 basis points overnight as the country's financial watchdog put a floor on discount rates to protect life insurers and pension funds from record low yields. It's now at 1.48 percent, the lowest after Italy, an economy the European Commission predicts will contract this year as it cuts spending to reduce debt. It is also lower than Germany's 1.59 percent and the U.K.'s 2.53 percent.
Underperforming Market
Swedish inflation-linked bonds have underperformed regular debt over the past year as investors snapped up the government's nominal bonds to seek refuge from the euro area's debt crisis. Swedish linkers returned 0.64 percent this year, compared with a 1.33 percent return on the country's regular bonds, according to Barclays Capital indexes.
The Swedish debt office has about 194 billion kronor ($28.1 billion) in outstanding inflation-linked bonds. The debt office plans to issue about 6 billion kronor a year in inflation linked bonds.
Mats Hyden, chief analyst for strategy research at Nordea Bank AB, said market turmoil will have to cool for a bet on inflation in Sweden to pay off.
"In the short-run, going for higher BEI inflation through buying linkers and selling nominal bonds is a bet that the market will stabilize and that immediate fear for euro zone will abate," he said. "It's a good trade if you want to be positioned for higher bond yields."
While Hyden said he was "neutral" for now, he predicted five-year break-even inflation will be "at least 50 to 60 basis points or higher in six to 12 months."