Meyer Burger Drops Amid German Solar-Subsidy Cuts: Zurich Mover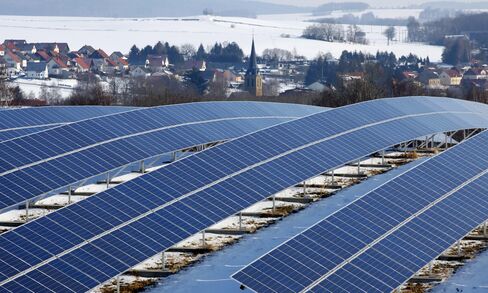 Meyer Burger Technology AG, Europe's largest maker of solar-panel equipment, fell the most in almost six weeks in Zurich trading as Germany said it will cut solar subsidies more frequently in an effort to slow installations that reached a record last year.
Meyer Burger declined as much as 6.8 percent and traded at at 17.85 Swiss francs at 12:01 p.m. in Zurich. That's the biggest intraday slump since Dec. 12 and gives the Baar, Switzerland-based company a market value of about 847 million francs ($905 million).
"Subsidy cuts put pressure on solar stocks as they can have a negative impact, they tend to limit market growth, even if they are economically justifiable," said Michael Foeth, an analyst at Vontobel Holding AG in Zurich. "However, solar stocks have risen very strongly in the past weeks so there's certainly a market correlation as well."
Feed-in tariffs, or premium rates for electricity from solar energy, will be reduced every month instead of twice a year currently, German Environment Minister Norbert Roettgen said yesterday.
The company's shares have rallied 18 percent since Jan. 10 as China said it plans to develop 3 gigawatts of solar capacity this year and amid rising polysilicon prices for material used in the panels.