MasterCard Leads With Steady Growth: Bloomberg Businessweek 50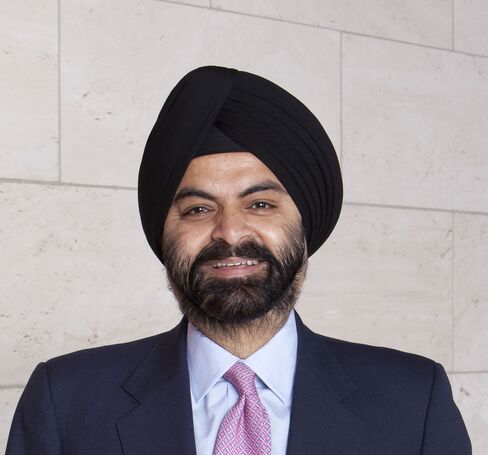 Ajay Banga has declared war on cash. The chief executive officer of MasterCard Inc. says he wants his troops to do whatever they can to persuade consumers to slap down the plastic and increase the 15 percent of global retail transactions made with credit and debit cards or other electronic means.
"The war on cash was really a rallying cry for everyone to focus on the 85 percent," Banga says.
Cards accounted for 48 percent of total U.S. consumer purchases in 2010, according to the Nilson Report, a credit-card industry newsletter. By 2015, plastic's share may surge to 59 percent, the report shows.
The shift is happening even faster abroad, according to investment bank KBW Inc. That will give a boost to MasterCard, which sees 64 percent of its purchase volume outside the U.S. compared with 47 percent at Visa Inc., Bloomberg Businessweek reports in its Jan. 23 issue.
MasterCard, which went public in 2006, surged 66 percent in 2011, the fourth-best performer in the Standard & Poor's 500 Index.
Analysts estimate the Purchase, New York-based company will see earnings per share climb 17 percent in 2012, helping to propel it to the No. 1 spot on this year's Bloomberg Businessweek 50 list of top-performing companies. Visa, which started trading in 2008, wasn't considered for the BBW50 because it has been listed for less than five years.
Chasing Visa
Visa, based in San Francisco, in 2010 handled 39 percent of U.S. credit-card purchases by volume, while MasterCard had 23 percent, Nilson estimates.
MasterCard's lag is even bigger in debit-card transactions. While Visa says it processed $1.14 trillion in such purchases in the U.S. during the fiscal year ended Sept. 30, more than triple MasterCard's $376 billion, Banga sees that as a chance to gain market share.
New regulations bar debit-card processors from demanding exclusive agreements with merchants, which Banga says will let him sign up more retailers.
The shift "opened up an opportunity for MasterCard," Banga says. Visa is "in a completely different competitive position. I'm not protecting what I call large incumbency."
The company has teamed up with Google Inc. to let consumers make retail payments with smartphones and is working with Intel Corp. to enhance security for online shopping.
"We are really a technology company," Banga says.
Mastercard 'Energized'
Those are the kinds of deals MasterCard will have to make to keep gaining on its chief competitor, says David Togut, a New York-based analyst at investment bank Evercore Partners Inc.
"Ajay Banga has really energized the company," says Togut, who rates the stock "hold." "They've become an aggressive challenger to Visa."
The Bloomberg Businessweek 50 were ranked on a point system that examined companies in the Standard & Poor's 500 stock index to weigh risk-adjusted returns over one year and five years, analysts' recommendations and projected earnings per share for the coming year. The following list shows the companies in order, along with a total return over five years as of Dec. 31, with no risk adjustment.
Ranking Company Total 5-Year Return
1 MasterCard 284.4% 2 Priceline.com 972.5% 3 American Tower 61.9% 4 Dollar Tree 314.2% 5 Union Pacific 151.2% 6 Apple 377.4% 7 Cabot Oil & Gas 154.2% 8 Precision Castparts 111.7% 9 Airgas 106.6% 10 TJX 142.2% 11 O'Reilly Automotive 149.4% 12 McDonald's 163.2% 13 Cerner 169.2% 14 Noble Energy 101.7% 15 National Oilwell Varco 131.5% 16 Watson Pharmaceuticals 131.8% 17 CVS Caremark 38.5% 18 Chipotle Mexican Grill 492.5% 19 Estee Lauder 193.1% 20 Nike 110.5% 21 VF 80.6% 22 Intuitive Surgical 382.8% 23 Google 40.3% 24 AmerisourceBergen 79.0% 25 Ross Stores 243.2% 26 Yum! Brands 122.4% 27 Allergan 49.1% 28 Cameron International 85.4% 29 Marsh & McLennan 20.9% 30 FMC 134.5% 31 Celgene 17.5% 32 Starbucks 33.7% 33 VeriSign 74.4% 34 Caterpillar 68.4% 35 Biogen Idec 123.7% 36 Pioneer Natural Resources 129.4% 37 Ralph Lauren 81.5% 38 McKesson 60.4% 39 Wyndham Worldwide 27.6% 40 Big Lots 64.7% 41 Coca-Cola 67.9% 42 WW Grainger 193.5% 43 AutoZone 181.2% 44 Ecolab 36.5% 45 CSX 101.2% 46 DaVita 33.3% 47 Express Scripts 149.7% 48 Amazon.com 338.7% 49 DirecTV 71.5% 50 Oneok 143.2%